For the past two years, Embraer-Empresa Brasileira De Aeronutica S.A. (NYSE:ERJ) has established itself as a leader in the mid-size airplane under 120 seats market segment. The stock- selling at $39-40 or 9x-10x 2008 earnings - has room to run to the target level of $52-54 area. How will it get there?
First a few operating facts:
ERJ has reached its run-rate of 13 E-jets per month production in 4Q07
ERJ has built an $18B backlog
ERJ has forecast approx $1B sales increase -$5.2B to $6.3B- in 2008.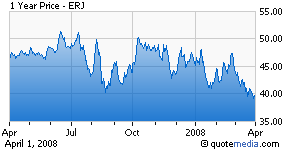 What is holding the stock back? In order to build the E-Jets wings in-house in Brazil, ERJ took over the wing manufacturing away from its old supplier in Japan; Embraer hired 4500 local employees in 2007, trained them and then tutored them on the job side-by by more experienced employees in order to meet accelerated production plan. All of this was known. Then why is the stock not up after these operational challenges were met with success?
The one 'unplanned' aspect of the company 2007 results is the change in value of the Brazilian real vs. the dollar. The company is an exporting engine for US goods. ERJ imports from US airplane engines, electronics etc - or about 60% of the E-jects from the US; ERJ then adds 40% of Brazilian labor to finish the product. Since labor cost is in real, a 15% increase in dollar currency decrease between January and December 2007 cuts into future margin plan by approx 6% (15% of 40% of total E-jet cost).
Good news: So far, real appreciation over the dollar in 1Q08 is just 2%! With this more stable real currency in an environment where ERJ might reach yoy sales greater than 50%, I look for margin expansion, and expect P/E multiple expansion: 13X to 15-16X.
Another inverse driver for ERJ is commodities. Because the Brazilian real benefits a lot from high commodity/steel prices, should there be an easing in commodities/steel, the real might reverse its climb. With a lower real to dollar, ERJ margin in dollar term will expand. This indirect sensitivity to commodities is not yet reflected in the stock price.
Disclosure: Author has a long position in ERJ