We hate to be alarmists, but the risks to the global economy and financial markets are building and the U.S. stock market (NYSEARCA:SPY) is not properly discounting these headwinds. While the 24-hour news cycle is salivating over the European Crisis, Syria, and the U.S. Presidential election, they're largely ignoring the fiscal cliff, Congress' ineptitude, and a massive slowdown in China. Most importantly, everyone is glossing over the elephant in the room: our elected (or appointed) leaders around the globe have no clue how to solve the global debt problem. They keep trying the same trick - offering more debt to a world drowning in debt.
At some point, people need to realize that the only lasting long-term solution is to "take our medicine". Golfers know this phrase well. It implies that you should take an extra stroke now to remove yourself from a bad situation in order to not face an even worse situation in the future. Our leaders steadfastly refuse to take the medicine.
They are incentivized to lessen the pain via voter-friendly but economically irrational steps; therefore refusing to deal with the real issues. Now we have Central Banks around the world printing money, lowering interest rates to zero, and hoping that overly-indebted consumers, banks, and governments find intelligent ways to use MORE debt.
In our opinion, trying to solve a debt problem by increasing debt is the definition of insanity. What we need are defaults. This will hurt banks, consumers, asset prices, and all economies. However, if we want to be able to grow again, we need to collectively rid our global economy of excessive debt. Defaulting, regardless of the intense short-term pain, is the best long-term solution.
Below are some charts that illustrate our concerns and have us wearing our hard hats:
CENTRAL BANKS ONLY KNOW HOW TO PRINT MONEY:
This chart shows that central banks have expanded money supply exponentially since the crisis, and are at record levels. The scary implication is that the global economy is struggling to stay afloat with almost $4 trillion of cash pumped into the global financial system. Imagine what happens when this stimulus has to be removed.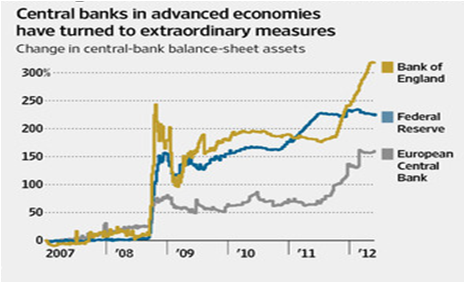 THE ECB RATE CUT IMPLIES THE ECONOMY IS IN WORSE SHAPE THAN DURING THE 2008 CRISIS.
The ECB just lowered their benchmark interest rate to 0.75%, which is the lowest EVER. Such action suggests that the ECB is more worried about the economy now than in 2008 when the financial system was frozen. That is a scary thought.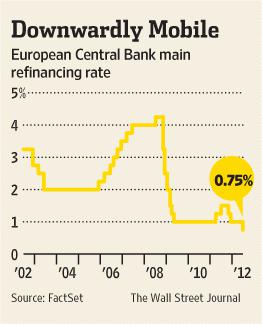 CHINA IS SLOWING, QUICKLY:
The Chinese miracle may be coming to a temporary end. The manufacturing index has been below 50 for several months, indicating a contraction in that sector of the economy. This helps explain why Chinese leaders panicked this week and cut interest rates for the 2nd time in a month. Yikes.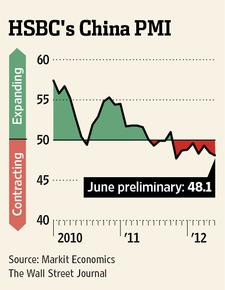 SPAIN IS A TRAIN WRECK:
The Spanish banking system is being crushed by a housing bubble that burst, bad loans, a poor work ethic, structural labor issues, and 25% unemployment. This all leads to excessive debt as % of GDP as shown below.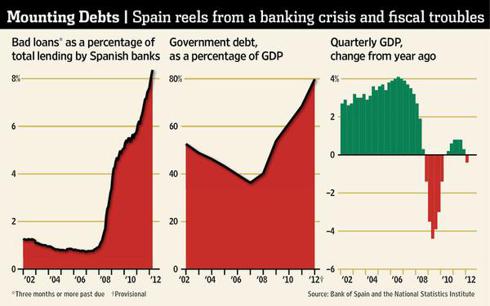 As such we have the lowest net long position in our fund since last summer (we're only 40% long). Our long positions are heavily weighted towards defensive names with fat dividends such as Consolidated Edison (NYSE:ED), Southern Company (NYSE:SO), CenturyLink (NYSE:CTL), Pepsi (NYSE:PEP), and J.M. Smuckers (NYSE:SJM). We have a few tech names for growth exposure -- Red Hat (NYSE:RHT) and Rackspace (NYSE:RAX), and a few energy names for inflation protection -- Occidental Petroleum (NYSE:OXY) and Range Resources (NYSE:RRC).
With the S&P 500 trading at approximately 13.5x 2012 earnings, we don't think the risk/reward is in our favor given all the negatives around the world. We would be more aggressive buyers of the market around 1200 or 12x 2012 earnings.
Disclosure: I am long ED, SO, CTL, PEP, RRC, RAX, RHT, OXY, SJM.