While Friday's downgrade of Financial Guaranty Insurance Co.'s financial strength rating by six notches from A to BB, or junk, by Standard & Poor's does not necessitate a write-down by CIBC (NYSE:CM), since it has an estimated C$556-million in subprime and C$2.2-billion in non-subprime notional hedge exposure to the monoline insurer, one analyst suggested a write-down is now more likely.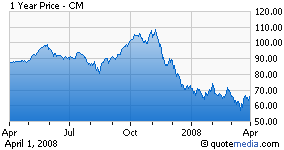 Blackmont Capital's Brad Smith suggested that the chances of CIBC writing down at least a portion of the C$411-million carried fair value exposure to FGIC reported at the end of January has grown.
He told clients in a note that:
Given continuing credit market stresses it is likely that the fair value of the FGIC contracts has risen since January 31.
If CIBC does plan more write-downs, Mr. Smith expects a pre-announcement in early May. He continues to rate CIBC a "hold" with a C$74 price target.