The Event:
Netflix (NFLX) recently reported that viewing hours had surpassed the 1 billion mark for the first time in its history, in June. While this demonstrates customer satisfaction with the content on offer, it does not answer the problems that have plagued Netflix, which range from unprofitable international operations, to declining domestic DVD subscribers. More viewing hours do not mean higher profits for the company because they would still only be getting the monthly $7.99/month fee for unlimited streaming. As a reaction to this news, the stock was up roughly 14%, but we think this news is not a game changer.
Executive Summary:
Last year, NFLX's share price took a hit because of an unpopular price increase, which prompted many customers to conclude their relationship with the company. The share price has not yet recovered, and might not do so in the near future, considering the increasing losses from the international streaming business (a segment that promises growth in the future) and low price offerings by competitors. Similarly, while domestic streaming subscriptions are picking up again, it remains to be seen if these can offset the expected decline in DVD subscriptions over the long run. Until NFLX shows some improvement in cost and profitability in general, we do not recommend buying the stock, despite the recent upswing in domestic streaming subs and viewing hours.
Company Profile:
Netflix, Inc. is a market leader in streaming movies and TV shows over the internet. It operates in the U.S. and internationally (Canada, Latin America, the United Kingdom and Ireland) for the streaming segment of its business. Subscribers can watch a variety of content ranging from old and new TV shows, to movies that can be streamed over the internet on their TV sets, computers and even mobile devices. It also provides DVDs and Blu-ray discs to its domestic subscribers in the U.S. The company was founded in 1997 and is headquartered in Los Gatos, California.
Performance:
A price hike by Netflix, in July of 2011, led to a very large drop in subscriptions, which was not foreseen by the management, nor was it expected by the market. Some 800,000 customers left the service in the third quarter. The stock price, which was once at $300 per share in July 2011, was down to $69 by the end of 2011. Currently the stock is trading near $81.
Let us look at what exactly this pricing plan was that triggered such a consumer reaction. The company thought that there was still a large enough market for DVDs, which prompted them to think that it did not make sound financial sense to offer unlimited streaming and DVD services in a bundle for $7.99 (plus $2 add on for DVD). Thus, the company decided to offer separate DVD only plans priced at $7.99 for one DVD at a time service and $11.99 for two DVDs at a time. So now if the customer wanted services like that of the earlier bundle, they had to pay $7.99 for streaming and $7.99 for one at a time DVD, making a total of $15.98. That was effectively a 100% increase and explains the consumer reaction.
The company's overall financial performance is far from satisfactory, with the quarterly EPS having gone in a tailspin since the overhaul of the price plan. NFLX reported earnings of $-0.08/share in 1Q, which were somewhat better than the consensus estimate of $-0.27/share. The graph below shows the quarterly EPS for the last five quarters.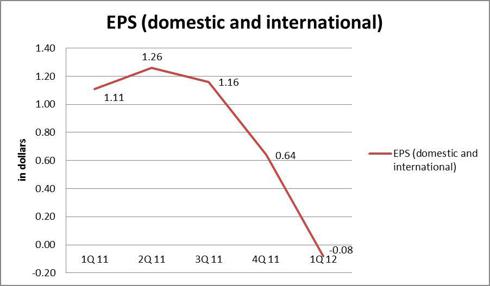 Click to enlarge
Rapid international expansion has taken its toll on the debt level and free cash flow. It also stopped buyback of shares in the fourth quarter last year. In 3Q2011, the company had spent $40 million for buybacks. Long term debt doubled between 2010 and 2011 to $400 million.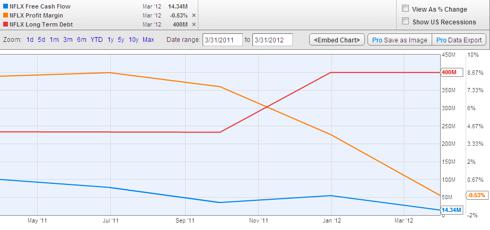 Click to enlarge
International Operations:
Netflix only offers streaming services internationally. The company has not been profitable since the start of the international streaming services in the third quarter of 2010. To make matters worse for the company, losses have increased over the years from $11 million in 1Q2011 to $103 million in 1Q2012, as exhibited by the graph below for the last two quarters.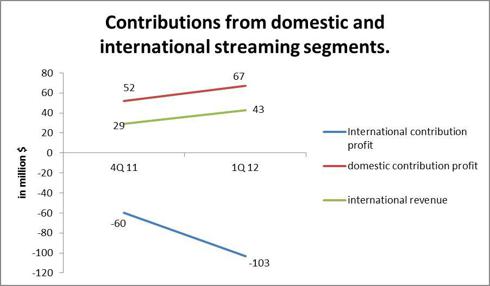 Click to enlarge
If we probe further, it can be seen that this decline in profitability of international streaming is not due to the decline in revenues or number of subscriptions, as both have been consistently rising; rather it can be attributed to the rising cost of serving international customers. These costs mainly include the costs of expansion/launching, as well as buying/licensing content for new customers from studios.
U.K. and Ireland Operations
These were launched in January this year. Netflix got a warmer than expected response from the U.K. and Ireland, as compared to the Canadian and Latin American launches. These operations contributed the most to the total number of new international subscribers.
Canada:
Canada is also showing growth in number of subscribers since its launch in 2010. There were twice as many subscribers 1Q12 ended, compared to a year ago. The company plans on growing this market along the lines of its U.S. business.
Latin America:
Latin America is a very different market compared to the U.K. and Canada. Its vast growth potential has attracted other U.S. cable companies as well. But Netflix faces a lot of challenges since its launch in 2011, with regards to infrastructure for internet-based businesses and consumer awareness. Subtitling costs are also an issue due to language preferences ($5 million in 1Q).
Domestic Operation:
In the U.S., Netflix offers both streaming services as well as DVD and Blu-ray services. Domestic operations have proven to be the profitable part of the business with total domestic profits increasing from $187 million in 1Q2011 to $213 million in 1Q2012, an increase of 14% YoY, despite the decline in subscriptions due to the price increase.
The only concern here is that the larger chunk of this profitability comes from the DVD segment, which is in a decline. This decline is not specific to Netflix. The move away from DVDs seems to be a worldwide trend, due to the advent of the internet and other cheaper and easier to access substitutes. The DVD decline is evident in the graph below.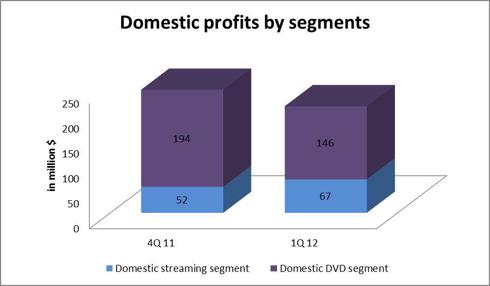 Click to enlarge
The company can only try to increase its streaming profits so as to offset the DVD decline. Attempts of doing that have been successful with an addition of 1.87 million U.S. streaming subscriptions, as compared to the decline of 1.08 million U.S. DVD subscribers in the first quarter of this year. According to the company, the domestic content that they are offering is the best so far, and new records have been set for per subscriber viewing. However, these records do not add anything to the bottom line, as higher viewing does not increase the $7.99/month fee that Netflix charges per customer for unlimited streaming.
Competition:
Netflix faces a lot of competition for its services. Competitors have pricing, as well as content advantages. Details of competitors by business segment are:
In DVD Segment
Redbox and Blockbuster (BBI)
Both are in the business of renting out or selling DVD, Blu-rays and games. Redbox has 30,000 nationwide locations that it operates in, which provide very easy access to customers. Blockbuster has 2,600 stores outside of the U.S., including the U.K. and Mexico.
In Streaming Segment
Domestic: Hulu, Amazon (AMZN)'s Prime Instant Video, HBO GO and cable networks like Comcast (CMCSA) and Time Warner Cable (TWC).

Comcast has its TV services, but it is also planning to launch a video streaming service called "Xfinity Streampix" at $4.99/month lower than Netflix's $7.99/month.
Amazon prime is supposed to be priced at just $79/year, lower than Netflix.

U.K. and Ireland: Amazon's LoveFilm, BSkyB's Sky Go, Sky Movies, Sky's Now TV launching this summer and BBC iPlayer.

BSkyB Sky Go has an advantage because Netflix at present has not been able to outbid BSkyB for rights/license content from major studios.
Amazon's LoveFilm is priced at 4.99 pounds ($ 7.7) for streaming online services, which is lower than Netflix.
Stock Price Drivers:
Pricing of different packages that Netflix offers, as these determine the number of subscriptions.
Growth in Latin American and Canadian operations.
Profits from U.S. (mitigating the losses from DVD subs decline) and positive contribution margins from international operations in the U.K. and Ireland.
Bullish Scenario:
Netflix's stock could perform above market expectations if:
The streaming subscribers (especially international) grow at a faster rate than anticipated.
Customer churn is less than expected. This is largely determined by customer satisfaction.
International content and expansion costs are controlled, and Netflix starts earning profits from its international streaming business.
Bearish Scenario:
Netflix's stock could perform below expectations if:
The company is unable to strike deals with content owners to make its U.K. and Ireland offerings more attractive, as compared to competitors.
Decline in domestic DVD subscriptions is sharper than expected. These subscriptions formed 37% of total revenues in 1Q12, and are therefore of prime importance. The profit generated by domestic DVD business helps provide capital to mitigate losses arising from international streaming business. The company might not be able to continue with building a global streaming service without support from the DVD business.
Internet service providers add more restrictive data usage caps. Currently Comcast's has a cap of 250 GB/month on its residential internet service, but this cap does not apply to its own service 'Xfinity Xbox' (which provides access to movies and TV shows). This puts Netflix at a competitive disadvantage.
Competitors like Redbox, BSkyB and Amazon are able to offer more attractive customer offerings (lower price) and thus take a market share.
The company is not able to control the rising cost incurred per consumer for the international streaming business.
Valuation and Recommendation:
The stock is up 18% YTD. NFLX does not pay dividends, and does not plan to start doing so in the foreseeable future.
With regards to profitability, Reed Hastings, CEO of Netflix, commented earlier this year that he does not expect Netflix to show profitability in any quarter of 2012. The company, in its letter to the shareholders, also said that it might take longer than eight quarters to reach consistent profits from the U.K. and Latin American operations, through subscription growth and more content variety. It's hard to predict if and when Netflix may regain profitability with the nature of its business, where switching cost and customer loyalty is low, and the market is very competitive. The company intends to continue international expansion into Europe in the future.
Netflix's 1Q subscriber and revenue results were generally in-line with expectations, but they were far below the levels seen last year. Furthermore, 2Q streaming subscription results are expected to be low because of seasonality, and might make it difficult to achieve the year-end target of 7 million new additions. In the current situation, Netflix's prospects do not seem bright until it shows that it can control costs internationally, and manage the decline in DVD subscriptions in the U.S., in order to ensure profitability.
JPMorgan (JPM) maintains a neutral rating for NFLX with $87 as price target, based on 12x 2013 E/EBITDA of $338m.
We also do not recommend going long until there is an improvement in costs and faster growth in streaming subscriptions, which can offset the decline in DVD sales.
Disclosure: I have no positions in any stocks mentioned, and no plans to initiate any positions within the next 72 hours.