Best Buy (NYSE:BBY) is scheduled to post its Q4 results ahead of the opening bell today (Wednesday, April 2). Analysts polled by Thomson First Call are expecting the electronics retailer to report a profit of $1.65 per share on revenue of $13.18 billion.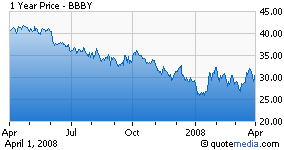 In looking back at BBY's performance between the sessions following pre-market earnings reports, we've found the stock to be a consistent long-term wider mover. BBY has closed the following regular session with more aggressive moves than seen in the pre-market in 10 of the past 14 quarters, or in 71% of the total events we've tracked. In the near-term, the stock remains in the widening trend, adding to its pre-bell performance in the following regular session in three of the last four quarters.
On December 18, 2007, BBY gained 1.1% in pre-market trade after topping Q3 expectations and setting guidance in line with expectations. It narrowed its gains slightly in the following regular session, with a 0.9% rise by the closing bell.
On September 18, BBY advanced 5.2% in the pre-market after it beat Q2 expectations and set it guidance above the Street view. It edged higher into the regular session, ending the day up 6.5%.
On June 19, 2007, the stock shed 4.4% in the pre-market session after reporting below the Street with Q1 results and guiding lower. The loss gained momentum during regular trading and shares closed down 5.9%.
On April 4, 2007, BBY dipped 0.3% in the pre-market session despite topping Q4 expectations. It forecasted FY08 sales just below estimates. Shares fell further during the day, ending the regular session down 2.5%.
Stayed tuned to the market reaction to BBY's earnings news in the pre-market session today. Go with the market on this one!