Company Description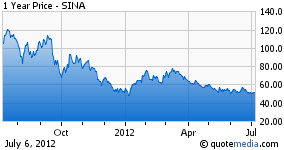 Sina Corporation (SINA) holds the largest portfolio of Internet portal and media websites in China. The company derives revenues from online advertising and mobile value added services (MVAS). The company offers targeted professional content, micro blogging, and social networking services through its wide range of online websites. In addition, the company also provides diverse online services related to music streaming, email, online videos, online gaming, and several other services.
The company offers banner, button, text-link, and in stream video advertisements via the sina.com portal. Weibo.com, one of the most popular micro blogging websites in China, provides similar services as Twitter. The company is heavily investing in Weibo.com to expand and strengthen the range of provided services, and is expected to start generating profits from the micro blogging unit by the end of the year.
Industry
Advertising spending in China grew by 15% in 2011 to 347 billion Yuan. The growth in advertising spending is expected to slow down in 2012, over concerns of marketing budget cuts by Chinese corporations, as economic growth cools down. Internet advertising spending in China has shown impressive growth in the past few years and accounted for nearly 15% of total Chinese advertising spending in 2011.
iResearch, a Chinese research firm focusing on the Internet Industry, reported that the Chinese Internet advertising market grew by 57% YOY in 2011. It also forecasts that the growth trend is expected to continue as more and more companies are shifting to online advertising to market their products. It is interesting to note that even a current short run pause in Chinese advertising spending has not halted double digit growth in Internet spending, as the shift towards using the Internet as an advertising medium can be observed globally. With the global average number of hours spent on the Internet rising, and the number of hours spent on watching televisions decreasing, corporations are expanding their online marketing budgets to reach the rapidly increasing online audience. Internet advertising spending in China topped newspaper ad spending in 2011, and the figure is expected to become closer to the figure for television ad spending by the end of the decade.
The companies, which are most suitably positioned to take advantage of the upcoming growth in Chinese Internet advertising, are Baidu (BIDU), Taobao, Google (NASDAQ:GOOG) HK, Sina, Sohu (SOHU), and Tencent (OTCPK:TCEHY). Baidu is the most dominant player in the Chinese Internet Advertising Industry. Baidu considerably expanded its revenues from Internet advertising in 2011, and was able to record above average growth in online advertising, as compared to its peers. Sina, however, posted a dismal operating performance, as the company was unable to take advantage of the rapid growth in Chinese Internet advertising in 2011, which can be observed from the above figure.
Stock Price Catalysts
Expansion or contraction in the Chinese corporations'

Internet advertising budgets.

Effective monetization of Weibo.com by the end of the current year.
Inflation and rising operating costs could trim future margins.
Recent expansion in the sales force should boost future revenue growth.
Chinese

Internet user penetration levels.
Financial Review
The company's net revenues grew by 6% YOY in 1Q2012, with a solid 9% online ad revenue growth, despite slowing advertising spending by Chinese companies. MVAS revenues have continued their declining trend and deteriorated by 3% YOY in 1Q2012. Over the years, owing to rapid growth in Chinese Internet adverting spending, the share of ad revenues has been gradually rising. Currently, more than 76% of revenues come from Internet advertising. MVAS revenues, on the other hand, are declining due to unfavorable changes in telecom operators' policies, which have reduced the company's ability to acquire new MVAS subscribers, while increasing the churn rates of existing subscribers. The company reported net revenues of $106.2 million in 1Q2012 and expects to post 2Q2012 revenues in the range of $126-$129 million.
The company is heavily investing in the expansion of its sales & distribution network, along with higher investments in product development. High SGA costs and infrastructure investments forced the company to post a loss of $13.7 million. The company announced that it expects to invest more than $160 million in Weibo.com's infrastructure upgradation, which will continue to pressurize margins. As a result, Sina expects to post an operating loss in the upcoming quarter.
Future Outlook
Online advertising growth, in the middle of ad budget cuts by Chinese companies, demonstrates Sina's strong foothold in the Online Advertising Industry. Furthermore, with a double digit YOY growth of 12% in Chinese Internet users to 513 million, Chinese corporations are expected to expand online ad budgets in the long term. However, a rise in operating costs, as a result of inflation, can pressurize the bottom line of the company. Also, increased investment in Weibo.com and other products, in addition to Sales & Marketing, should translate into better earnings in the future.
Valuation
The stock is currently trading at 44x forward earnings, and is relatively expensive compared to Baidu and Google, which are trading at 26x and 14x, respectively. We believe that Baidu and Google are in a better position to take advantage of the growth in Internet advertising and have stronger balance sheets. Sina has been unable to take advantage of the rapid expansion of the Internet Advertising Industry in China, as the company's ad revenues grew by only 9% YOY compared to YOY industry growth of 57% in 2011. However, effective monetization of Weibo.com could boost the revenue growth of the company. Sina plans to start the monetization plan of Weibo.com by the end of the year, and therefore, investors need to keep an eye on its impact on Sina's earnings.
Thus, we recommend holding Sina in the short term, with a long term buy recommendation contingent upon strong earnings from Weibo.com and growth in ad revenues, matching the industry's growth. The shares were trading at $51.19 on the NASDAQ on Friday, near their 52-week low levels. Possible risks to Sina could be the blockage/suspension of its services by Chinese authorities on accusation of dispersing politically sensitive information. However, we believe that the probability of such an action is minimal, as the company is proactively adopting strict policies to prevent the dispersion of politically sensitive information via its websites.
Disclosure: I have no positions in any stocks mentioned, and no plans to initiate any positions within the next 72 hours.