RF Micro (RFMD) has been a serial disappointment for over 7 years now. Excluding the dot com bubble, the stock has traded in range from $2 - $9 since 2Q 2002 (a slow painful erosion of shareholder value). Using the stock price as a measure of management's success or lack thereof you can see that management's strategy has failed miserably.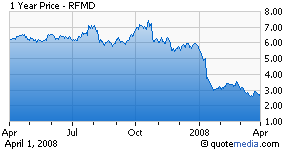 Note to RFMD management: This is your legacy. Grade: D+. You avoided an "F" because you are not bankrupt. Go back and look up what it means to "align your interests with shareholders." The share repurchase was late and reeked of desperation. Share buybacks are initiated when you have no better use for cash or you believe the shares are undervalued - not to mitigate erosion in the share price due to a lack of public confidence.
For a time, the company enjoyed a brief reprieve during the Motorola (MOT) RAZR's success, but that was short-lived when Motorola imploded due to its self-inflicted design bureaucracy and belief in Ed Zander, who turned out to know as much about wireless handset design and strategy as my dog.
Additionally, the hub-and-spoke concept that companies like Motorola and Nokia (NYSE:NOK) impose on companies like RF Micro insolate the former from risk, but make business for the latter unpredictable. This is just one of many bad deals RF Micro has engaged in, the worst being its latest acquisition of Sirenza. This was the right strategy but the wrong time.
I am always amazed at how long it takes companies to recognize and act on revenue concentration issues. RF Micro should have gone down this road ages ago. Instead, it opted to buy at the top of a credit bubble and is now trading close to 1998 levels. The way the stock has behaved, you would think the company had subprime exposure.
It's long overdue for RF Micro's board to make some leadership changes. Management has gorged on stock options over the years and has failed to build a proven model that drives sustainable results. The sudden retirement announcements (wink, wink) of William (Bill) J. Pratt, chief technical officer, and Powell T. Seymour, corporate vice president of strategic operations, are a start, but they are not the source of the problem.