On May 9th, Annaly Capital Management (NYSE:NLY) announced that it has priced a public offering of 11 million shares of series C Preferred stock at 7.625%. This preferred issue has brought with it not just the extra layer of safety that common shareholders do not enjoy but also a very respectable dividend check of 7.625%.
On May 15th, I recommended to go long the newly issued preferred stock of Annaly Capital Management (NLY-PC). We took advantage of current conditions and were able to receive the stock on the cheap, for only $24.78, which is 22 cents below par (at $25). Since then, the stock climbed to $25.48.
This means that early investors were able to lock on a 7.625% annual dividend PLUS 2.8% in capital appreciation.
To be fair to the holders of the common, we will not leave them outside the scope of our comparison. Below is the performance of the common shares of NLY over the past few months.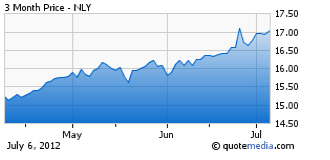 The holders of the common gained 6.25% in capital appreciation alone since mid May.
Annaly is not alone in this party. It is worthwhile noting that not only Annaly's preferreds benefited from this trend of preferreds, but also American Agency (NASDAQ:AGNC), another one of Annaly's peers saw its preferred series climb from $24.85 to $25.9 during the same period.
My recommendation
Take advantage of current momentum in mortgage REITs related companies as well as a run to the safety of preferreds. Remain long NLY-PC.
Disclosure: I am long NLY-PC.