Chordiant Software (CHRD) Tuesday afternoon said revenue for its fiscal second quarter ended March 31 will be $23.5 million to $25 million, far short of the Street consensus of $32.3 million, and below the year-ago level of $32.8 million. Q1 revenues were $29.1 million.
The provider of customer service software expects to post a pro forma loss of 6-11 cents a share; the Street had expected a profit of 11 cents.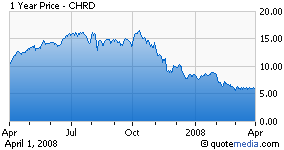 "During the quarter, we continued to see macro economic conditions weaken, specifically in the North American and United Kingdom financial services sectors," CEO Steven Springsteel said in a statement. "We believe customers are becoming more cautious regarding their IT purchases, requiring more time for approvals, and therefore, several transactions we expected to close before March 31 were delayed and are now expected to close in future periods."
In after hours trading, Chordiant is down 85 cents, or 13.7%, to $5.35; the stock rose 17 cents in the regular session.