There's a whole set of leveraged and inverse ETFs that have a tendency to behave in ways you normally might not expect. Under the right conditions, and with the help of a dash of extended volatility, you could lose money on some of these leveraged funds even if you're right on direction.
For example, based on the way these funds performed, you could have shorted both the Direxion Daily Financial Bull 3X Shares (FAS) and the Bear 3x Shares (FAZ) and made money on both over the last year because both funds went down.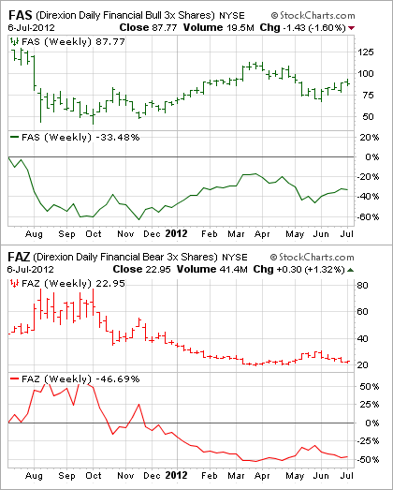 The reason? These funds track daily returns, but when the index these funds track become more volatile (perhaps up several days in a row, then down big in a day or two for example), distortions creep into the longer-term returns.
To ride these waves of distortion, some traders consider shorting both ETFs in a matched pair of these leveraged 2X or 3X funds.
I decided to take a look at some of these pairs to see which ones were the most widely shorted. Looking over data provided by XTF.com, I came up with five pairs of these leveraged funds with high short interest.
The percentage of short interest alone wasn't my sole criteria. After all, even if 50% of a $10 million fund is short, that doesn't mean as much to me as 25% of a $200 million ETF. So I limited this list to funds where there was 10% short interest in at least one of the ETFs in the pair and where each ETF has a net asset value of at least $100 million.
Here's what I came up with:
1) REAL ESTATE
ProShares Ultra Real Estate (URE)
Short Interest: 5.1% / NAV: $375.3 million
ProShares Ultra Short Real Estate (SRS)
Short Interest: 22.9% / NAV: $127.7 million

These funds track twice the daily return of the Dow Jones US Real Estate Index
2) FINANCIAL
Direxion Daily Financial Bull Shares
Short interest: 14.4% / NAV: $1,194.0 million
Direxion Daily Financial Bear Shares
Short interest: 16.1% / NAV: $734.0 million

These funds track 3 times the daily return of the Russell 1000 Financial Services Index
3) SMALL CAPS
Direxion Daily Small Cap Bull 3X Shares (TNA)
Short interest: 26.7% / NAV: $669.7 million
Direxion Daily Small Cap Bear 3X Shares (TZA)
Short interest: 9.9% / NAV: $738.6 million

These funds track 3 times the daily return of the Russell 2000 Index
4) SILVER
ProShares Ultra Silver (AGQ)
Short interest: 10.7% / NAV: $661.2 million
ProShares UltraShort Silver (ZSL)
Short interest: 22.4% / NAV: $159.9 million

These funds track twice the daily price change of silver in London
5) CRUDE OIL
ProShares Ultra DJ-UBS Crude Oil (UCO)
Short interest: 11.7% / NAV: $426.5 million
ProShares UltraShort DJ-UBS Crude Oil (SCO)
Short interest: 25.8% / NAV: $107.7 million

These funds track twice the daily return of the Dow Jones-UBS Crude Oil Index
Of these five, I'd say it's the crude oil pair that could lead to the biggest returns in the next few weeks. The reason I suggest this is because I believe commodities will be more volatile than equities and that crude oil is likely to be more volatile than silver.
Since June 1, the leveraged long UCO fund was basically flat, while its companion double short SCO fund was down 6.8%. Why? Crude has been volatile, even though it basically went nowhere for the month - and that's the recipe for profiting from distortion in how these funds track their indexes.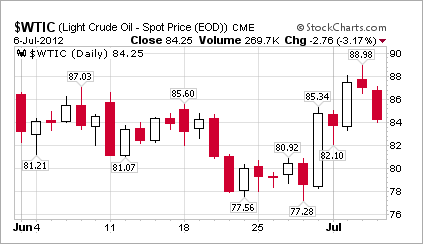 Here's a look at how a short position in both UCO and SCO would have performed over the past year.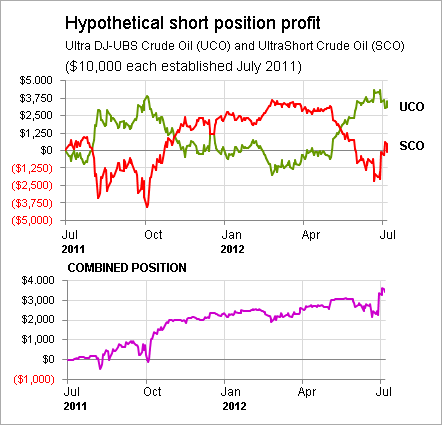 You may not wish to short any of these leveraged funds, but at the very least, here's one more reason to think carefully before holding a long position in any leveraged ETF over the longer term.
Disclosure: I have no positions in any stocks mentioned, and no plans to initiate any positions within the next 72 hours.