Daniel Loeb's Third Point disclosed a 7.1% stake in California-based REIT Maguire Properties (NYSE:MPG-OLD) in a 13D filing yesterday. According to StreetInsider.com, Loeb's firm paid approximately $76,044,482 to acquire the 3,350,000 shares. Third Point showed no stake in Maguire at the quarter ended December 31, 2007.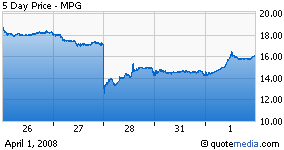 The deal reflects a price of around $22.70 a share. Yesterday Maguire closed up 13% at $16.12, after the share had slumped by 16% last Friday when the company said it would no longer pursue a sale.
Alex Frangos and Angela Pruitt in Saturday's Wall Street Journal raised the question of how long Chairman Robert Maguire could keep his command:
[Chairman Maguire] has been under attack from hedge funds who have bought up large stakes in the company. A special committee of independent directors said Friday it will review the company's nonsale options including its "dividend policy" and "all aspects of the Company's operations and management."

"Rob Maguire is likely to step down," said Michael Knott, analyst with Green Street Advisors, a Newport Beach, Calif. real-estate research and trading firm. "The writing is on the wall that he is going to be ousted," he said. Mr. Knott expects the 72-year-old Mr. Maguire to stay on in a nonexecutive board role.
According to yesterday's 13D filing:
The Common Stock was acquired by Third Point without any purpose or effect of changing or influencing control of the Company. However, as a result of the announcement by the Company on March 28, 2008, that its review of strategic alternatives no longer includes the active pursuit of a possible sale of the Company, Third Point may no longer be deemed to have acquired or to beneficially own the Shares with no such purpose or effect.

Third Point may engage in communications with other shareholders of the Company, knowledgeable industry or market observers, members of the board of directors or management of the Company or other representatives of the Company regarding the Company, including but not limited to its operations, strategy, management, capital structure and the strategic alternatives that may be available to the Company."
See Maguire's 13D Filing.