Shares of managed care service provider Wellcare Health Plans Inc (NYSE:WCG) moved sharply higher on Monday following news that WellPoint Inc (WLP) is buying Amerigroup Corp (AGP).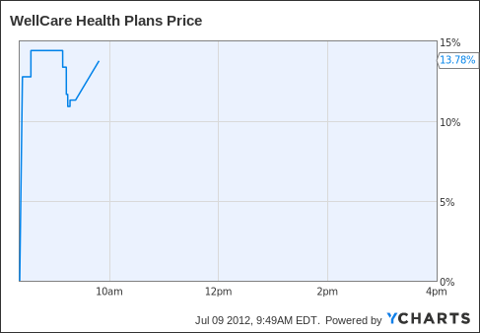 WCG data by YCharts
WellPoint Buys Amerigroup
WellPoint will pay $92 per share to acquire Amerigroup, a more than 40% premium from Amerigroup's Friday closing price.
Total deal valued at $4.9 billion.
The deal will be financed by cash and debt.
What It Means For Wellcare
The deal is seen as bullish for WCG because Amerigroup, like WCG, focuses on serving customers who receive government healthcare benefits. Also, WCG, like Amerigroup, is a relatively small company with a market cap of just $2.3 billion. WCG is certainly a potential takeover target for larger providers of insurance such as Aetna (NYSE:AET), United Health (NYSE:UNH), or Humana (NYSE:HUM).
Supreme Court
The supreme court's decision to uphold healthcare legislation is seen as bullish for healthcare providers as it forces citizens to buy healthcare. WellPoint's decision to buy Amerigroup also means that WellPoint seems confident that government sponsored healthcare programs will not be cut.
Valuation
Currently, WCG is trading at just 8.8 times earnings. WellPoint is paying more than 28 times earnings for Amerigroup. Based on this valuation, WCG is undervalued.
My Take
WellPoint's decision to buy Amerigroup is certainly a positive for WCG. However, I would look to buy a pullback in WCG instead of chasing it higher as the stock has already moved a lot on the news. Another potential headwind for WCG is the upcoming election. If Mitt Romney defeats President Obama in the 2012 election, the fortunes for government healthcare provides will certainly change. A reduction in government healthcare programs would be a major negative for WCG.
Disclosure: I have no positions in any stocks mentioned, and no plans to initiate any positions within the next 72 hours.