Natural gas has experienced a powerful rally over the last few weeks, driven in the short-term by record high temperatures across much of the United States. However, as I pointed out in my June 5th article, in both 2010 and 2011, June rallies in Henry Hub spot natural gas (NATGAS) and the United States Natural Gas Fund (NYSEARCA:UNG) have given way to 20%-50% third-quarter slumps that have continued into the early-to-late fall (see chart below).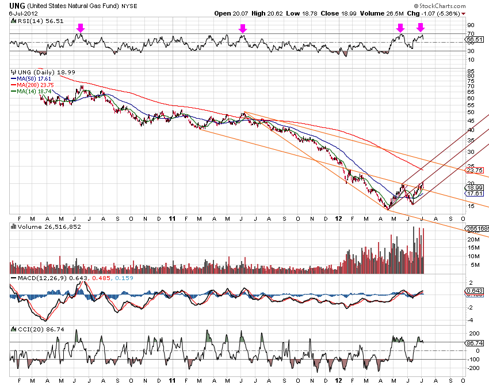 Indeed, if we index UNG prices to December 31st of each year and look at the performance over the ensuing year, we see that UNG has been tracking the 2010-11 experience very closely, both in its early-year collapse and spring rally (see chart).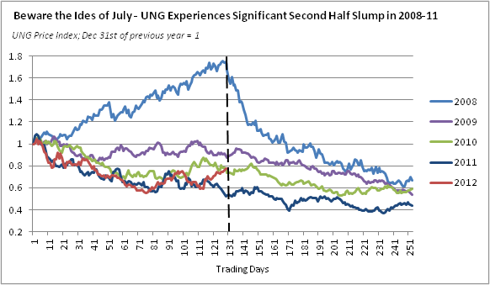 So, will UNG give in to a third-quarter slump, as it has every year since 2007? Or, will this time be different, as authors like Mark Anthony and others have argued in numerous articles on Seeking Alpha? I believe that it will slump, based on seasonal patterns in production, potential weakening in consumption and seasonal trends in the futures curve.
Production is Seasonal: Natural gas bulls have argued that things will be different this time because natural gas production has been declining since early in the year. While the natural gas industry is definitely beginning to adjust production to low prices, bulls fail to realize that this first-half decline in production actually happens to some extent almost every year. Indeed, natural gas production shows a clear seasonal pattern, with peaks in gross withdrawals per day in December / January and troughs in the summer (see chart).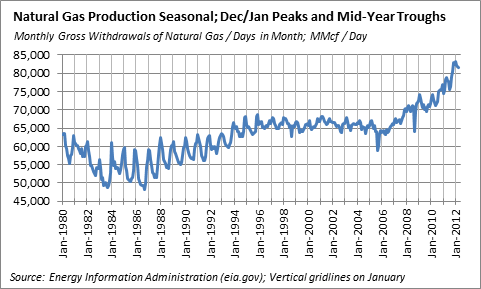 This pattern has become less pronounced in recent years, though is still visible in the averages for 2000-09 and 2011-11 in the chart below.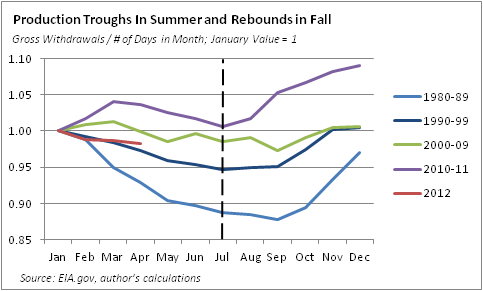 While the charts suggest seasonality, is it actually present in a statistically significant way? One quick statistical test for seasonality in monthly natural gas production is to perform a multiple regression on the monthly change in gross-withdrawals-per-day (eg. Gross Withdrawals divided by the number of days in the month) using twelve lags of the same series as the independent variables. If the coefficient on the twelfth lagged series (eg. one year ago) is positive and significant, this is an indication of an annual seasonal pattern in the data. I conducted this regression using data from January 1980 to April 2012 and from January 2000 to April 2012. The coefficient on the twelfth lag was positive and statistically significant for both regressions, strongly suggesting that annual seasonality is present in a statistical fashion, though becoming less pronounced in the more recent period (see table).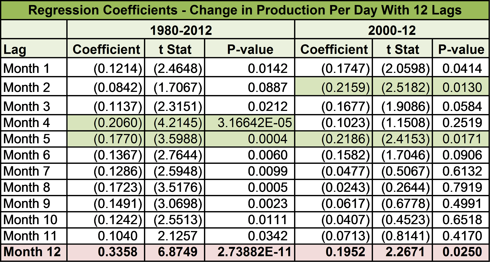 The implication is that the decline in production that we have seen during the first half of 2012 is at least in part due to the normal seasonal pattern in production. Indeed, production is still running 2-4% above the previous year's level in each weekly report from the EIA, suggesting a slowing, but not a collapse, of production growth.
Consumption High, But Watch Industrial Consumption and Warm Winter Weather: But, bulls argue, consumption is even more seasonal - spiking in the fall and winter as the heating season begins - and demand is currently running over 13% above last year because of a huge increase in the use of natural gas for electricity generation amid record summer heat.
Consumption growing more quickly than production is certainly supportive for prices. However, two factors could counteract the consumption trend as we move into the second half of the year.
First, year-over-year growth in natural gas consumption by industrial customers, the second-largest group of customers after electrical utilities, was negative for three out of the first four months of the year (most recent monthly production data are for April) and industrial demand growth has been negative year-over-year in several recent weekly reports, including the most recent report. This is the first sign of weakness in industrial gas demand since 2009 (see orange series in the chart below). Weakness in the manufacturing sector, as suggested by the recent ISM report, could lead to continuing reductions in industrial demand for gas, as well as reductions in demand for electricity.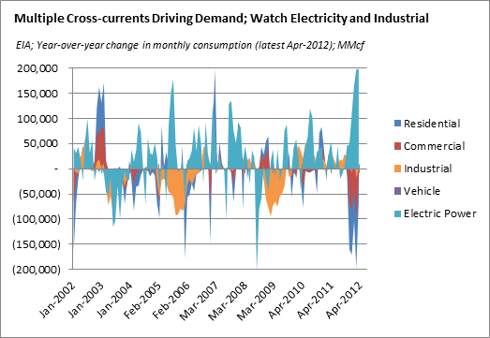 Also, demand for gas during the key winter heating season could be reduced again by a continuation of unseasonably warm weather. Indeed, the National Oceanic and Atmospheric Administration predicts above-average temperatures for large swaths of the country at least through December (see chart below for October/November/December NOAA projection).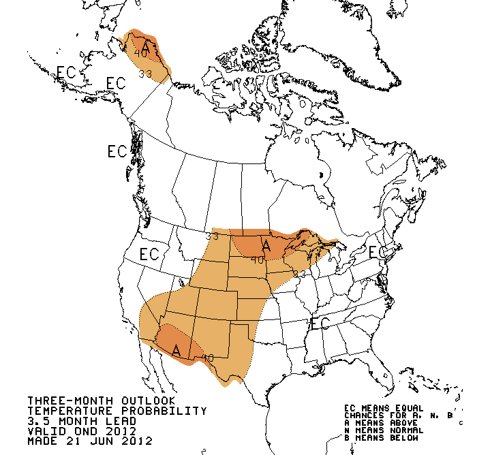 Seasonality in the Futures Curve is Another Negative for UNG: UNG, which attempts to track natural gas prices by rolling forward positions in near-month futures contracts, has been a victim of persistent contango in the natural gas futures curve, or the situation where the futures curve is upward sloping and next month futures are more expensive than near-month futures.
Interestingly, contango in the natural gas futures curve is not stable, but seems to lessen in the late spring and early summer, then get considerably worse in the late summer, causing UNG to underperform. Contango in the futures curve has followed this basic pattern in 2012, starting the year more pronounced due to the warm winter weather and then improving into July (see chart). A significant worsening of contango in the natural gas futures curve, as suggested by the seasonal pattern, would have negative implications for UNG during the third quarter.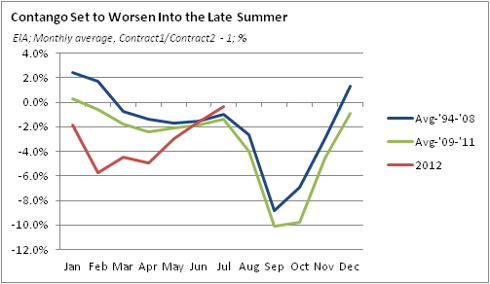 Conclusion - Beware the Ides of July: Because of seasonality of production and contango, as well as the potential for weakening demand trends going into the fall and winter, I believe that UNG will experience a third-quarter slump.
In my June 5th article, I suggested that traders stop themselves out of a short UNG position on a close above the 14-day moving average and look for better levels to re-enter following a June rally. With UNG seeming to fail around resistance at $20/share, attractive levels to re-enter the short may be upon us (see chart).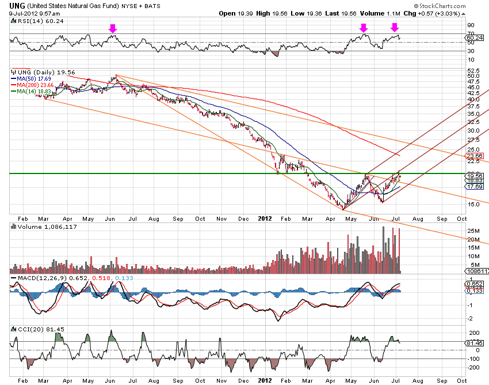 The risk, of course, is that it is, in fact, different this time. I think that a rally and consolidation above $20/share would be a good indicator that the seasonal trends I identify in this article are being trumped by a faster-than-expected adjustment in production and demand.
Disclosure: I have no positions in any stocks mentioned, and no plans to initiate any positions within the next 72 hours.
Disclaimer: Bard Luippold is Corporate Finance Manager for Meracord LLC ("Meracord"). This article is prepared by Mr. Luippold as an outside business activity. As such, Meracord does not review or approve materials presented herein. The opinions and any recommendations expressed in this article are those of the author and do not reflect the opinions or recommendations of Meracord.
None of the information or opinions expressed in this blog constitutes a solicitation for the purchase or sale of any security or other instrument. Nothing in this article constitutes investment advice and any recommendations that may be contained herein have not been based upon a consideration of the investment objectives, financial situation or particular needs of any specific recipient. Any purchase or sale activity in any securities or other instrument should be based upon your own analysis and conclusions. Past performance is not indicative of future results.