Kudos to Baker Hughes (BHI) for updating its database of rig counts and making it interactive. I haven't fully checked it out yet, but I like what I see so far. Here is a link to the website, which can also be accessed from the BHI investor relations website. The company just released the tool today.
This is great information for investors in the Energy sector (XLE). The data allows one to parse the rigs by many variables:
Oil vs. Gas (or Thermal)
Horizontal vs. Vertical vs. Directional
Depth
Well Type
Location (State, County, Basin)
When you run the program, the output has a map with the location of each well that includes major cities, basins, geology, county, highway and more. Here is a picture: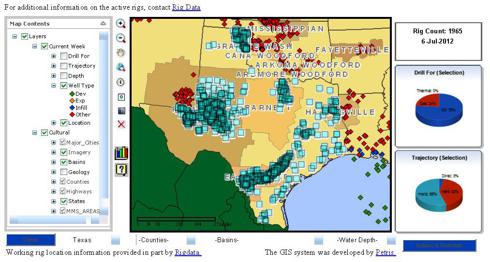 Click to enlarge
In this example, I have looked at the active rigs in Texas. On the center panel, one can see each of them demarcated by well type. To the right, the data indicates 24% of wells are gas and 76% oil. Also, only 42% of wells are vertical.
I think that this tool is most useful for those following the drillers and service providers. For instance, I own Helmerich & Payne (HP) in my Top 20 Model Portfolio, and there is concern over the shift from dry gas to oil. HP's FlexRigs work best in tough terrains, and this detail (by basin, depth) can help monitor near-term trends. The exact same argument can be made for Carbo Ceramics (CRR). With oil and gas prices often traveling in opposite directions these days, it's likely going to be increasingly important to track some of these more specific data.
Word of warning - the server seems overloaded as word is getting out! Also, if you do follow the rig count, be aware that Iraqi rigs were included this week, adding 79 rigs. That had not been included since 1990.
Disclosure: I have no positions in any stocks mentioned, and no plans to initiate any positions within the next 72 hours.