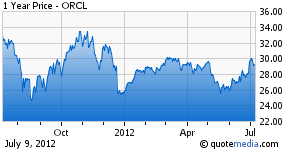 Oracle (ORCL) released earnings last week that were nothing short of impressive. Oracle can now lay claim to being the number two software-as-a-service ((NASDAQ:SAAS)) vendor, with $1 billion in revenues. The company trails Salesforce.com (CRM) in SaaS revenues. Oracle's earnings report also showed a very stable company that continues to grow through acquisitions that fit well with its strategy. This earnings report put investors at ease with the recent buying spree Oracle has been on in the past 12 months and it appears on paper on that the acquisitions are paying for themselves. Keeping up with Salesforce.com and staying ahead of Microsoft (MSFT) as well as SAP (SAP) is the next task for Oracle. I believe Oracle is positioned well to make a run at Salesforce.com and continue developing its new line of products, such as Exadata, Exalogic, and Exalytics, that have been derived from the Sun Microsystems acquisition.
Oracle Had a Busy June
The month of June was a very busy month for Oracle, and the stock reacted positively. The first week of June featured CEO Larry Ellison and President Mark Hurd unveiling Oracle's new breakthroughs in the cloud arena. Mr. Ellison and Mr. Hurd rallied the crowds as they rolled out, in Ellison's words, "the most comprehensive cloud on the planet." It was an interesting webcast, and even Mr. Hurd chimed in on bashing rivals like SAP.
Oracle's earnings report came out three days early, and was somewhat muffled on June 18, 2012, because the early release coincided with Microsoft's unveiling of its new Surface tablet. Oracle executives began to worry that investors were discounting the stock too much, because of the market's concerns of a massive European slow down. Yet, earnings were up 1% to almost $11 billion. Even more impressive were its software licensing revenues, which showed a 7% increase to $4 billion. Yes, hardware sales were down some 16%, but operating income increased 5% to over $4.5 billion, while net income was up 7% to $4.1 billion. Overall, Oracle beat street estimates and posted earnings of $0.82 per share, up 10% over 2011. Operating cash flow for the fiscal year improved 23% to $13.7 billion. Fiscal year earnings would have been even better if not for the strength of the US dollar. During the earnings report call, Oracle announced a $0.06 dividend, payable in July 2013, as well as a whopping $10 billion share buy back plan for future quarters.
The day after the early earnings report release, the announcement was made that long time North America sales representative and Vice President Keith Block was leaving the company. Mr. Block put himself in a bad position during litigation in the trial with Hewlett-Packard (HPQ). Mr. Block was very critical of Oracle's acquisition of Sun Microsystems and Mr. Hurd, making statement in a series of emails that were exposed in court. Mr. Block had been with Oracle since 1986.
June marked the start of the first phase in the trial with Hewlett Packard over the so-called Hurd Agreement. This is in regards to Oracle's stoppage of software development for Intel's Itanium chip, which Hewlett-Packard was using in its high end servers. The first phase of the trial will be decided by Santa Clara Superior Court Judge James Kleinberg. He must determine whether or not there was a contract in place between Oracle and Hewlett-Packard. Final arguments for the first phase took place on June 26, 2012 with regards to the on-going trial with Hewlett-Packard. Judge Kleinberg is expected to announce a ruling sometime in July 2012, and if he rules in favor of Hewlett Packard, the second phase, which will determine damages, will be decided by a jury.
In another developing litigation, the Supreme Court of the United Kingdom ruled in favor of Oracle this past week when the court upheld Oracle's position to be the first supplier of its products to the European Union. The court case arose from a 2009 lawsuit that Sun Microsystems brought against M-Tech Data, with regards to M-Tech Data importing Sun Microsystems drives into Europe when Sun was, at the time, only selling drives in China, Chile, and the U.S. The Supreme Court overturned an earlier Court of Appeals decision that had ordered Oracle to pay $100 million to M-Tech Data for withholding serial numbers, which made it virtually impossible for M-Tech Data to establish provenance. In the ruling, the Supreme Court was only interested in M-Tech Data's infringement upon Sun Microsystem's trademarks, and no so much with Sun Microsystems withholding of information.
Why I like Oracle going forward
I like Oracle going forward for many reasons. First and foremost, Mr. Ellison has surrounded himself with two quality executives, President Mark Hurd and Co-President, CFO Safra Catz. Ms. Catz and Mr. Hurd have towed the line for Mr. Ellison, and if an investor is worried about what will happen to Oracle's leadership when Mr. Ellison steps down, the investor need not worry any more. Mr. Ellison has alot of confidence in Mr. Hurd and Ms. Catz, and investors should be happy that a chain of command has been put in place by Mr. Ellison. Mr. Hurd reduced operating expenses by nearly $174 million during the last quarter, and Ms. Catz was front and center in the Hewlett-Packard trial.
Many technology companies in the past have worried about succession when the founder leaves operations. Apple (AAPL) and Microsoft have experienced this, when Bill Gates departed Microsoft, and with the untimely death of Steve Jobs at Apple. I am confident that Mr. Ellison has made the correct choices to have Oracle operate the way he wants the company to be operated.
Oracle had a stellar 2012, and Mr. Ellison is not going anywhere anytime soon, but when he retires to his island of Lanai, investors can be assured that Ms. Catz and Mr. Hurd will be able to keep Mr. Ellison on the list of world's top ten richest people. Even with a price around $29, I believe there is plenty of upside potential for this stock in the future. If Europe can figure out its finances, I believe there could be another 10% upside by 2013.
Disclosure: I have no positions in any stocks mentioned, and no plans to initiate any positions within the next 72 hours.