BPZ Energy (AMEX: BZP) came under heavy selling pressure Tuesday in yet another example of the market mistakenly focusing on a minor operational issue rather than a huge long-term success.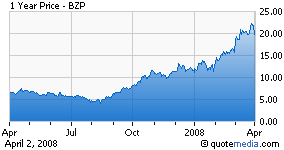 The two key takeaways from yesterday's press release are first that the 18XD well has tested 5,350 barrels per day with only three drill stem tests and that the testing is not yet complete. The use of heavy drilling mud (overbalanced drilling) is common in the region for well control. However, it also caused formation damage and made testing difficult. The important point is that these are typical operational issues for this type of well and formation, not indicators of poor reserves or production rates.
The story for investors is that these partial results bring cumulative testing from the four wells drilled at the CX-11 platform to more than 13,600 barrels of oil per day and 184 million cubic feet of gas per day. Shareholders panicked by what is fundamentally a very strong set of test results should also note that the 18XD well is only a small part of BPZ's initial drilling campaign at a single platform (CX-11) in a much larger, multi-platform field (Corvina field) within a multi-field complex (Corvina complex) in a single BPZ block that contains 16 mapped geologic structures, including the highly prospective Albacora field and the Delfin and Mero fields.
Three other highly prospective blocks round out the BPZ picture. How a partial test at 5,350 b/d and counting can justify a sell-off is hard to imagine.
Second, BPZ will resume production later in April at 6,000 b/d from three wells in the field (14XD, 18XD, and 21XD). While the market may be agitated over production resuming in mid to late April rather than April 1, as originally scheduled, it's worth noting that production is limited to 6,000 b/d by the facilities above the well bore, not the flow rates of the wells themselves. The same limitations will be true when BPZ brings on the 20XD well and takes production up to 8,000 b/d later this year. Production in 2009, when the first Albacora wells come on line, will more than double these levels.
Not discussed in the press release but of central importance to understanding the BPZ story is that all-in costs for these wells are among the lowest in the world. The sum of LOE, G&A, transportation, royalties, and refiner discounts is only $20 per barrel. At $80 WTI, operating netbacks would be $60/barrel. F&D costs are also exceptionally low. The result is that once production resumes in a few weeks, BPZ will be generating tremendous cash flow. This cash flow will go directly towards increased drilling, de-bottlenecking facilities, 3-D seismic and related highly productive activities.
Finally, from a trading perspective, it's worth noting that BPZ sold off extremely hard two months ago when a tanker it was leasing from the Peruvian Navy and operated by Peruvian sailors caught fire and sank (pdf file).
Since that accident, production has been suspended (to resume later this month) and activities on the 18XD well were also suspended. Savvy investors who used this market overreaction to a very real and adverse event as a buying opportunity are up almost 100% since then.
In contrast, Tuesday's overreaction is in response to not only a non-event (one incomplete drill stem test) but a very positive event (the 5,350 b/d and counting partial test result). Savvy investors should again take note of this opportunity.
Disclosure: Long BZP