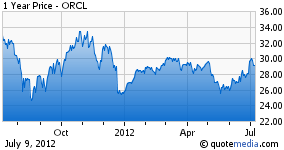 Legal difficulties can really hurt a stock, and several tech companies have had to deal with these kinds of issues in the not-too-distant past. Oracle (ORCL), on the other hand, seems to be coming through its legal situations quite well at the moment. In addition to this, it continues to grow and offer new services. Things look very promising for Oracle at the moment. The stock has already jumped over 10% just this last week. Trading at almost $30, the stock is racing toward its $33.88 price target for this year. In this article, I will discuss how Oracle's drive to produce new advancements in business solutions and cloud computing will push the stock higher in the coming quarters.
Before we jump into new developments surrounding Oracle, lets dive into the company's financials in order to better understand its current market position. Oracle currently has a market cap of $145.45 billion, total cash of $30.68 billion, and total debt of $16.47 billion. With a payout ratio of 12%, Oracle pays a dividend of .24 cents, or .80%. Oracle's profit margin of 31.61% compares favorably to other network giants like IBM (IBM) at 12.43% and Cisco (CSCO) at 18.68%.
Collaboration can be a very effective way of moving forward, especially when both companies benefit. Tech Data (TECD) has recently expanded its business relationship with Oracle, and this should bring more success to both companies. Tech data will now distribute the full line of Oracle's hardware products and applications in North America. Oracle notes that Tech Data is a "fundamental leader in the industry with an expertise in distribution." This also improves the services that Tech Data can provide, so this should help both companies grow and become larger forces in the tech industry.
Oracle is also growing in the business technology industry, as it recently presented Oracle Retail Customer Analytics. This is a service that will provide retailers information about its customers buying habits and preferences, and this will help businesses market more effectively to its customers. This is just one more development for Oracle in its Retail Analytics family of applications, but it provides a necessary service in a quick and simple manner. This will give Oracle another strong point in the business technology industry, even if this is a relatively minor development.
This is only one way it is continuing to grow in the business technology industry, as Oracle also recently revealed its plans for Oracle Customer Service. This will be offered as a suite so that companies do not have to purchase "tens of point solutions," and the suite will include sales, commerce, marketing, insight, loyalty, support, and service offerings. Oracle is working to help companies develop better relationships with their customers, so this is a practical development that should bring success to Oracle over time. It is certainly doing a lot to establish itself as an important company in the business technology industry.
It is also making its presence stronger in the health industry, as it recently released a new version of Oracle Health Sciences Translational Research Center. This enhancement improves the search capabilities in several ways and utilizes "best-in-class genomic visualization tools." Technology is entering a wide variety of fields, so it is good to see that Oracle is working to keep an edge in several of these fields. This may not be the largest of developments with this service for the health industry either, but it does show the company making several small-but-intelligent moves to stay at the top of the tech industry.
Oracle Health Sciences Network is also getting positive publicity in the cloud industry, as it allows healthcare providers, research institutions, and life sciences organizations collaborate through the network on a secure cloud. The cloud computing industry is growing larger, so it is great news that Oracle is continuing to work on this part of its business. Netflix (NFLX) has also enjoyed good publicity related to its cloud business, as it released its cloud management tool Asgard to open source.
Another company that is beginning to enter the cloud computing industry is CliQr Technologies, which is a start-up that Google (GOOG) is backing. This company is launching CloudCenter, which is a cloud management service that allows users to move applications between clouds from different providers. This would make things easier for cloud users and should prove to be rather successful. Google, playing the big dog in the arena (trading over $580), should provide some stable resources for CliQr to benefit from. There may be no better backer in the industry than the giant Google, as it searches for new ways to make money.
Oracle faces cloud computing competition from rival Hewlett-Packard (HPQ) as well. With a market cap of $39.94 billion, total cash of $8.34 billion, and total debt of $30.12, HP finds itself in a weaker position financially, compared to Oracle. HP recently won a contract from auto-maker Renault, one of the larger European automakers, to provide cloud computing IT solutions across its European offices. HP has been on a major downslope for the past month its price now around $20, too close to its 52-week low of $19.12. The Renault deal should help instill confidences, but HP has yet to establish itself as a leading name in cloud computing. Oracle, on the other hand, is in much better position financially, and has been a leader in this area, which is why I suggest backing it.
While other companies are competing in the cloud computing industry and keeping things interesting, I see no real reason for concern with Oracle. It has also been developing its products and services in business technology, health technology, and cloud computing. Analysts are now estimating that Oracle could lead everyone in cloud Apps by the end of the year a certain victory for the company. Oracle does not offer much of a dividend yield (0.24), but its price could take off sometime this quarter or the next. If, and perhaps when, cloud computing becomes an undeniable force in international technology sales, buying Oracle at about $30 per share may prove to be a lot more profitable than buying Google at near $600. I strongly recommend investing in Oracle today.
Disclosure: I have no positions in any stocks mentioned, and no plans to initiate any positions within the next 72 hours.