US Airways Group, Inc.
Since the global economy is showing no respite, we recommend investors, who are bearish on oil, take a long position in US Airways (LCC). We have a target price of $15.4, supported by the company's attractive valuations, financial strength and the catalysts mentioned below.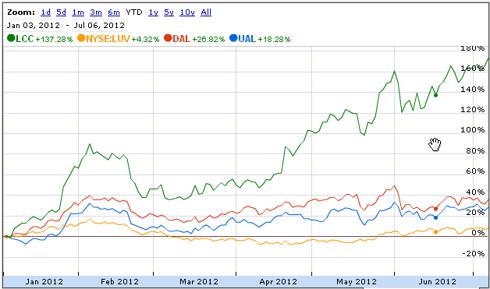 Source: Google Finance
US Airways , the fifth-largest U.S. airline, was at its 52-weeks high on July 6, 2012, as illustrated by the graph above. LCC, as predicted by our June 28 report named "Are Low Oil Prices Good For Airlines?," has clearly benefited from declining oil prices. US Airways is the only major U.S. airline that does not engage in fuel need hedging, however, this is not the only factor that has benefited LCC this year and led to its outperformance. LCC is also benefiting from the much talked about merger with the bankrupt American Airlines (formerly AMR) and improved June traffic results.

Source: Ycharts
Jet fuel prices have dropped by 5% over a year, to reach the current levels of $2.83 per gallon. Prices have plunged by a fifth this quarter. This has apparently benefited US Airways and Southwest Airlines (NYSE:LUV), which had fewer hedges in place for the first half of 2012. We predict further decreases in oil prices, which will translate into an improved bottom line for LCC in the coming quarter. The news of declining oil prices is also being celebrated by the rest of the carriers, who have seen improved year-to-date performances. Both Delta Airlines (NYSE:DAL) and Universal Continental Holdings (NYSE:UAL) have seen 36% and 29% appreciation in their stock prices since the beginning of this year. The global economy is showing little signs of recovery. Interest rates have been slashed in China, the U.K. and the ECB, to stimulate these major economies. Also, the U.S. posted disappointing jobs data on Friday, July 6, 2012, reinforcing concerns about its sluggish growth. This weakening global economy can lower global demand for oil, resulting in further decreases in oil prices.
Although LCC seems not be in a hurry to merge with the bankrupt airline, the merger has the potential to drastically increase the top line for LCC. With dominance in smaller cities, LCC's current network is not as robust as its peers, and operates on few international routes. With the addition of the American Airline network, US Airways will be able to expand its own destinations exponentially, both on a national and international level.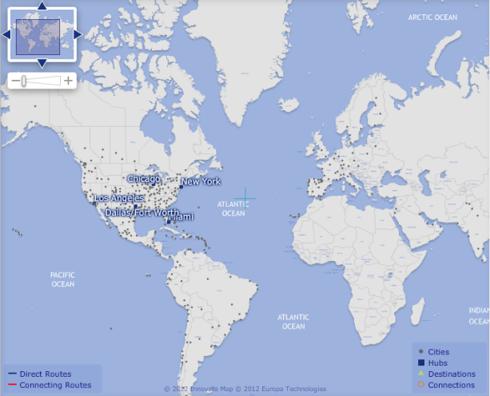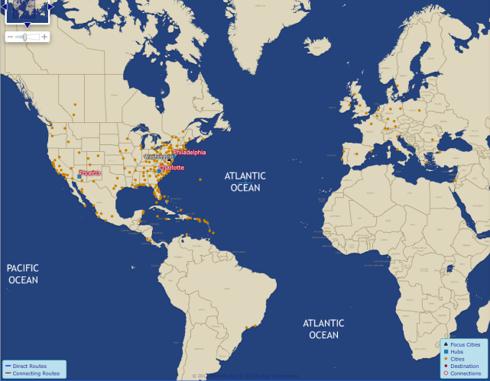 American Airlines Network Map
US Airways is considering plans to file an antitrust with regulators, to boost its American Airlines merger prospects. A key element of uncertainty would be removed if LCC is given the green signal by regulator for the proposed merger. Documents can be filed anytime beyond July, depending on American Airline's disputes with its labor unions. US Airways is hoping that it will file the documents with the consent of American Airlines and its creditors. The three labor unions at American Airlines, pilot, flight attendant and ramp workers, are also supportive of the idea of this proposed merger, while its creditors want the issue with the labor unions to be resolved before the discussion on a merger can begin.
US Airways reported strong June traffic results on June 5, 2012. Mainline revenue passenger miles (RPM) for the month of June reached $5.8b, showing a hike of 1.7% compared with June last year. Similarly, mainline capacity improved by 2.3% to reach 6.7b. The airline's mainline passenger load factor remained at 86.5% for June this year, down by 0.6% from June last year. The company's June consolidated passenger revenue per available seat mile (PRASM) rose by 6% over the same month last year. Its on-time performance also improved as reported by the Department of Transportation (DoT).
| | | | | | |
| --- | --- | --- | --- | --- | --- |
| | LCC | UAL | DAL | LUV | |
| Market Cap: | 2.25B | 8.05B | 9.27B | 7.12B | 4.01B |
| Qtrly Rev Growth (yoy): | 10% | 5% | 9% | 29% | 25% |
| Revenue (TTM): | 13.36B | 37.40B | 35.78B | 16.55B | 13.36B |
| Gross Margin : | 19% | 26% | 21% | 21% | 23% |
| EBITDA : | 812.00M | 3.50B | 4.18B | 1.49B | 992.40M |
| Operating Margin : | 4% | 6% | 8% | 4% | 1% |
| Net Income : | 233.00M | 602.00M | 1.30B | 271.00M | N/A |
| EPS : | 1.39 | 1.64 | 1.53 | 0.35 | 0.63 |
| P/E : | 9.96 | 14.8 | 7.18 | 26.71 | 14.8 |
| PEG (5 yr expected): | 0.05 | 0.29 | 0.12 | 0.47 | 0.92 |
| P/S : | 0.17 | 0.22 | 0.26 | 0.43 | 0.26 |
The stock is trading at an attractive discount of 12% to its peers in the U.S. airlines Industry with regards to its earnings multiple. Responding to the catalysts mentioned above, analysts have raised their earnings estimates for US Airways to $1.40 per share. The stock has a price-to-earnings multiple of 11x, which makes the target price $15.4.
Disclosure: I have no positions in any stocks mentioned, and no plans to initiate any positions within the next 72 hours.