Yandex: The Russian Online Advertising Industry Winner
Yandex (NASDAQ:YNDX) is a leading Russian internet company, which has been operating the largest search engine, Yandex.ru, in Russia since 1997. Alexa, a global web information company, ranks yandex.ru on the top in Russia, based on internet traffic. The company generated more than 63% of all web traffic in Russia in 2011, and had an internet search engine market share of more than 60% by the middle of 2011. Liveinternet.ru estimated that Yandex had approximately a 63.3% share in the Russian search engine market in 2011, compared with Google (NASDAQ:GOOG)'s Russian market share of 23.4% in 2011.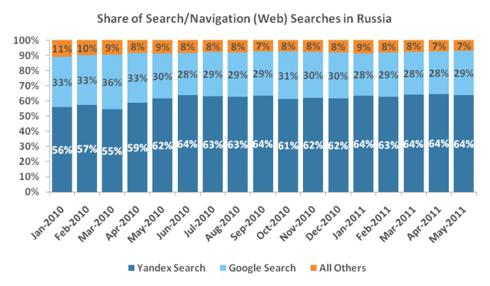 Click to enlarge
(Click to enlarge)
Source: comScore
The most popular services provided by Yandex are Yandex Search, Yandex Homepage, Yandex News Yandex Market, and Yandex Mail. The company derives more than 97% of its revenues from online text based advertising. Display advertising accounts for a small portion of advertising revenues at the moment. The company generates internet advertising revenues from its own websites and websites on third party ad network. The company makes text based ad revenue from charging advertisers on a cost per click (CPC) basis and display advertising on a cost per thousand impression basis. Yandex is enjoying a growing advertiser base with the number of total advertisers reaching 270,000 in 2011 from 180,000 in 2010.
Stock Catalysts
Russian Internet Penetration and Market Share
Internet users in Russia have grown at a compound rate of 20% in the past three years, and are further expected to grow in numbers. High levels of internet penetration will have positive effects on Yandex's revenues, considering its strong competitive position (1Q2012 Market Share 64%) in Russia's Online Advertising Industry.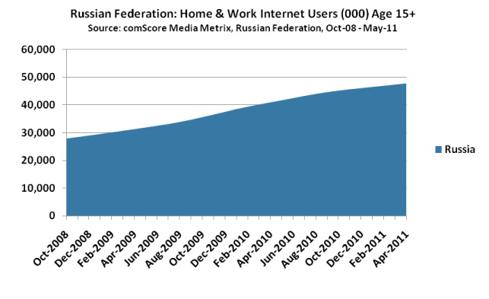 Click to enlarge
(Click to enlarge)
Growth in Online Advertising
The Russian Advertising Industry is rapidly growing since the last few years. The Online Advertising Industry in Russia grew by 55% YOY in 2011 to RUR 41.8 billion. Yandex is in a strong position to capitalize on the expanding Internet Advertising Industry in Russia.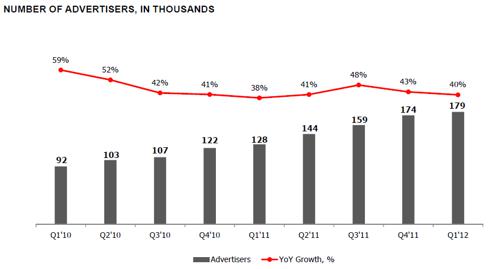 Click to enlarge
(Click to enlarge)
Traffic Acquisition Costs
Rising revenues from third party ad networks is increasing the traffic acquisition costs (NYSE:TAC) for Yandex, which, in turn, is reducing margins. Total TAC increased by 85% YOY in 1Q2012 to RUR 992 million, and is expected to continue putting pressure on Yandex's margins.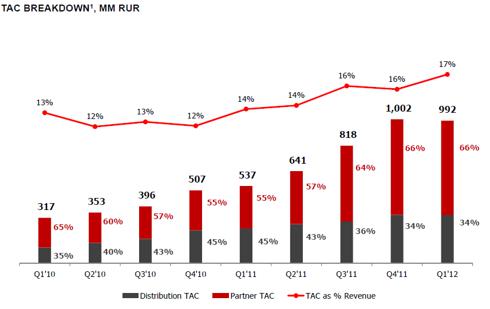 Click to enlarge
(Click to enlarge)
Operating Performance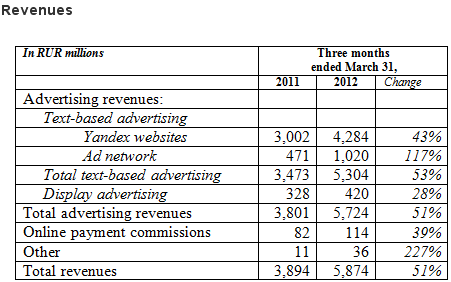 The company experienced a 61% YOY increase in paid clicks in 1Q2012. Average cost per click decreased by 5% in 1Q2012 as a result of overcrowded ad websites in the Russian Online Advertising Industry.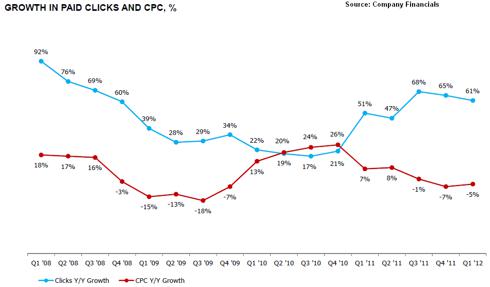 Click to enlarge
(Click to enlarge)
Total revenues beat analysts' estimates and grew by 51% in 1Q2012 to RUR 5.9 Billion, owing to a strong growth in advertising revenues. Text based ad revenues accounted for 90% of total revenues. Ad revenues from Yandex third party networks increased 117% in 1Q2012, and now account for 17% of total revenues.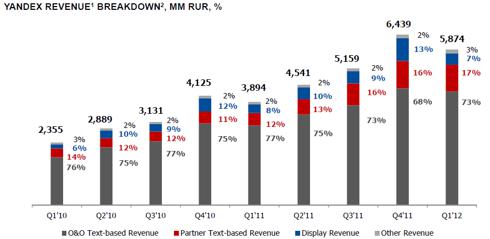 Click to enlarge
(Click to enlarge)
The company is also investing heavily in human resource and product development. Net income rose by 53% YOY to RUR 1.3 billion. Yandex expects the 2012 annual revenues to grow by 40-45%. Yandex has a strong balance sheet with zero debt and more than 10 billion in cash plus short term investments. Yandex has generated positive operating cash flows in the past five quarters, sufficient to finance capital expenditures.
| | | | |
| --- | --- | --- | --- |
| | YNDX | GOOG | Baidu (NASDAQ:BIDU) |
| OPERATING MARGIN (TTM) | 33.26% | 32.11% | 51.90% |
| TOTAL CASH PER SHARE (MRQ) | 0.96 | 146.06 | 7.25 |
| D/E (MRQ) | 0 | 12.49% | 13.80% |
Future Outlook
The company has a strong foothold in Russia and is taking the most advantage of growth in the Russian Internet Advertising. Furthermore, it is widely used in Central Asian countries as well, and has expanded into Turkey where it is quickly gaining popularity. Alexa, a global web information company, has reported that page views of Yandex Turkey are up 35% in the past three months compared to Google Turkey page views growth of 25% in the same period.
CPCs are falling industry wide due to supply demand imbalances, and are expected to fall further. However, companies like Yandex, having a strong grip on regional markets, are experiencing high growth in paid clicks volumes. Therefore, these companies have been able to post impressive revenue growth and will most likely continue the growth trend in future.
A strong balance sheet and cash position will provide additional financial flexibility to Yandex in investing in research development and infrastructure, or in making acquisitions.
Valuation and Investment Recommendation
| | | | |
| --- | --- | --- | --- |
| | YNDX | GOOG | BIDU |
| SHARE PRICE | 18.9 | 585.98 | 115.91 |
| P/E FORWARD | 16.73X | 11.64X | 18.22X |
| PEG RATIO (5 YR EXPECTED) | 0.67 | 0.77 | 0.64 |
Yandex's shares are currently trading at 16.73x forward earnings compared to Google, which is trading at 11.6x, and Baidu at 18.2x times forward earnings. Furthermore, Reuters reports analysts' consensus long term growth rates of 34.92% for Yandex, 18.66% for Google, and 42.16% for Baidu. These metrics may suggest that Yandex is fairly priced in the market. Nevertheless, we believe that Yandex is more appropriately positioned to take advantage of growth in the Russian Internet Advertising Industry, compared to Google. Plus, Yandex is facing less competition in Russia compared to Baidu in China; Baidu has recently experienced increasing competition from the entrance of new players in the Chinese ad market. We believe, therefore, that Yandex should be priced at an earnings multiple close to or above Baidu, and thus recommend buying the stock. Based on 2013 analyst consensus earnings per share of $1.16 and an implied multiple of 20x, we forecast a target price of $23.20 for Yandex with a 22.75% upside potential.
| | |
| --- | --- |
| | YNDX |
| Implied Multiple | 20.00x |
| 2013E EPS | $ 1.16 |
| Target Price | $ 23.20 |
| Current Price | $ 18.90 |
| Upside Potential | 22.75% |
Disclosure: I have no positions in any stocks mentioned, and no plans to initiate any positions within the next 72 hours.