After scrupulous back-testing of stocks from the MidCap universe, we have elaborated a screening method which has proven to perform much better than the main indexes of the U.S. stock markets.
The screen, that will be called M-1, requires all stocks to comply with all following demands:
The stock is included in the S&P 400 index. S&P Custom Indices Fact Sheet explanation: "Introduced in 1991, the S&P MidCap 400® provides investors with a benchmark for midsized companies. Today, mid caps are being recognized as an independent asset class, with risk/reward profiles that differ considerably from both large caps and small caps. The S&P MidCap 400 covers over 7% of the U.S. equities market, and is part of a series of S&P U.S.indices that can be used as building blocks for portfolio construction."
Earnings growth past 5 years (per annum) is greater than 10%.
Earnings growth estimates next 5 years (per annum) is greater than 10%.
The company has shown a profit in every year in the last 5 years.
Current P/E Ratio (last 12 months) is less than its average 5 years P/E Ratio multiplies by 0.6.
5 stocks with the lowest Market Value among all the stocks that passed the first 5 demands.
After running this screen on July 08, 2012, we obtained as results the 5 following stocks:

Data: Yahoo Finance
Bill Barrett Corp. (NYSE:BBG)
Bill Barrett Corporation, an independent oil and gas company, engages in the exploration, development and production of natural gas and crude oil in the United States. It principally operates in the Piceance, Uinta, Denver-Julesburg, Powder River, and Wind River basins in the Rocky Mountain region of the United States. The company was founded in 2002 and is headquartered in Denver, Colorado.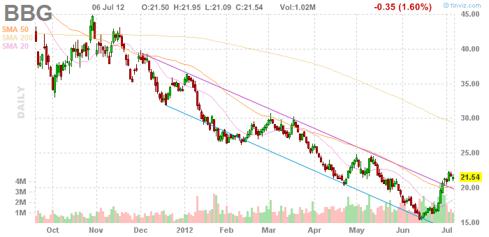 Chart: finviz.com
JetBlue Airways Corporation (NASDAQ:JBLU)
JetBlue Airways Corporation provides passenger air transportation services in the United States. As of December 31, 2011, it operated approximately 700 daily flights to 70 destinations in 22 states, Puerto Rico, and Mexico; and 12 countries in the Caribbean and Latin America through a fleet of 120 Airbus A320 aircraft and 49 EMBRAER 190 aircraft. The company, through its subsidiary, LiveTV, LLC, provides in-flight entertainment, voice communication, and data connectivity systems and services for commercial and general aviation aircraft, including live in-seat satellite television, digital satellite radio, wireless aircraft data link service, and cabin surveillance systems. JetBlue Airways Corporation was founded in 1998 and is based in Long Island City, New York.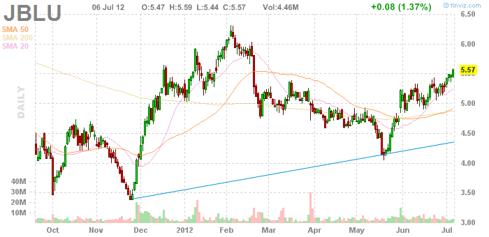 Chart: finviz.com
Northern Oil and Gas (NYSEMKT:NOG)
Northern Oil and Gas, Inc., an independent energy company, engages in the acquisition, exploration, development, and production of crude oil and natural gas properties primarily in the Bakken and Three Forks formations within the Williston Basin in North Dakota and Montana. As of December 31, 2011, the company owned working interests in 664 discoveries, consisting of 659 targeting the Bakken and Three Forks formations, and 5 exploratory wells targeting other formations; and developed approximately 52,219 net acres and had approximately 17,290 net acres in the process of drilling and completing. Northern Oil and Gas, Inc. is based in Wayzata, Minnesota.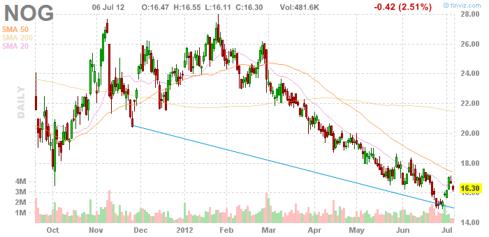 Chart: finviz.com
Tempur Pedic International (NYSE:TPX)
Tempur-Pedic International Inc. engages in the manufacture, marketing, and distribution of bedding products in North America and internationally. It offers mattresses, pillows, and adjustable bed bases, as well as various cushions and other comfort products. The company sells its products under the TEMPUR and Tempur-Pedic brand names through furniture and bedding retailers, and non-spring and department stores; direct response program, Internet, and company-owned stores; hospitals, nursing homes, healthcare professionals, and medical retailers; and third party distributors. Tempur-Pedic International Inc. was founded in 1989 and is headquartered in Lexington, Kentucky.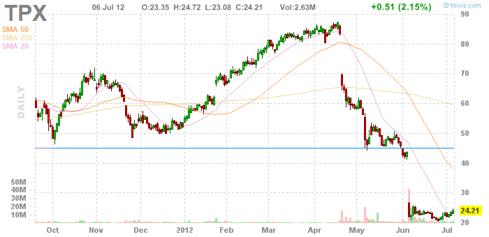 Chart: finviz.com
Valassis Communications (NYSE:VCI)
Valassis Communications, Inc., together with its subsidiaries, operates as a media and marketing services company primarily in the United States and Europe. Its Shared Mail segment combines the individual print advertisements of various clients into a single shared mail package and distributes the shared mail advertising products to approximately 70 million U.S. households primarily on a weekly basis through the United States Postal Service [USPS]. Valassis Communications, Inc. was founded in 1970 and is headquartered in Livonia, Michigan.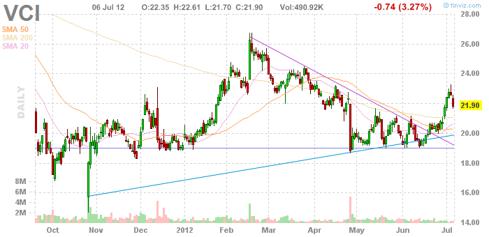 It is mostly recommended to run this screen each three months and replace the stocks that no longer comply with the screening requirement with other stocks that have a better chance to comply with the requirement.
Disclosure: I have no positions in any stocks mentioned, and no plans to initiate any positions within the next 72 hours.