I've previously analyzed, in brief, eight reasons investors should love Intel Corporation (NASDAQ:INTC). I recently initiated a long position on Intel and it's one of my highest-conviction individual stock holdings. Before investing, I conducted an in-depth analysis, and I'd like to share some of what I found.
Valuation
One of the first things I look at is a company's valuation. I find that in a lot of instances, companies with extremely high valuations tend to have all future growth priced in—so even if the company demonstrates strong EPS, the stock suffers because it often undergoes P/E compression.
As demonstrated by the chart below, Intel's P/E is the lowest of any of the major semiconductor stocks. ARM Holdings, plc (NASDAQ:ARMH) leads the pack with an exorbitant P/E of 53 and change, followed by Broadcom Corporation (BRCM) at 23.26, Texas Instruments Inc. (NYSE:TXN) at 17.88, Qualcomm Inc. (NASDAQ:QCOM) at 16.71, Nvidia Corporation (NASDAQ:NVDA) at 16.34, and finally Intel, dead last at 11.08. (You never want an investment you're screening to come in dead last... unless you're talking about P/E.)
According to my broker, the semiconductor industry average P/E is 16.44. Even if Intel checked in at a P/E of 15, it would be valued in the $35-$36 range.
Click to enlarge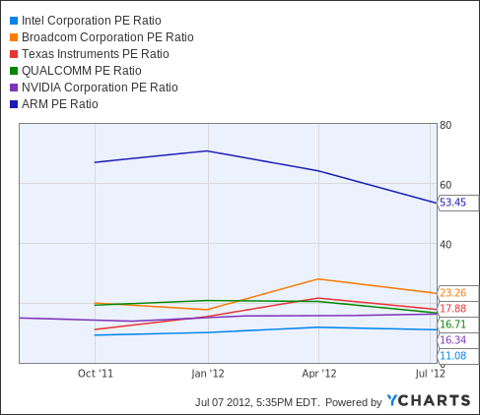 INTC PE Ratio data by YCharts
PEG ratios confirm Intel is significantly undervalued. Utilizing five-year projected EPS growth, Intel's PEG is 0.91, compared to 1.27 for Qualcomm, 1.5 for Broadcom, 1.03 for Nvidia, 2.31 for Texas Instruments, and 2.86 for ARM Holdings.
Shareholder Value
Intel comes out in front in shareholder value in several ways. First up is share buybacks. Overall outstanding share buyback authorization is currently $14.2 billion. Looking at statistics over the past decade, Texas Instruments has been the only other semiconductor company with any significant reduction of outstanding shares.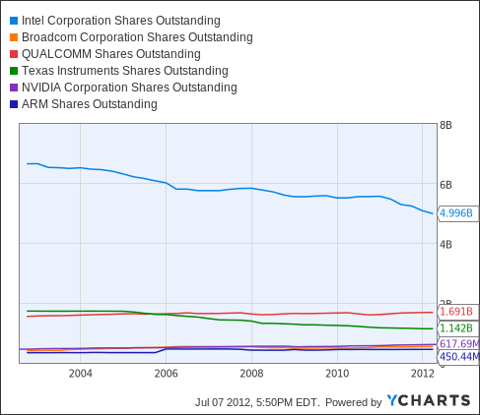 INTC Shares Outstanding data by YCharts
Intel's dividend yield is also significantly higher than any of the other companies.
INTC Dividend Yield data by YCharts
Intel has consistently increased the dividend over the past decade and was recognized as the Dividend Channel's "top dividend stock of the Nasdaq 100."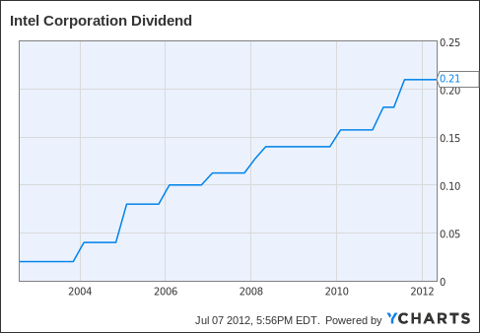 INTC Dividend data by YCharts
Balance Sheet and Free Cash Flow
Intel is a free cash flow machine, consistently generating tons of free cash. The company also has a sizable cash reserve, which has remained well above $3B for the past five years. Intel's balance sheet is so strong that the $1.45B EU antitrust fine could be paid again with minimal impact to the balance sheet. (In fact, when Intel paid the fine in Q2 2009, it only reported a net loss of $390M for the quarter. How many companies can pay a $1.45 billion fine and only come out with a $390M loss?)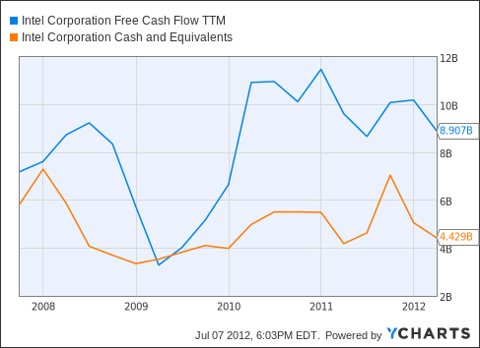 INTC Free Cash Flow TTM data by YCharts
Intel's margins are great, debt is low, and all the return statistics are phenomenal.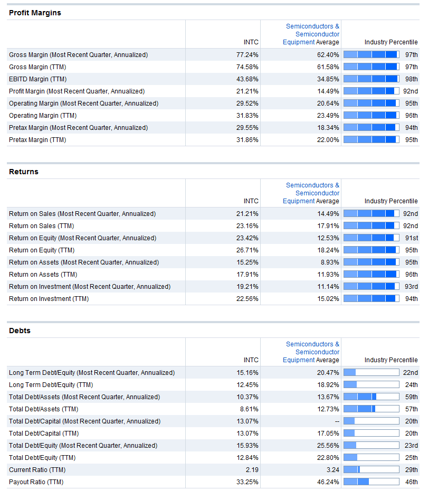 Source: Fidelity
Intel's Future Growth
This is the area I am most excited about. While all the focus is on newcomer ARM Holdings (see itsinflated P/E and PEG), Intel has been not-so-quietly prepping to take over mobile processing the same way it took over traditional desktop/laptop processing. It is building new fabs and retrofitting old ones and fine-tuning its supply chain for mobile processors. It is looking into intelligent technology for a wide range of consumer products. Intel also has the advantage of scale over smaller competitors, who are facing supply chain issues.
Intel is also one of the world's 10 largest software companies, which surprises many people who assume the company is just a chipmaker. Intel's software offerings range from enterprise products for the education industry to McAfee antivirus software and advanced physics modeling for the video game industry.
Rumors of Intel's demise are greatly exaggerated. The company's growth has consistently surpassed analysts' expectations. Since Q1 2010, Intel has turned in nothing but earnings beats.
Conclusion
Most investors wear a certain hat: they're "value" investors, or "dividend" investors, or "growth" investors. With Intel, you get to wear all three hats. The company has a very solid balance sheet, phenomenal cash flow, a great dividend and share buyback program, and very strong growth prospects for the future.
Intel is currently extremely undervalued. While many people are focused on "new tech" companies, smart investors like Bret Jensen realize that Intel is a solid value. When I was researching, I couldn't find a reason not to buy Intel. So I did.
Disclaimer: I am an individual investor, not a licensed investment advisor or broker dealer. Investors are cautioned to perform their own due diligence. All information contained within this report is presented as-is and has been derived from public sources and management. Always contact a financial professional before making any major financial decisions. All investments have an inherent degree of risk. The future is uncertain, and actual results may be materially different from those expected. Past performance is no guarantee of future results. All views expressed herein are my own, and cannot be interpreted as the views of my employer(s) or any organizations I am affiliated with. Presentation of information does not necessarily constitute a recommendation to buy or sell. Never make any investment without conducting your own research and reading multiple points of view.
Disclosure: I am long INTC.