I expect Apple's (NASDAQ:AAPL) share price to reach $300 in 2008. Apple is around $147 today. I expect a gain of over 100% from today's price. Keep in mind that Apple finished 2007 at $198.08. From there, the trip to $300 per share is over 50%. I have a core belief that informs my judgment: stock prices are made by earnings growth and public expectations. Earnings growth is my key metric. I believe that the earnings growth predicts the direction and the magnitude of a stock's price change.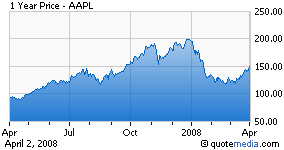 In essence, by predicting a $300 share price for Apple, I am saying that Apple's earnings should grow by 50% or more in 2008. I believe this will be the case. Before I make my case for Apple's expected earnings growth, I would like to explain its decline in 2008.
Apple's stock basically fell from $198 on December 31, 2007 to $120 in February, a decline of 39% in two months. Why did it fall so dramatically? It was not because of the MacWorld event in January which brought us the MacBook Air. That product is a runaway hit and oh so very cool. It was not because of Apple's earnings report, also in January of 2008. Apple reported year-over-year earnings growth of 58%. That rocks. No, the problem was the EPS guidance. Apple's guidance was that they expected to earn $0.94 in the quarter ending March 31, 2008 versus actual earnings of $0.87 in the quarter ending in March 31, 2007, a gain of 8%. Nobody pays a premium for 8% earnings growth. The expectations declined. The stock price followed. This decline says less about Apple and more about its stockholders. uPOD. under Promise Over Deliver. That is Apple's approach to guidance for Wall Street.
Apple's guidance is consistently wrong on the low end. I have owned Apple in my clients' accounts for 17 quarters, since February of 2004. In that time frame, Apple has provided quarterly EPS guidance 16 times. They have gotten it wrong 16 times. On average, they have been wrong by 48%. Let me translate that statement. If Apple says that they expect their earnings to grow by 8%, add 48% to that estimate and expect 56%. I do not think that we are being sandbagged. It is just impossible to predict the creation of a new industry. Who saw the iPod industry coming? Who can predict the size of the iPhone industry? I find Apple's conservative guidance comforting. If you overstate earnings in this environment, the trial lawyers will feast on you.
I am a long-term investor. I only measure my returns from one year end to the next. But there is another investor type among us with far less patience and perspective. I call them "The Visitors". "The Visitors" are short-term investors. Their knowledge about Apple is essentially an "elevator pitch." No one should take "The Visitors" lightly. They seem to be about 40% of the investor population. The conservative guidance provided by Apple's management invited "The Visitors" to panic sell or short the stock. There are four days a year when you get the truth about a company's financial condition. Those are the four quarterly earnings calls. That leaves 361 days for mischief. This explains the drop in Apple's share price in 2008. "The Visitors" got exited. By the way, Apple's next earnings call is April 23, 2008.
The case for a $300 share price has two keys, of which only one needs to occur to make that $300 stock price real. The first is the robust sales of the Mac. The second is the tsunami that is the iPhone. Mac sales grew by 36% year-over-year in the quarter ending March 31, 2007. The buzz is that this growth has accelerated. The buzz is that Apple's Mac sales are now growing at a 60%+ rate, year-over year. If that is validated during the upcoming earnings call, that profits from the Mac are sufficient to deliver earnings growth of 50%+ for the entire company.
The iPhone is something else entirely. I have never loved anything that I have ever bought more than I love my iPhone. It has organized my life. The iPhone also happens to be the most profitable product I have ever analyzed. In order to understand that statement, you must know that I believe that Apple makes 30% of the carrier revenue on all iPhones sold. I assume that this translates into a profit of $25 per iPhone per month. That is $300 per year from carrier revenue plus $200 in profits per phone on each unit sale, amortized over twenty four months. So, the annual profit per phone is $400, $300 from the carriers and $100 for the actual sale of the phone. If Apple sells 10 million iPhones this year, it should earn $4 billion from the iPhone alone.
In 2007, Apple had calendar year earnings of $4.1 billion. Apple sold 3.7 million iPhone units in 2007. If it sells 10 million units in 2008, the profits should be sufficient to drive earnings growth above the 50% level. I expect the stock price to follow the earnings growth. So, I have given you two scenarios for driving earnings growth to 50% in 2008. The truly exciting thing about these scenarios is that both could be true. If both of these scenarios occur, then my $300 share price expectation may prove to be conservative.
Disclosure: Author has a long position in AAPL