This is a very scary period of time for investors. Just when they think they have the market figured out, it turns out to be a head fake and the market changes track.
If not careful, this market could become more than scary. It could be come downright dangerous. For many investors, it already has. The losses are piling up.
Across the nation, investors are running for cover. Nearly all economic barometers show a recession on the horizon. It is time to head to your storm shelters. When the markets are destined for a major slowdown, you need to take action.
Unfortunately, the typical safe shelters no longer offer protection. They are filled with so many other folks running from the storm, they are weak and overfilled. Gold is a perfect example. Prices soared above the $1000 mark as investors fled the equities market seeking safety. But now prices have dropped and are showing signs of further collapse.
My advice for investors is not to seek shelter, but remain vigilant in the face of the storm. Remain in the equities market. If you are diligent and pay attention, you can come out with some very hefty profits when the headwinds subside.
The trick is to get out of all the high-flying growth stocks and head towards value. Small, speculative stocks are not going to go gangbusters overnight, or even over the course of a year, in this market. The strong companies that offer the products we need every day – even during a recession – are your lone shot at success.
Just bread and water, please
As this economic cycle shakes itself out, Americans are going to drop their nonessentials. They will not buy the new iPod. They will not go out to eat four nights a week. And they certainly won't splurge on a new house. But they will still get sick. They will still have babies. They will still buy groceries. And they will still put shirts on their back.
Invest in the nation's essential goods and services and your money will be protected against inflation and will still work towards making you rich.
There are dozens of companies out there that meet this criteria, but only one of them offers the kind of profit opportunity that makes my balding head break out in sweat.
When I first got into this business, I studied hundreds of drug manufacturers and the innovation and techniques they used to bring new drugs to the market. I quickly learned it takes just a few simple clues to uncover a nearly guaranteed profit opportunity.
The first essential is that the company has a strong pipeline of potential drugs in Phase II and Phase III FDA trials. A company can have hundreds of drugs in the first phases, but unless they have a handful actually making the grade, they are doomed for failure. If a company has at least two good drugs in Phase III, you know it is the real deal.
Next, insiders have to be buying. If I inspect a company's Form 4 filings and do not see significant insider purchases, I get out my red pen and scratch it off my list. After all, if the stock is not good enough for the CEO or chief biologist, why is it good enough for me?
Finally, the company had better be making some headlines. If its public relations team does not have the Street talking and spreading rumors, my money is better off somewhere else. Never forget, one headline can mean the difference between a gain and a loss.
Not that one, or that one, but THAT one!
With such rigid guidelines, it is not every day I run across a winner. But when I do, I get excited. It means somebody is about to get rich.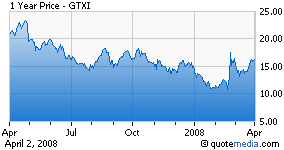 The company you need to know about is a small biotech from Memphis called GTx, Inc. (NASDAQ:GTXI). Founded in 1997, the company's hard work is just now beginning to pay off. This one is about to go from a small fish in a big pond to a competition-devouring piranha.
GTx specializes in men's health drugs. No, not the small blue pill, but the same general part of the body. One of the company's most promising late-stage medicines is toremifene citrate, or Acapodene. It is used to help treat patients with advanced prostate cancer.
Without getting too scientific, typical prostate cancer treatments are very hard on the body. They lower critical hormonal levels, destroy bone mass, and even degrade the heart. GTx's potential new drug helps to eliminate many of those side effects.
With nearly a million men currently undergoing treatment, Acapodene has a lot of potential. It is expected to hit the market later this year and bring the company as much as $400 million in annual revenues. Right now, GTx pulls in just $7 million.
But remember I said I want at least two late-stage drugs in the pipeline and I want the Street to be talking. Acapodene will need some company if it wants to get my nod. It comes under the name Ostarine. Although it will be a bit longer before it hits the market, it offers even more potential than Acapodene. This is the drug most analysts and industry experts have their eyes on. Rumors are already flying… I love it.
All of those potential drugs do not mean a thing, unless insiders are buying. GTx more than meets my requirements.
So far this year, company insiders have shelled out more than a million dollars of their own money to get their hands on shares of the company. If they are willing to place that much money on the line, you know they trust their company and its pipeline. And so can you.
The nation's economy is far from sure-footed. But that does not mean you should grab a shovel and bury your savings in the backyard. There are plenty of profit opportunities remaining.
You merely have to stick with the essentials and do your homework. Few companies meet my strict requirements, but when one does, I am positive it will be a winner.
Take a good, close look at GTx and make your move. You will be glad you did.
Disclosure: none