Recession or not, we all need to eat. The food industry should be one place I would expect to find solid balance sheets and consistent operating performance in an uncertain economic environment. I screened 14 food, beverage and confectionery stocks using the Company Stock Risk Profile Fast Track*.
Here's what I found. The industry has a lot of financial leverage. Long-term debt as a percentage of total capital averaged 38.2% for all 14 companies. Only three companies were below 20%, which is the Company Stock Risk Profile's definition of low long-term debt – Coca-Cola (KO), Pepsico (PEP) and Diamond Foods (DMND). Heinz (HNZ) and Hershey (HSY) were at the high end with 70.4% and 68.3%, respectively.
This is not a consistently cash rich industry. Free cash flow at as many as six companies was not stable and declining. Eight companies reported disappointing earnings as compared with Street expectations in at least one quarter in the latest four quarters. Street analysts have lowered earnings estimates at only two companies. Are these analysts too optimistic?
Valuation is a mixed picture. Eleven stocks had P/Es (using trailing 12-month earnings) below the average of the high and low P/Es for the last five years. But based on the PEG ratio (forward P/E / Projected Earnings Growth Rate), 12 stocks were overvalued relative to the industry and/or the S&P 500. Managements have not demonstrated enthusiasm for their stocks.
Kraft (KFT) was the only company where management had purchased their company's stock. The Street on balance likes this group. There were eight stocks where more than half the analysts following them were recommending a buy. The Company Stock Risk Profile Fast Track favors stocks where less than half the analysts are recommending purchase, leaving plenty of room for ratings upgrades. There were only two stocks that had both low long-term debt and stable or growing free cash flow. They were Coca-Cola and Pepsico. And Coca-Cola was the only stock that failed only 3 of the 10 Fast Track categories, leading me to take a closer look.
Coca-Cola's Company Stock Risk Profile rating turned out to be Medium Risk. While the company's fundamentals are solid, two variables raised the stock's Risk Profile. Failing 8 of 12 valuation measures, the stock is far from cheap. And the Street is extremely bullish with 14 of the 16 analysts following the stock recommending purchase. Admittedly, I passed on Coca-Cola in March 2005 when the stock was $43 based on valuation.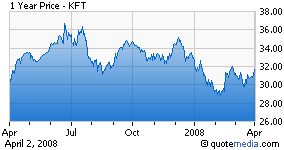 The stock I find most intriguing is Kraft. Although the stock failed 4 of the 10 Fast Track categories, I broke my 3-category rule and put the stock through the complete Company Stock Risk Profile research process. Kraft is a turnaround story, so I wasn't surprised that the Risk Profile rating was Medium. Here's what caught my interest:
1. Kraft is one of the world's leading food and beverage companies with such well-known and established brands as Philadelphia cream cheese, Oscar Mayer, Post cereals, Nabisco, and Kraft.
2. Kraft has new management at the top. Irene Rosenfeld was appointed Chief Executive Officer in June 2006, and also became Chairman in March 2007 following Altria's spin-off of Kraft. Rosenfeld is a 25 year industry veteran, and came back to Kraft from Pepsico's Frito-Lay where she was Chairman and CEO since 2004.
3. The company generated cash flow from operations of $3.6 billion last year and, after capital expenditures, free cash flow of $2.3 billion.
4. Insiders purchased stock this past February.
5. Kraft has yet to gain support on the Street. Only 4 of the 18 analysts following the stock are recommending a buy.
6. Warren Buffett's Berkshire Hathaway owns 132.4 million shares or 8.6% of the outstanding shares.
There also are negative factors to consider: (1) Management's strategy to accelerate growth and cut costs has yet to prove successful, although top line growth is beginning to pick up; and, (2) The shares are not a bargain, having failed 7 of 12 valuation measures.
Because most Street analysts probably have low expectations, Kraft is positioned to surprise on the upside if the implementation of management's strategy continues to move in the right direction. But the stock doesn't yet offer the value I require to be appropriately compensated for the risk inherent in a turnaround. Nevertheless, I believe Kraft has the potential to be an attractive buy idea, and I'm going to follow the stock closely.
*The Company Stock Risk Profile Fast Track is a research tool for quickly and easily screening stocks for potential ideas. Fast Track is comprised of 10 key categories incorporating fundamentals, valuation and how management and the Street feel about the stock. I like to see a stock fail no more than 3 categories before putting the stock through the complete 50-category Company Stock Risk Profile research process. Most important, whatever screening tool you choose to use, always thoroughly research the stocks that pass your screen before buying.
Disclosure: none