Market Recap: The market followed through on weakness Monday from the previous week as a lack of developments over the weekend and Monday left the market with a very similar tone. The major news out Monday was that Norway is seeing some potential supply issues on the back of a potential strike from Statoil (NYSE:STO) that now seems very likely. The dollar also was down as the euro did gain some strength, but rising yields on Spanish bonds kept the market in fear. Earnings season starts tonight with Alcoa (NYSE:AA) earnings, and that report should help give the market some direction tomorrow even if the earnings are not a great snapshot of the entire marketplace. Additionally, the S&P 500 is holding a key 50-day MA right now that should be watched moving forward.
Moving through the rest of the week, its all about a small handful of earnings, developments in Europe, and potentially some parsing of the FOMC minutes for any clues of QE on Wednesday. With the big earnings coming from Google (NASDAQ:GOOG), JP Morgan (NYSE:JPM), and Wells Fargo (NYSE:WFC) this week, we should get some more extended movement.
Two Trades
Two trades we like right now are long eBay (NASDAQ:EBAY), short SPDR Dow Jones (NYSEARCA:DIA) as well as earnings trades in Lorillard (NYSE:LO). EBAY had a rough couple weeks after hitting some nice new highs after it announced that it was going to streamline its business and focus on developing itself as a payments solution company. Also, we believe the news from lawsuits filed against Mastercard (NYSE:MA) and Visa (NYSE:V) that attempts to get swipe fees reduced from the two credit card companies from retailers is bullish for EBAY moving forward. The company is holding a key trendline, and we like hedging this position with a short on the DOW as we expect it to remain flat to weak but can provide us some insurance in case EBAY goes down with the general market. Additionally, we like the looks of LO. It was one of our top five picks for earnings season for large-cap companies. It is expected to see tremendous year-over-year growth with 8% in revenue and around 15% in earnings. The company is technically sound, and we believe it will outperform into and out of earnings as the value is better than Phillip Morris (NYSE:PM) and Altria (NYSE:MO).
Trade #1: Long EBAY, Short DIA
Trade #2: LO, Aug18, 130/125 Bull Put Spread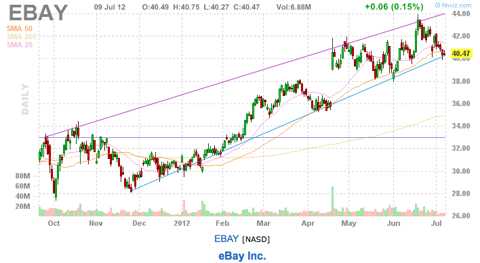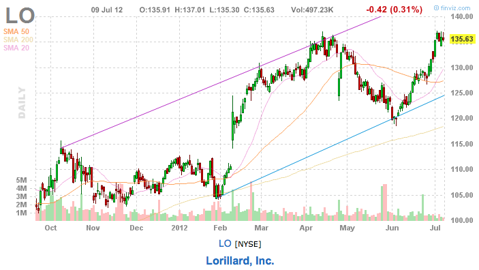 Tomorrow's Outlook
Unfortunately or maybe fortunately, it all comes down to Alcoa tomorrow with its earnings report. The company has a lot of potential it looks like to actually beat estimates since the bar has been set so low as well as overall market sentiment. Yet, a disappointing report may confirm everyone's suspicions and create more selling pressure. AA is a materials company, which is not in a cyclically strong cycle right now, so that needs to be a part of everyone's comprehension of these earnings as well. We have no economic data at home tomorrow, but there are some key reports overseas. China Trade Balance and Japanese Consumer Confidence are important reports as well as Great Britain's GDP Estimate and Industrial/Manufacturing Production numbers. Some overseas news will be impactful as well, but we definitely need some catalyst to get out of this rut. Until then, we will continue to see "risk-off" trading.
Oxen Group Moves
We had a solid day in the markets today as we were able to exit 1/2 of our Garmin (NASDAQ:GRMN) Jul21 bear call spread at 39/40 for 13% gain as well as add a bevy of positions. We added a long in EBAY and short in DIA to our Equity Portfolio as well as added earnings bull put spread in Seagate Technology (NASDAQ:STX). We also added two longs in Hillshire Brands (NYSE:HSH) and State Street (NYSE:STT) in our Goldman Sachs Upgrade/Downgrade Paper Trade Portfolio, and we added longs in Wolverine Worldwide (NYSE:WWW) as well as Domino's Pizza (NYSE:DPZ) in our Extended Value Portfolio.
We have the following positions:
In our Short-Term Equity Portfolio we are long eBay , Dollar Tree (NASDAQ:DLTR), Ashland (NYSE:ASH), Expedia (NASDAQ:EXPE), Apple (NASDAQ:AAPL), and Verisign (NASDAQ:VRSN). We are short Dow Jones , Pall (NYSE:PLL), McDonald's (NYSE:MCD), Life Sciences (NASDAQ:LIFE), SPDR S&P (NYSEARCA:SPY).
In our Options Portfolio, we are long Dicks Sporting Goods (NYSE:DKS), Dollar General (NYSE:DG) and AutoZone (NYSE:AZO). We are short Aflac (NYSE:AFL), Garmin , and Under Armour (NYSE:UA). We have a reverse iron condor on Apple .
In our Earnings Alpha Portfolio, we are long Seagate Tech , Apple , Capital One (NYSE:COF), Disney (NYSE:DIS), Ashland , Vertex (NASDAQ:VRTX), Intuitive Surgical (NASDAQ:ISRG), Marriott (NYSE:MAR). We are short Pitney Bowes (NYSE:PBI), Schlumberger (NYSE:SLB) and Walgreen (WAG). We have a reverse iron butterfly in Decker's Outdoor (NASDAQ:DECK).
In our Goldman Sachs Up/Down Paper Portfolio, we are long Hillshire and State Street .
Chart courtesy of finviz.com
Disclosure:
I am long PNRA.