Right or wrong on why, I can't help but be impressed by Sirius XM's (NASDAQ:SIRI) continued appreciation in share price. Shares of the company have simply been on an absolute tear for the last week, and in just five trading days have gained approximately 25 cents as of this writing, or over 13%. And they don't look to be letting up steam any time soon.
I had originally attributed this activity to Liberty Media (NASDAQ:LMCA). It was a logical conclusion, as Liberty has been pursuing de facto control of Sirius XM through FCC filings, as well as adding to its stake through a forward contract for 302 million shares, and through open market purchases. With its forward contract set to settle on Wednesday, July 11, and the response from the FCC due any day now, it seems that loose ends are soon to be tied off. The market hates uncertainty, and as uncertainty is erased, investors may feel more comfortable about placing their hard-earned money on what appears to be more of an investment, rather than a bet.
But the hot news today has been Sirius XM's early announcement that Q2 subs have exceeded expectations, followed by increased guidance for full year subscriber numbers. As noted by Spencer Osborne in his article from earlier today:
The company added an impressive 622,042 subscribers to the roles in Q2. This is well above what many anticipated and served to force the company's hand in adjusting 2012 subscriber guidance to 1.6 million, up modestly from the previous guidance of 1.5 million, and 300,000 above initial 2012 guidance of 1.3 million.
Guidance of 1.3 million net additions -- originally laughed at in February -- has proven to be exactly as the company stated. "conservative." As expected, nothing needed to be read into the guidance beyond the words that came from CEO Mel Karmazin's mouth. The guidance was conservative, and time has proven that to be so. As I have maintained since then, as an investor I am more comfortable with under promising and over delivering, than I am with over promising and under delivering. The market punishes for misses to a far greater extent than it rewards for exceeding guidance. It's just a safer way to operate, and for that, I am thankful.
The exciting thing here for Sirius XM investors is that this guidance, while only raised by 100,000 subs from previous guidance of 1.5 million, is less than 600,000 subs from being met and there are still 6 months left to meet it. Once again, this appears to be a very conservative number, and as author Little Apple stated, 2 million is certainly within reach. Today's announcement also gives legs to the recent move in share price, and in my opinion, strong legs. The share price does not seem to be struggling at all, and in a very rare case for Sirius XM, has been trading and closing above the upper bollinger band for 5 straight days now.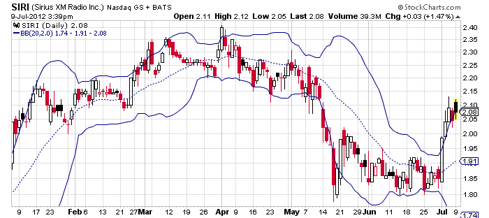 Click to enlarge
A close Wednesday at or above $2.08 maintains the trend, and if it continues, puts a price target of $2.15 on Wednesday, the day Liberty's forward contract closes at that exact same price.
I'm much more comfortable now having re-opened my position in Sirius XM last Tuesday at $2.02. While all eyes are on Liberty Media's moves, Sirius XM itself is running strong and is setting itself up for a knockout year.
Disclosure: I am long SIRI.
Additional disclosure: I may initiate a position in LMCA at any time.