Yesterday, Fitch Ratings decided to up Peru's risk assessment to "investment grade". (Get news here if you speak Spanish and can't access the Fitch customer page). Technically, it moved the rating up one notch from BB+ to BBB-, but what this means is that bigger banks and institutions will be allowed to buy Peru sovereign debt and put it into their long term holdings. In its press release, Fitch said:
Peru's public finance and external account performance once again exceeded expectations, contributing to a better than anticipated improvement in the sovereign's financial ratios. As a result, most of Peru's financial indicators are now stronger than the median for low investment grade credits. Furthermore, it is important to highlight an incipient structural shift in the drivers of Peru's economic growth, as the most dynamic growth rates now stem from the non-primary sectors.
Dontcha just love all that sexy economic-speak? You can get more today at Fitch's special conference call*. The news was greeted by backslapping and cheers in Lima, with analysts immediately predicting how local stock prices will rocket. But I say, "Hold on a minute - keep things in perspective here."
1. Yes, it's good news.
2. Fitch has upped its rating, but the other big guns, namely S&P (MHP) and Moody's (NYSE:MCO). have yet to move on this. This means a lot of banks and institutions will have to wait a while before they get the green light form their own bosses. I mean, did anyone notice that a Canadian ratings house upped Peru to investment grade late last year?**
3. Even when the big boys get the green light to invest in Peru, it doesn't mean they will. You see, there are three general classes of bonds risk, namely "speculative grade", "investment grade and then "first class grade". Peru has just moved from spec to investment grade, and that good. But if the institutions don't want to take a flyer on low grade investment grades and prefer to stay with first-class grade only (and that, dear reader, is the vast majority of them), they'll not be forming a queue at the Bolsa de Valores de Lima in the next few days.
So, bottom lining things here: The news is a definite positive, but it's not the last word in happiness either. I recommend you watch the Lima stock exchange carefully, and if here's a sudden pop today on this news sell the index either today day or when the exuberance makes room for the post-party hangover. The real money influx will come a lot later, and there will be plenty of time to position yourself for the longer-term bullishness that the analysts are now predicting for "NOW!! NOW!! NOW!!!"**
As for something a little easier to trade in the US or Europe than the Lima stock exchange, avoid playing the move via miners Southern Copper (PCU) or Compania de Minas Buenaventura (NYSE:BVN) as they don't depend on the local economic environment for their profits. However, Peru has a bank on the NYSE ADR lists named Creditcorp Ltd (NYSE:BAP) which does pretty good volume. Here's the chart...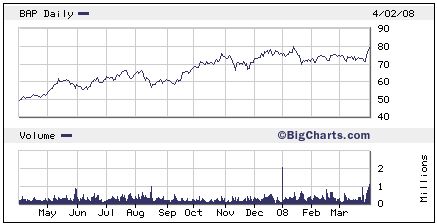 ...and it might be a good way to play any short-term pump followed by the return to present levels. Buying this first thing at no more than U$80.30 (the 52wk high, to be exact), then selling and reversing to a short later with a target of around $77 could turn out to be a good trade.
Remember, this is not a stock tipping service here, but you can consider it a form of "marking your card" which you can apply your own brains to and then trade accordingly today, always taking into account wider factors such as the Dow's daily performance, Shakira's new single etc etc. Have fun and keep it nimble.
*To participate in the teleconference, interested parties should call +1-866-723-3590 five minutes prior to the 10 a.m. start time and give conference ID number '42223776', the title of the call, 'Peru Upgrade to Investment Grade' or the call leader name 'Theresa Paiz.' For international participants, the dial-in number is +1-706-634-9315. To ensure there are sufficient telephone lines available, use internal conferencing capabilities, if possible, for multiple listeners at a single location.
** You know that old saying about a fool and his money?
Disclosure: Long PCU (for better reasons than just this investment grade news)