Alcoa (AA) earned 6 cents per share from continuing operations for the 2nd Quarter of 2012 on revenue of $6 billion. Analysts expected Alcoa to earn 6 cents per share on $5.8 billion in revenue. The stable earnings are a result of cost reductions and performance improvement, offset by unfavorable aluminum pricing.
For 2012, the company reaffirmed the forecast that global aluminum demand would grow 7 percent. Despite this forecast, weakness in aluminum pricing during the 2nd Quarter put pressure on margins for the company. However, the company appears to have made up for decreased pricing with higher volume.
The company also reports positive free cash flow of $246 million.
Klaus Kleinfeld, Chairman and CEO, said, "Although aluminum prices are down, the fundamentals of the aluminum market remain sound with strong demand and tight supply, and Alcoa is successfully capitalizing on accelerating demand in high-growth end markets such as aerospace and automotive."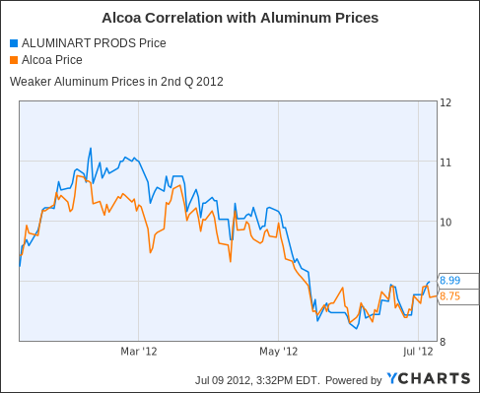 The broader market is looking at Alcoa's earnings release to get a hint of the good or bad news to come in the next few weeks. So far, you could say that results look in-line with expectations.
Investors looking to go long on Alcoa could consider selling the July 20, 2012 $9 put option for about 40 cents. If shares trade below $9 on that date, you are locking in a purchase price around $8.60. If shares go over $9.00, you keep the $0.40 option premium.
Also, expected to report today are Washington Federal Inc. (WAFD) and WD-40 Company (WDFC).
Disclosure: I have no positions in any stocks mentioned, and no plans to initiate any positions within the next 72 hours.