Safeway Inc
I've developed a screen for value-based stocks with a strong, growing dividend for income. Following this screen, I've decided to take a closer look at Safeway, Inc (SWY). The screen itself consists of:
Security Type: Common Stock - I am interested in investing in US-based companies.
Market Capitalization: Greater than or equal to 740 Million - I am looking for middle-large cap companies who have established themselves in the marketplace. Safeway: $4.29 Billion.
P/E (Intra-day/ TTM) - Less than or equal to 12 - I want a company with a lower than average P/E to give it some 'value' and room for the stock price to grow. Following the screen, I must compare this to the industry and historical average. Safeway: 10.14 TTM
Dividend Yield: Greater than or equal to 3.2% - I am looking for a yield above 3.2% to give myself a consistent stream of income above the current Treasury yield. Safeway: 3.92%
Dividend Payout % Last Quarter: Less than or equal to 65% - while I would like a strong dividend, I want to ensure that the company is also investing some of its profits back into itself. Safeway: 32.77%
Dividend Growth Rate (5 Year Average): Greater than or equal to 5% - I want a dividend that has, on average, been growing over the past five years. Following the screen, I must check the dividends declared to ensure consistency in the growth of the dividend. Safeway: 20.46%
Company Overview:
Safeway is a food manufacturer, processor, and distributor operating 1678 stores in Western, Southwestern, Rocky Mountain, Midwestern, and Mid-Atlantic regions of the United States and in western Canada. The firm also has a 49% ownership in Casa Ley, which operates food and general merchandise stores in western Mexico. The company self-proclaims that their customers value quality and consistency, which is guaranteed through their own specifications and approval standards. The company has engaged in 'everyday low pricing', to this end it has developed a "Pantry Essentials" line focusing on value for the cost-conscious customer. It has a Club Card program; most recently it developed a "just for U' digital loyalty program, allowing consumers a pre-shopping tool through which customers can link digital coupons to their Club Card. The company also 'ties-in' Starbucks coffee shops and fueling to its stores; a majority of stores have a Starbucks shop inside and a fuel center adjacent to it.
The company can largely be divided into three brand segments: Health & Wellness, Premium, and Core. The Health & Wellness portfolio has a line dedicated to 100% natural products (the "Open Nature" line). Safeway's core "Safeway" brand has recently been repositioned into four new brands: Safeway Farms (produce), Safeway Kitchens (baked goods and cereal), Safeway Home (paper and cleaning products) and Safeway Care (health and beauty). The Premium portfolio involves quality products in unique categories, such as Waterfront BISTRO (a seafood brand).
An area of growth for Safeway has been its Blackhawk Network pre-paid products subsidiary. Growth has been spurred by tie-ins to fuel loyalty programs at many of Safeway's distribution partners and overseas expansions. Blackhawk is a seasonal segment; pre-paid products are highly in demand in the fourth quarter of the year and Blackhawk generally makes payments from these sales to card partners in the following quarter of the next year.
The company operates a manufacturing and wholesale segment, which purchases, manufactures, and processes private-label merchandise for stores operated by Safeway. The company operates 9 milk plants, 8 bakery plants, 4 ice cream plants, 1 cheese and meat packing plant, 4 soft drink bottling plants, 4 fruit and vegetable processing plants, 1 cake and 1 sandwich commissary. Furthermore it has 17 distribution/ warehousing centers. The company has generally trended towards closing more stores than opening or replacing, and remodeled a low 29 stores in 2011 (compared to 60 and 82 in 2010 and 2009 respectively).
Upcoming Events:
Q2 Earnings July 19th
Positives:
The company trades at a P/E of 10.08, a discount to its 5-year average (12.91) and the industry average of 17.80. Its PEG ratio is also low compared to the Food & Staples Retailing Average - 1.10 vs. 2.01; similarly Price/ Sales and price/ Book are quite low, .11 and 1.40 respectively. Recent EPS growth and Revenue growth has been quite strong - EPS growth TTM vs. Prior TTM was at 26.62%. Looking forward, estimates put EPS growth for 2012 at 10.11% ($1.96 compared to $1.78) and 8.16% for 2013 ($2.12 compared to $1.96), compared to actual EPS growth in 2011 at 14.84%.
Safeway has tremendous short interest, and while this may be disconcerting considering that it indicates that many investors are betting against this food retail and distributing giant, it may also lead some investors to large profits if a short term positive catalyst leads to a short squeeze. Current short interest as a % of shares outstanding is at nearly a quarter (24.36%) with 9.54 days to cover - if shorts need to cover look for the stock price to rise dramatically.
At an annualized dividend yield of 3.92% and a dividend growth rate of more than 20%, Safeway has a strong, growing dividend with a recent history to back it up. Its payout ratio is 32.77%, leading me to believe that it is sufficiently reinvesting in itself (or paying into its underfunded pension, etc). It has grown dividends every year since 2005. The company has also been buying back stock, purchasing approximately 46 million shares of common stock in Q1 2012 and having authorization to continue doing so.
Negatives:
Most recently in the news, Safeway has been under fire by those following the issuance of its debt: on June 7th it announced plans to issue floating notes 1.50% greater than 3-month LIBOR rate, raising questions from traders why it chose this route of financing rather than accessing more conventional commercial paper. Many traders concluded that this was because Safeway's credit may be in jeopardy in the short-term, and that the stock may not be solid fundamentally. Safeway is very dependent upon debt as a source of financing: Total Debt/ Equity is high at 140.97% and Total Debt/ Capital is at 69.61%. Therefore, any fluctuation or hindrance on Safeway's ability to take on debt will negatively affect performance at the company.
Other recent concerns include Safeway's pension obligations, as a Credit Suisse analyst noted in March that the company may have "a larger-than-expected underfunded liability" due to economic conditions negatively affecting pension plan assets. However, as noted in the Q1 2012 sales call, the company does not expect dramatic changes in its pension fund expenses and would be allotted more than 10 years by regulators to get back to an 80% funded status. Economic shakiness and negative overall outlook is also impacting consumer sentiment; reduced consumer spending leading to 'trading down' to less expensive foodstuffs will impact Safeway's margins and sales mix. Beyond this, market downturns affect Safeway's pension funded status. Funding status is derived by calculating the difference between the fair value of the plan's assets and the projected benefit obligations of the pension funds. Between 2010 and 2011, cash contributions increased from $17.7 million to $176.2 and are expected to total $160 million in 2012.
Of some concern is cash flows, with a cash flow growth rate for the last five years of -2.21%. At first glance, the Q1 2012 negative cash flows is disconcerting, however, as mentioned in the Q1 2012 conference call the company almost always posts negative cash flows in Q1. In another look at liquidity, the current ratio TTM is .9, indicating that short term assets are less than short term liabilities. This is disconcerting when paired with negative free cash flows -the company may not be liquid enough to handle short term liabilities in an efficient manner.
The Chart: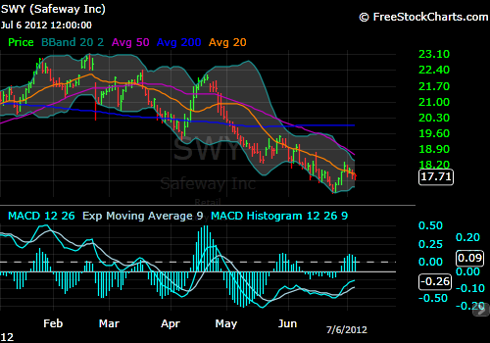 The company has been in a major downtrend after hitting a high of $23/ share in February when it rebounded from a previous low of about $16 in October of 2011. The chart is below both its 50 and 200 day moving average and right at its 20 day moving average. An "evening star" formed three periods ago, with a large bullish candle appearing, followed by a small bullish candle, followed by a bearish candle engulfing the small bullish candle. This is short term bearish. The MACD, in a different perspective on moving averages, crossed over the signal line, which is bullish. It still remains the 0 center line, however, indicating negative momentum. Furthermore, the MACD histogram showed rising differences between six and three periods ago, but the differences are declining. Declining differences, if concurrent, can indicate sell or bearish signals. The next level of support that I see in general from the chart is the October low of 15.93.
Margins:
Safeway Fiscal Quarters

 

Q1 2012

Q4 2011

Q3 2011

Q2 2011

Q1 2011

Revenue Growth (Quarter over Quarter)

2.36%

6.20%

7.76%

7.11%

4.77%

Gross Margin

29.50%

29.32%

29.63%

29.58%

30.25%

Operating Margin

1.90%

2.87%

2.46%

2.72%

2.24%
Revenue growth has slowed in the first quarter of 2012 after posting strong gains through the second half of 2011 specifically. Gross margin has been generally declining, which can be largely contributed to rising fuel and gas prices, as mentioned in the Q1 2012 earnings call. Looking towards Q2 2012, decreasing fuel prices may contribute to increased fuel sales for the company, and food inflation shouldn't have dampened consumer demand (the call points toward 3% food inflation as a critical level, beyond which consumer demand alters or trades down). Operating margin also has generally been declining, posting 1.90% in Q1 2012 compared to 2.24% in Q1 2011. Remember to try to compare quarter over quarter to account for seasonality, especially considering that the Blackhawk prepaid cards (relating to gift) make most of their profits in the fourth quarter.
Safeway Fiscal Years

 

FY 2011

FY 2010

FY 2009

Revenue Growth (Year over Year)

6.29%

.49%

-7.38%

Gross Margin

29.66%

31.11%

31.5%

Operating Margin

2.60%

2.82%

3.29%
Revenues grew in FY 2011 while margins declined. However, the Revenue growth was enough to account for EPS gains of 14.84%.
DCF:
Unlevered Free Cash Flow Section:
Sales growth is assumed at 2.7% for the next five years. This is based on both revenue growth of 6.29% for FY 2011, while weighting in significantly reduced revenue growth in Q1 2012. EBITDA % margin is placed at 5.0%, .2% below 2011 levels given the blatant downtrend from 2008 on (confirmed by declining margins, shown above). Taxes and Capital expenditures are based on averages; I add .3% onto Capex moving forward as a slight buffer. Net working capital is expected to decrease by small amounts each year.
WACC Calculation:
Debt to Total Capitalization is calculated through the 2012 Q1 balance sheet, taking total shareholder's equity/ (shareholder's equity + long-term debt + short-term debt).
The most important thing, the end-outcome WACC comes out at 7.8%, above wiki wealth's 7. Bloomberg terminal estimates this at 4.5%, which seems low but they may estimate cost of debt at very low numbers (for example, the company can sometimes borrow short-term 180 day commercial paper for merely 1.0%). Unlevered Beta used: .77, in line with Bloomberg's value of .774 and Google finance of .78.
Implied Share Price: $22.29, representing a 26.07% upside based on a $17.68 current share price.
Conclusion:
Safeway has a strong, growing dividend (3.9%) that it should be able to defend given its payout ratio (32.77%). It trades at a discount to historical and industry averages, when comparing P/Es it is currently at 10.14 compared to a historical average of 12.9 and an industry average of 17.8. EPS growth TTM has posted a positive 26%, another indicator that there may be some room to grow for the stock and the company itself. The DCF also points towards some upside potential, putting the stock at a $22.29 share price. This $22.29 share price implies a 12.52 P/E, a return to the historical norm. One other thing to note is the large short interest, which may lead to a short squeeze play if, say, Q2 earnings surprise or other positive news forces shorts to cover and create large demand and a rapidly appreciating stock price.
Negatives for the stock includes declining margins overall and negative cash flow growth in the past five years. A current ratio below 1 also indicates there may be some liquidity issues, especially given the company's immense reliance on debt. If for some reason debt from commercial paper becomes difficult to acquire for the company, liquidity issues will definitely be a factor. Aside from such continuously declining margins, the chart itself paints a pretty dismal picture. This stock has gone nowhere but down for the past six months. It is very difficult for me to see many positives from the moving averages or other technical indicators in this chart.
I see limited downside for the stock, with the October low of 15.93 being a level of support for the stock, and represents a 9.90% downside from current levels. On the flip side, a DCF/ P/E appreciation to $22.26 price per share would lead to a 26% gain in share price. This is more or less the risk/ reward profile for the stock in my opinion.
For investors that are bullish based on these details (I am slight bullish) there are two ways to trade this, in my opinion:
If investors like the fundamentals and think that a short squeeze may come into play, buy some stock at the current levels (~$17.50) and hope for strong earnings (which may materialize given recently decreasing fuel prices) leading to a bump in the stock price and maybe even a short squeeze.
Or, for investors who aren't as positive and don't want to buy into a down trending stock (this is a strong case and, I think, a better way to play it) wait until the chart reverses the current trend. Remember: you don't need to buy at the very bottom of the trough or sell at the very top of the peak to make a profit. Also keep to your definitions: stocks can be classified as in an uptrend when there are higher highs and higher lows for stocks - wait for at least two cycles and then when a third is materializing or confirmed the current downtrend should be reversed into an uptrend. I imagine this will present itself in the $19 range (meaning you'll miss out on the 7.47% gain, if it occurs), leaving you a ~15% gain if it appreciates further toward the $22.29 target of the DCF. The only downside to this is if a short squeeze does come into play, given its rapidly developing nature, you will probably miss it.
Disclosure: I have no positions in any stocks mentioned, and no plans to initiate any positions within the next 72 hours.