I screened with Finviz for companies that have higher than 10% dividend yield and checked if the companies had any insider buys during the last 3 months. Here are seven companies that I found:
1. BGC Partners (NASDAQ:BGCP) is a leading global intermediary to the wholesale financial markets, specializing in the brokering of a broad range of financial products, including fixed income, rates, foreign exchange, equities, equity derivatives, credit derivatives, futures and structured product markets. BGC offers a full range of brokerage services, including price discovery, trade execution, straight through processing and clearing, settlement and access to electronic trading services through its eSpeed, BGC Trader and BGC Pro brands. Through its Newmark Grubb Knight Frank brand, the company offers commercial real estate tenants, owners, investors and developers a wide range of brokerage services, as well as property and facilities management.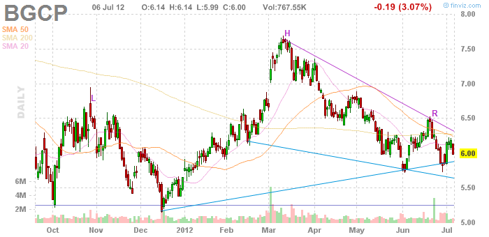 Click to enlarge
Insider buys
2. Compass Diversified Holdings (NYSE:CODI) owns and manages a diverse family of established North American middle market businesses. Each of its eight current subsidiaries is a leader in their niche market. The company maintains controlling ownership interests in each of its subsidiaries in order to maximize its ability to impact long term cash flow generation and value. The company provides both debt and equity capital for its subsidiaries, contributing to their financial and operating flexibility. Compass Diversified Holdings utilizes the cash flows generated by its subsidiaries to invest in the long-term growth of the company and to make cash distributions to its owners.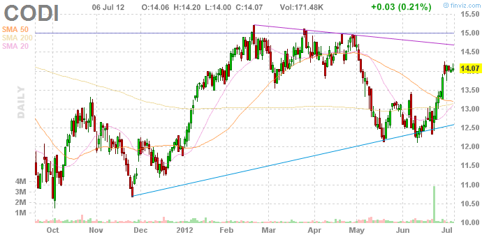 Click to enlarge
Insider buys
3. Crexus Investment Corp. (NYSE:CXS) acquires, manages and finances commercial mortgage loans and other commercial real estate debt, commercial mortgage-backed securities [CMBS] and other commercial real estate-related assets. The company has elected to be taxed as a REIT, and therefore pay out at least 90% of its earnings to its shareholders in order to avoid taxation at the corporate level. Crexus is externally managed by Fixed Income Discount Advisory Company [FIDAC], a wholly-owned subsidiary of Annaly Capital Management, Inc.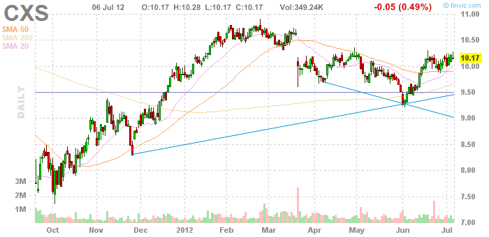 Click to enlarge
Insider buys
4. Invesco Mortgage Capital (NYSE:IVR) is a real estate investment trust that acquires, finances and manages residential and commercial mortgage-backed securities and mortgage loans. The company's objective is to provide attractive risk-adjusted returns to its shareholders, primarily through dividends and secondarily through capital appreciation.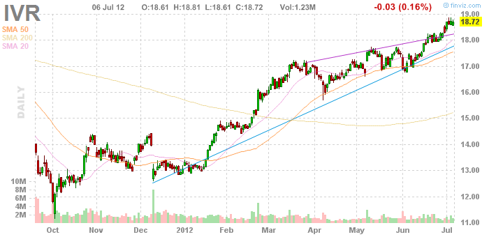 Click to enlarge
Insider buys
5. The Gabelli Multimedia Trust (NYSE:GGT) is a closed-end, non-diversified management investment company whose investment objective is long-term growth of capital. The Fund seeks opportunities for long-term growth presented in the global telecommunications, media, publishing and entertainment industries. The Fund will also invest in companies participating in emerging technological advances in interactive services and products. Income is a secondary objective of the Multimedia Trust.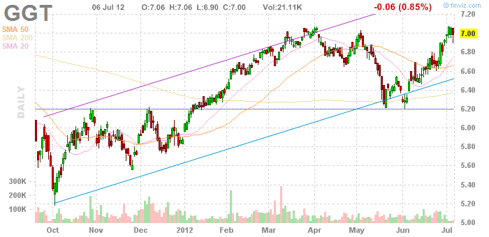 Click to enlarge
Insider buys
6. Compressco Partners (GSJK) is a provider of wellhead compression-based production enhancement services to a broad base of natural gas and oil exploration and production companies operating throughout most of the onshore producing regions of the United States. Compressco Partners has significant operations in Mexico and Canada and a growing presence in certain countries in South America, Eastern Europe and the Asia-Pacific region. Compressco Partners is managed by Compressco Partners GP, which is an indirect, wholly owned subsidiary of TETRA Technologies (NYSE:TTI).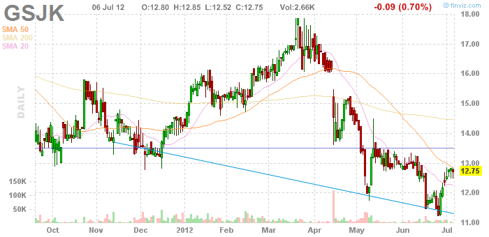 Click to enlarge
Insider buys
7. LRR Energy (NYSE:LRE) is a Delaware limited partnership formed in April 2011 by affiliates of Lime Rock Resources to operate, acquire, exploit and develop producing oil and natural gas properties in North America. LRR Energy's properties are located in the Permian Basin region in West Texas and southeast New Mexico, the Mid-Continent region in Oklahoma and East Texas and the Gulf Coast region in Texas.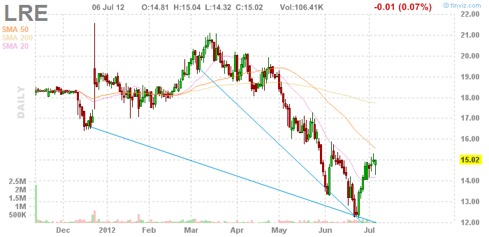 Click to enlarge
Insider buys
Conclusion
5/7 of these companies have bullish looking long-term charts. Compressco Partners and LRR Energy trade currently close to their respective 52 week lows which could present a buying opportunity.
Disclosure: I have no positions in any stocks mentioned, and no plans to initiate any positions within the next 72 hours.