Shares of Patriot Coal Corp (PCX) plunged mid-way through Monday's trading session on news that the company is likely to file for bankruptcy as soon as today.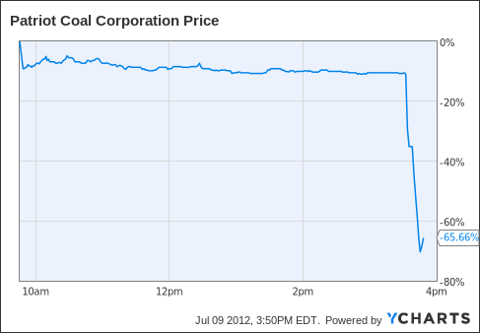 Click to enlargePCX data by YCharts
Surprise
While not a total shock, this news does come as something as a surprise after PCX shares moved sharply higher last week on hopes that the company would avoid bankruptcy. However, as I have stated in each of my previous articles about the company, bankruptcy has always been a risk because of the company's financial situation.
Not To Late To Sell
With bankruptcy on the horizon, and the stock trading at $0.75 as I write this, it is not too late to sell. In a bankruptcy, stock holders will almost certainly get wiped out completely. Contrastingly, those who sell now will at least get something. This advice is especially pertinent to those who have been speculating with PCX at low levels.
Disclosure: I have no positions in any stocks mentioned, and no plans to initiate any positions within the next 72 hours.