Recession possible? Who knew?
Trim Tabs stated Wednesday we already had a recession and it's already over. And, no, I didn't feel a thing. Did you? I think the Daily Telegraph stated yesterday the US was in a "depression". Today, Bernanke uttered that a recession was possible. Confused? You bet.
Reading charts is much easier than reading the collective minds of most pundits and Fed spokespersons.
My favorite Sacred Cow is #9, a quote from economist Edgar R. Fiedler: "If you have to forecast, forecast often."
Volume remains heavy on the NYSE [Yahoo/Finance got the math right I think] but is relatively light on the NASDAQ. Breadth was just okay.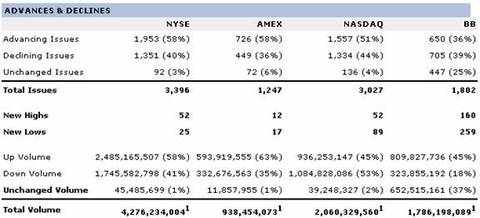 Go to page 2 - Commodities, Emerging Markets >>