One of the primary advantages for investing in REITs is to achieve property level diversification. For example, Realty Income (O) has one of the most diverse property platforms in the REIT industry with over 2,600 properties in 49 states. Another example of a highly diversified REIT is Kimco Realty (KIM), the largest shopping center in the US with around 946 properties located in the U.S., Mexico, Canada, Puerto Rico, and Latin America.
Both Realty Income and Kimco are distinguished leaders in managing portfolio risk and they do so by delivering consistency in operational fundamentals differentiated by sustainable occupancy and income. One of the primary ways these two REITs are so predictable is because they own properties across many markets thus balancing cycle risks associated with the "ups and downs" of individual markets.
Accordingly, commercial real estate is tied closely to local economies and individual market cycles are not always in sync with national trends or averages. So far that reason, most REITs have developed risk-averse diversification strategies that mitigate portfolio concentration levels by avoiding catastrophic losses in an individual market.
Of course there are always exceptions to every rule - especially when the market risk is exceptionally low and the recovery periods are extraordinarily strong.
Washington, DC Has Great Potential
Washington, DC and Houston are the only two major metros to have recovered all of the jobs they lost in the last recession. Since then (the recession), the Washington, DC, economy has spiked and the nation's capital has recovered 124% of its post recession jobs.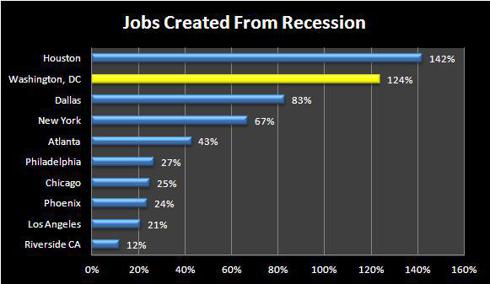 In addition, the DC Metro market experienced a net migration of 188,100 new residents during the past five years. Compare that with three metros bigger than Washington, DC: New York, Los Angeles, and Chicago. They had a combined loss of 365,700 (see chart).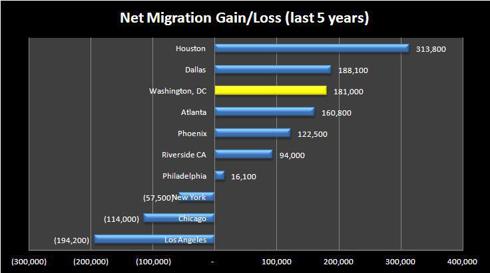 Washington Real Estate Investment Trust
Washington Real Estate Investment Trust (WRE), based in Rockville, MD, owns a diversified portfolio of 72 properties totaling approximately 9 million square feet of commercial space and 2,540 residential units, and land held for development. These 72 properties consist of 27 office properties, 18 medical office properties, 16 retail centers and 11 multifamily properties.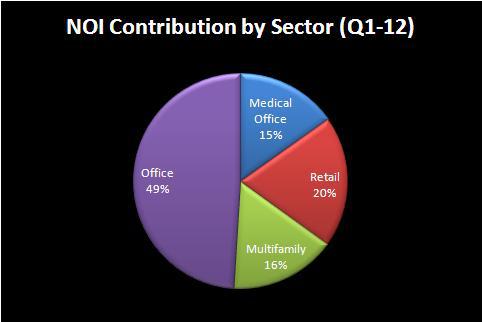 WRIT has a diverse portfolio consisting of many nationally recognized tenants. The majority of the REIT's office tenants are related to professional services and healthcare. Hers is a snapshot the largest tenants (based on ABR):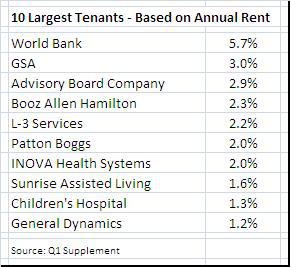 WRIT disposed of its industrial properties in 2011 (sold 2.954 million square feet for around $410 million) and reduced its number of properties from 85 to 71. Some recent acquisitions include Braddock Metro Center at Alexandria, VA (345,000 square feet at $101 million), John Marshall II at Tysons Corner (233,000 square feet at $73.5 million), and Olney Village Shopping Center at Olney, MD (198,000 sf at $58 million).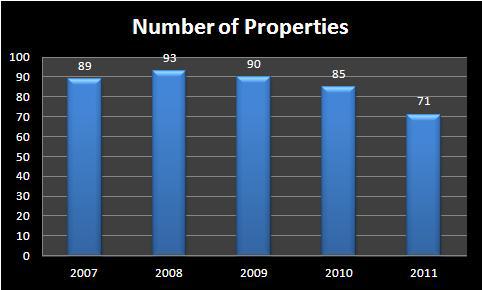 In addition to diverse property sectors and tenants, WRIT has well-staggered lease expirations (see snapshot):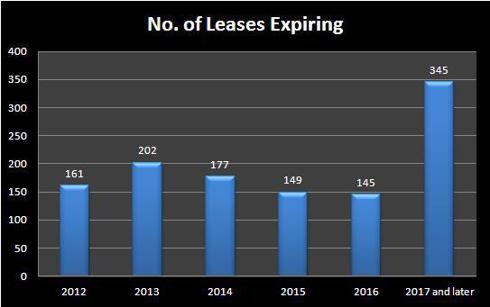 WRIT's conservative (38 percent debt to market cap) capitalization has resulted in an exceptionally powerful risk-adjusted income portfolio (S&P rating is BBB+ and Moody's rating is Baa1). Revenue increased around 12 percent (from 2010 through 2011) and analysts project revenue for 2012 to be in the range of $300 to $ 310 million.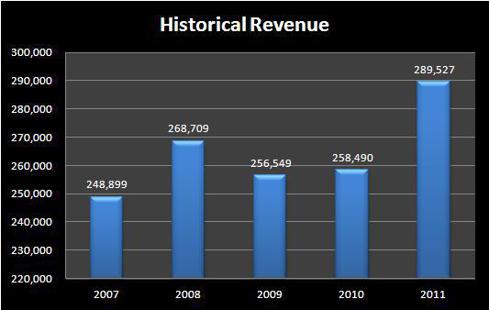 Putting all of Your Eggs in One Basket
An investment in WRIT is more than an investment in an exceptional REIT but also an investment in the vibrant greater Washington region. This singular (market) approach can be described as follows:
Washington, DC voted second best U.S. market and second best international market for real estate investment in 2011 by Association of Foreign Investors in Real Estate (AFIRE).
The Washington DC metro regions boats the second lowest unemployment rate of all major US metros (as of 2011).
The Greater Washington Metro Region is No. 2 in median income (in the US) and also the 4th largest metro economy (CSA). The Region also enjoys a highly educated workforce (the top 5 most educated counties in the US are in the Greater Washington Metro Region).
As one of the few US REITs that focuses on just one market area, Washington REIT has done a terrific job at executing its diverse product portfolio. In fact, WRIT has the longest track record of paying consistent dividends as the namesake REIT has been paying equal or increasing dividends for over 50 years. The stalwart REIT is one of only 11 other equity stocks (in the entire public sector) that have a longer record of dividend performance. As a dividend leader, WRIT has built an enviable five decade model around a well-balanced platform of compounded dividend payments.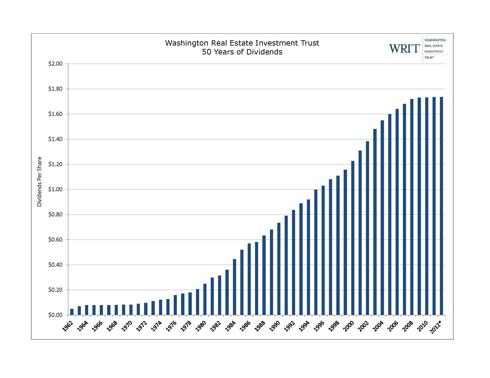 WRIT has a current market capitalization of $1.913 billion (total capitalization of $3.11 billion) and the current stock price is $28.84 (52-week high was $33.79 on July 22, 2011). The current dividend yield is 6 percent and the stock is trading at a 6 percent premium discount to consensus NAV (pricing of $30.63).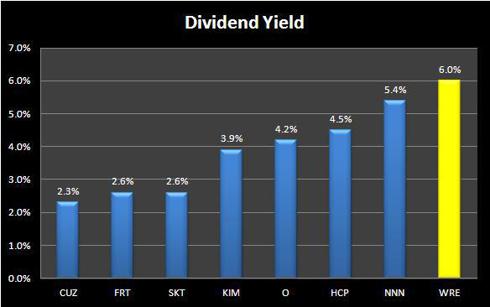 One simple irony of WRIT's diversified investment platform is that risk is also reduced by not diversifying in markets outside of greater Washington, DC. By definition, a diversified REIT will have less risk than the weighted average if its constituent REITs and unlike most others, WRIT has been able to avoid risk by concentrating on one predominant market area.
So simply said, Washington Real Estate Investment Trust is a unique bird that has all of its eggs in one basket. The basket is made up of exceptionally powerful demographics and the distinguishable characteristics are defined by consistency and durability. The eggs are made of golden dividends that are also the trademark for the bird we often call the SWAN (sleep well at night).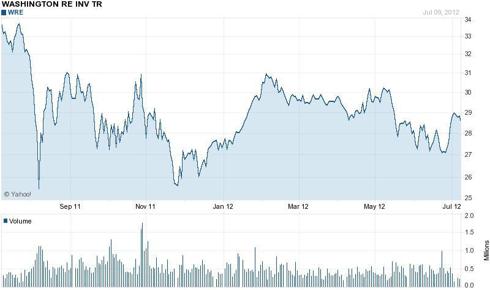 Disclosure: I have no positions in any stocks mentioned, and no plans to initiate any positions within the next 72 hours.