This article focuses on Companhia De Saneamento Basico (NYSE:SBS) and is the third in my series, ITGOW: Investments To Grow Old With. I believe that Companhia De Saneamento Basico do Estado de São Paulo (which I will refer to simply as SABESP for the remainder of the article...for obvious reasons) fits at least three of the investment themes that I outlined in my article introducing the series, entitled ITGOW: Investments To Grow Old With.
To reiterate, that initial piece outlined 14 investment themes that I will focus on throughout this series, in no particular order. Each theme represents a category of investments that I believe will do well in the short, medium, and long term. I reserve the right to remove items from my original list should my thesis change for any reason. I will discuss ITGOW theme #3, Brazil, and ITGOW themes #6 and #7, Water and Sometimes Defense is the Best Offense, respectively, in the context of SABESP in this article. Now, without further ado...
ITGOW Theme #3: Brazil - Of the BRIC nations, I like Brazil the most. It seems to me that Russia and China are flirting with major civil unrest. India isn't exactly in the best neighborhood, and is also the sworn enemy of Pakistan. While this isn't necessarily a reason to avoid investing in India, it does put it below Brazil on my list of BRIC market favorites. Of course, I write this knowing full well that I like companies like McDonald's (NYSE:MCD) for this series partly due to the prospects in places like China. Brazil just has a lot more going for it. SABESP itself is majority-owned by the state of São Paulo, Brazil's richest and most populous state. The state is also responsible for over 33% of the entire country's GDP. The city of São Paulo itself is the largest city in Brazil. In fact, it is the 7th largest city in the world by population. (Source: Wikipedia)
ITGOW Theme #6: Water - There is nothing that humans need more than water. If energy prices spiral out of control, we can ride bikes and burn biomass for light and heat. I recognize that this is an oversimplification of a substitution away from fossil fuels, but I think you get the idea. There is no substitution for water. What do water-related companies do? They might treat and distribute clean water to citizens of a municipality, build new infrastructure in areas that have previously not had running water, upgrade crumbling infrastructure in developed areas or even provide sanitation and sewage services. SABESP is involved in all of these activities.
ITGOW Theme #7: Sometimes Defense is the Best Offense - As I stated in the original ITGOW article, my definition of defense is companies with a long track record of growth and rising dividends, like utilities. As I also wrote in that piece, we can go as much as a month without food. But a week without water? We'd be dead. Water is the ultimate defensive investment. Amidst a major global meltdown, water and sanitation services would be one of the last things to go by the wayside. And what does SABESP do? Translated to English, the name says it all: Basic Sanitation Company of the State of São Paulo. The company provides water to over 24 million people and sanitation services to over 20 million people.
Utilities, in particular, make for a great choice when searching for a defensive portion for an investment portfolio. Here is a bit about why that might be the case but, in a nutshell, utilities that are natural monopolies due to government regulation are typically extremely stable investments. They are also low risk since the barriers to entry are almost impossibly high. Is this company likely to be as stable as American Water Works (NYSE:AWK)? Probably not. But while I really like what owning AWK would bring to an ITGOW based portfolio, I believe that SABESP offers emerging market growth potential in a lower-risk industry.
More about risk
In the case of SABESP, I see two major risks and they are pretty significant: Brazil's economy itself and the likelihood that SABESP may act in ways that are inconsistent with shareholder interests.
Risk #1: Brazil on the brink?
Is Brazil overheating? A lot of people have asked that question recently, and many suggest that the Brazilian Real itself is overheated. Since the company's operations are in Brazil and its earns money in Brazilian Reais, the value of the Brazilian Real is obviously an extremely important factor for investors to consider.
Here is what the company says about this risk in its 20-F SEC filing for 2011, the equivalent of the 10-K filed by US-based companies:
We are exposed to various market risks -- in particular, foreign currency risk and interest rate risk. We are exposed to foreign currency risk because a substantial portion of our financial indebtedness is denominated in foreign currencies, primarily the US Dollar, while we generate all of our net operating revenues in Reais. Similarly, we are subject to interest rate risk based upon changes in interest rates, which affect our net financial expenses.
My thinking is that a favorable outcome for SABESP would be a falling Dollar (which makes its Dollar-based debt cheaper to pay off on a real basis) and a rising Real (which makes its nominal Real-based profits more valuable on a real basis). Given that I believe Brazil will continue to be a preferred trading partner for developing nations requiring resources and that the easiest way for the US government to pay off its debts is to inflate the currency to devalue the Dollar, I like the odds of a favorable scenario for SABESP.
Then again, there are very real concerns about the pace of Brazil's growth. While this is a bit old (from an article written in 2010), I think it still accurately reflects the concerns about Brazil that exist in the market:
There are clear signs that Brazil's economy is overheating and the phenomenal growth achieved over the last decade cannot continue on its current trajectory. Output grew at an annualised rate of 8.9% in the first half of 2010, almost double its 4% sustainable rate. Consumer demand rose 0.8 percent from the previous quarter in the three months to June, but much of this is credit fueled. Strong economic growth has been coupled with rising living costs, with inflation currently above 5%.
With all of that said, take a look at the chart below, which shows the past 10 years of the US Dollar to the Brazilian Real. As you can see, the Dollar has risen considerably relative to the Real, since lows of almost 1.50 Real to 1 USD in July/August of 2011 to now. While concerns of the Real overheating are certainly material to SABESP shares, this chart shows me that the Real has eased considerably from its highs.
click image to enlarge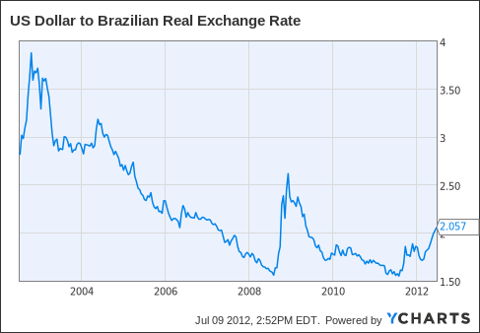 Click to enlarge
US Dollar to Brazilian Real Exchange Rate data by YCharts
Risk #2: Who is SABESP management really working for?
Thinking of buying some shares of SABESP? Pay attention. In fact, I strongly encourage you to seek out these disclosures from SABESP's financials (linked below) and read them for yourself.
São Paulo state law requires ownership of 50% +1 voting share of SABESP. The State currently owns 50.3% of the company (Source: SABESP 1st Quarter 2012 Results Presentation). In fact only 24.9% of the company is owned through the New York Stock Exchange Euronext (NYSE:NYX). The remaining 24.8% is owned through Brazil's stock exchange, BM&F Bovespa.
The shares listed in Brazil are listed on Bovespa's Novo Mercado, which means "New Market." Here is what Bovespa says about this part of its exchange:
Novo Mercado is a listing segment designed for shares issued by companies that voluntarily undertake to abide by corporate governance practices and transparency requirements in additional to those already requested by the Brazilian Law and CVM (Brazilian Securities and Exchange Commission).

These rules, consolidated in the Listing Regulation, increase shareholders' rights and enhance the quality of information commonly disclosed by companies. Additionally, the Market Arbitration Panel for conflict resolution between investors and companies offers a safer, faster and specialized alternative to investors.
In other words, SABESP voluntarily listed on this part of the Brazilian exchange that requires additional transparency, disclosure, Board independence, etc. than the law would require of other companies.
With all of that said, it is important to note that the interests of the company contradict shareholders' interests from time to time. The company states this outright in its "Risks Relating to Our Control by the State of São Paulo" disclosure:
1. "We are controlled by the State of São Paulo, whose interests may differ from our or from minority shareholders' interests, which could have a material adverse effect on us." Additionally, the disclosure says that, "the State has directed from time to time in the past, and may direct in the future...that we engage in certain business activities and make certain expenditures that promote political, economic or social goals but that do not necessarily also enhance our business and results of operations."
2. In that same vein, the Governor of the State of São Paulo basically hand-picks the CEO and Chairman of SABESP. Many of the individuals on the Board or in senior management have been involved with the state of São Paulo's public administration. Sure, SABESP has four independent directors on its Board, but this next disclosure should offer some insight into how effective they are at ensuring they are looking out for shareholders' interests: "We have a substantial amount of accounts receivable owed to us by the State and some State entities, and we cannot assure you as to when or whether the State will pay us."
The scariest part of this disclosure is obviously "whether the State will pay" its debts to the company!!
The disclosure goes on to discuss details, including the actual amount of money that the company thinks the State owes it. By far, the item of most concern is the dispute over whether the State will be responsible for employee pensions, as opposed to the company being responsible for these commitments. Besides stating that it isn't sure the State will pay, the company also added that "due to the uncertainty regarding the recovery of the amount, our management decided not to record the reimbursements that we believe are due to us." Yikes.
3. How might these disputes be resolved? In late 1997, the company and the State reached an agreement under which the State would forgo some of the dividend payments due from its company ownership, which would offset some of the amount owed by the State. Through combinations of the State forgoing dividends, having some of its debt reduced through agreement and making cash payments to the company in monthly installments, it is clear that the State isn't completely hosing the company, but it certainly isn't playing nice.
Why invest in SABESP despite the major risks highlighted above?
SABESP provides services to only 56% of the municipalities in the State and only 60% of the State's urban population. That leaves room to grow within the market even as the market itself grows.
Brazil is not Venezuela, and it certainly is not Cuba during the late 1960s. To see the issues I've pointed out above as a deal-breaker, you would have to believe that the State will continue to be able to get away with not honoring its financial obligations to privately held companies. And yes, I recognize that the State is SABESP's majority owner. More importantly, over 80% of its water services are for residential, commercial and industrial customers and over 90% of its sewage services are for residential, commercial and industrial customers. Even if the State refuses to pay its obligations for water and sewage services, this would not be a critical blow to the company, though the share price would almost surely spike down.
What does seriously concern me, as I mentioned, is the dispute over who (company vs. State) is responsible for pension-related obligations. This is how the company described a recent payment from the State that was part of these obligations:
Supplementary pension and leave paid by the Company to former employees from State-owned companies that merged to incorporate SABESP and who will be indemnified by the State government, which is liable for the compliance with these obligations pursuant to State Law no. 200/74
Of the amount the company believes the State is responsible for, I don't know what portion is covered under this law, but I am inclined to think that if the company tells us in its disclosure that it believes the State is responsible for these amounts, it has good reason to do so. Otherwise, it is blatant misrepresentation of material information.
And regarding the first point -- about Brazil being overvalued in general -- I can't begin to tell you whether this is true or not. There are experts out there who can do a much better job with that question. But here are some basic relationships that I believe to be true:
The company holds a lot of Dollar-denominated debt. Since a rising Real (or falling Dollar) means that their Dollar-denominated debt is cheaper to pay off, an environment in which the Dollar is weakened versus the Real is favorable for the company. In my mind, the biggest risk to this scenario is the Euro tanking and driving the Dollar higher. While this is a valid concern, I return to my belief that the US will have to inflate to solve its major fiscal issues.
Conclusion
I recognize the risks associated with the heavy government ownership, but if you look at many of the major corporations in South America, heavy government ownership just seems to be how they roll down there.
I first became aware of SABESP around $55/share, and almost bought some just because of the way it fit so well into several of the themes that are part of my ITGOW approach. I didn't pull the trigger then, since I hadn't had a chance to dig deeper, and watched from the sidelines as it rose and rose until it (briefly) broke into the $80s. As it pulled back below $70 in mid-May on no substantial news -- other than what I thought was a pretty good earnings report -- I got ready to buy, but hoped that the price might fall lower. When it started climbing again, I got in and purchased my first block of shares around $71. Will it go lower? Maybe. And I almost hope that it does because I didn't get a chance to buy as much as I wanted to at those levels, and shares are now in the $75 range.
SABESP has three ITGOW themes on its side: the security of water, the defensive nature of being a utility, and the emerging market growth potential of Brazil. What more can you ask?
Please add your comments, as there is so little written and discussed about this company! I welcome all opinions on this investment and am particularly interested in hearing your thoughts on the risks related to the State's majority ownership.