Enbridge Inc. (NYSE:ENB) management recently stated that there is little chance the pipeline giant will issue common equity in the foreseeable future. As a result, RBC Capital Markets analyst Robert Kwan thought now would be a good time to review the company's funding requirements through 2011.
It appears likely that Enbridge will sell its entire 25% interest in Compañía Logistica de Hidrocarburos, Spain's largest refined products transportation and storage business, which could yield roughly C$1.2-billion after tax, the analyst told clients in a note.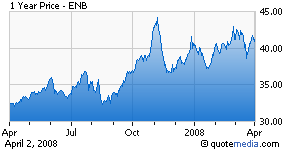 Mr. Kwan's analysis also suggests Enbridge's 50% cost overrun in capital spending between 2009 and 2011 could be funded with an additional C$1-billion hybrid equity issuance, bringing the total to C$3.5-billion. "Under this scenario, debt/capital would stay below the 66% to 67% level that RBC CM's credit analysts think could trigger a credit rating downgrade," he said, adding that this forecast does not assume any cost overruns.
While RBC has reduced its 2008 and 2009 earnings per share estimates for Enbridge to C$1.83 and C$2.19, respectively, due to capital spending shifts at its Alberta Clipper and Southern Lights projects, the firm hiked its price target on the shares to C$50 from C$46.
Mr. Kwan said:
Our new price target reflects a combination of rolling forward our dividend yield valuation to reflect the passage of time, and a modest valuation improvement.