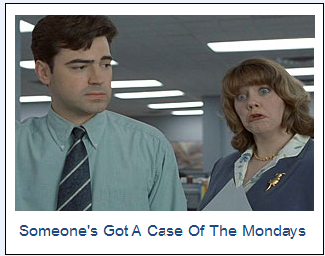 According to MarketWatch, Monday's haven't been kind overall to stock markets in 2012. Things in the eurozone are still unsettled for lack of a better term. The EU was supposed to get everything ironed-out this week but right out of the gate Spain asked for and received an extension on its budget deficit due to the deteriorating economy. Bank of Japan apparently is ready to increase its QE (bond buying) efforts as the Bank of England has increased theirs. The Peoples Bank of China (PBOC) has joined the easing activities by lowering rates and of course the ECB has been at it for some time in the eurozone. SF Fed President John Williams in a speech today seemed friendly to increasing Fed QE (QE3) given the deterioration in the U.S. economy.
At some point we enter uncharted waters since we've never experienced this amount of money printing without positive effect. After all can anyone really say it's actually working or has worked? Liquidity injections by most evidence have had only ephemeral effects at least in boosting stock prices over the short-term. When then is pushing on a string finally going to be just that?
Consumers took on $17 billion in new debt divided among credit cards, auto loans and student loans. This is either a good thing for the economy or not depending on your view. We know student loans are in a bubble and just today UBS downgraded Visa (V) and MasterCard (MA) to sell from neutral.
Oil (USO) rose Monday as a strike in Norway has shut down most production. Meanwhile gold prices rallied slightly on thoughts of more QE and the dollar (UUP) also fell. Standout performers remain in the agricultural sector as weather is hurting crops which has seen (JJG) & (DBA) continue recent rallies. Bonds (IEF) & (MBB) continue along with higher prices also on QE hopes.
Stocks bounced around most of the day mostly lower despite the obligatory end of day pump higher to minimize the damage. Stock market leader and heavyweight (AAPL) continues to be a leader. Its weighting and performance can mask underlying weakness throughout. Healthcare stocks continue to lead as a sector since Obamacare will provide HMOs in particular with a load of new customers.
After the close, Alcoa (AA) was first of the major companies to report earnings. Estimates had been slashed 47% by most analysts making a beat easier and the company obliged once you could wade through all the adjustments. Earnings after adjustments came in at 6 cents vs 5 cents expected on revenues of $5.96 billion versus $5.8 billion estimated. Alcoa projected aluminum demand would grow 7% in 2012. The stock rose slightly in late trading as this is written.
Also breaking late, Advanced Micro Devices (AMD) preannounced 10 days ahead of earnings, cuts to Q2 revenue by 11%, where it had seen 3% rise previously.
Volume was ridiculously light as traders were no doubt slow to return from the holiday week. This made it easy for the HFTs to push things around. Breadth overall was negative.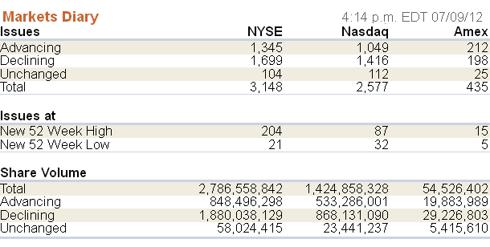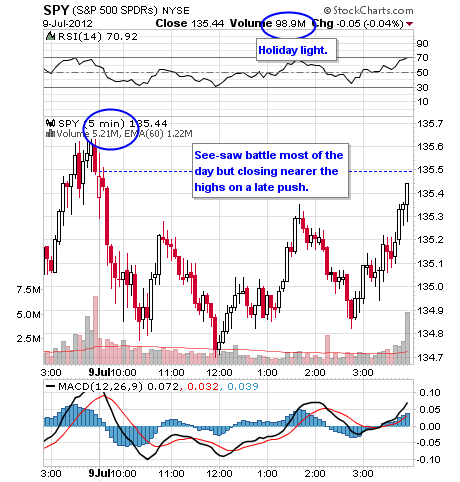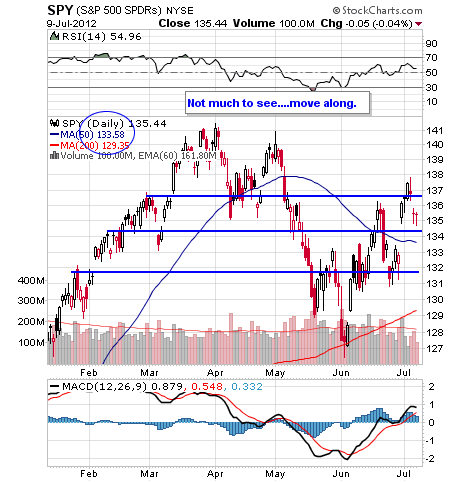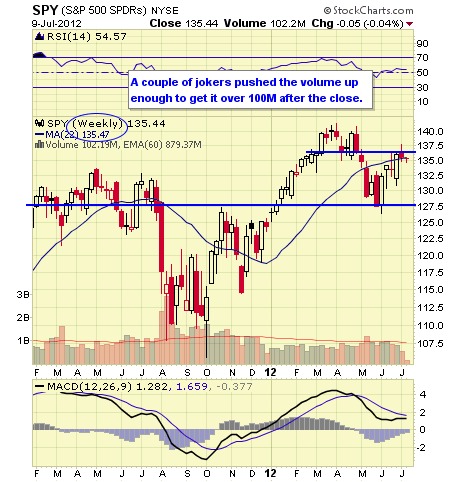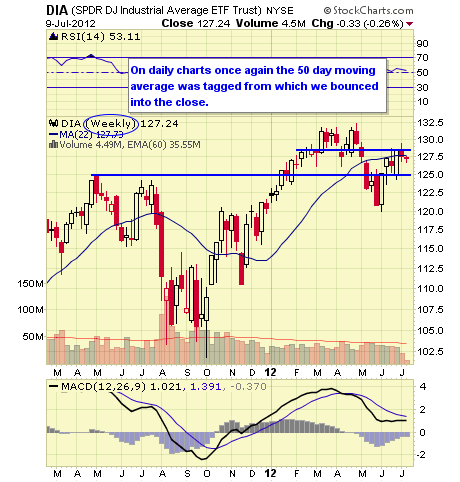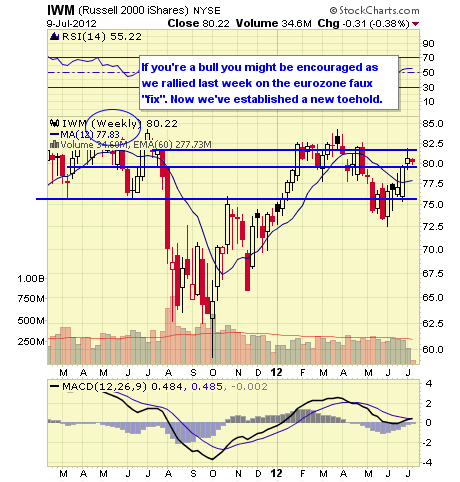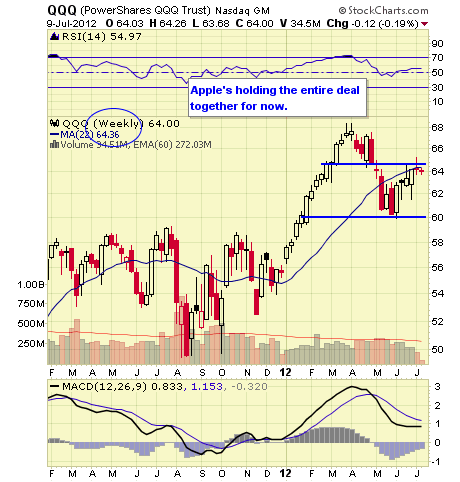 Continue to U.S. Sector, Stocks & Bond ETFs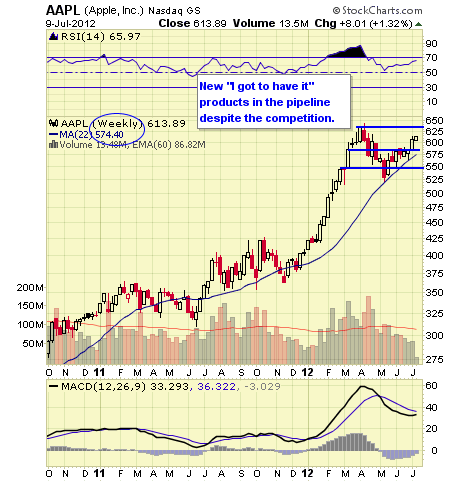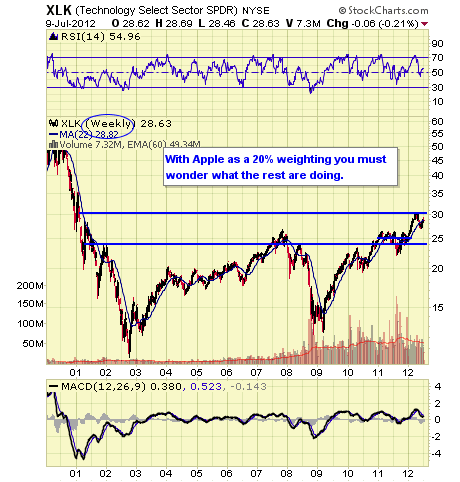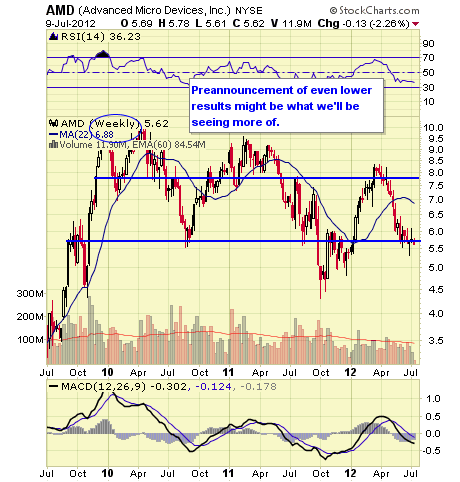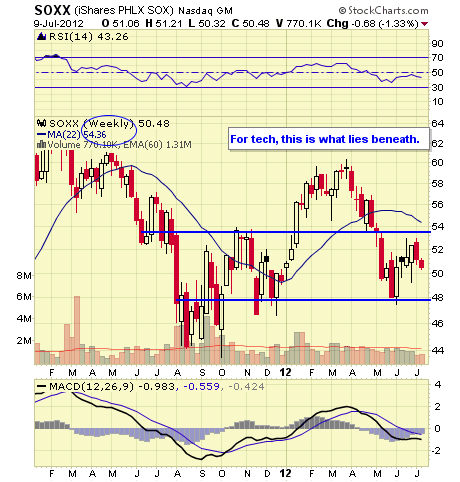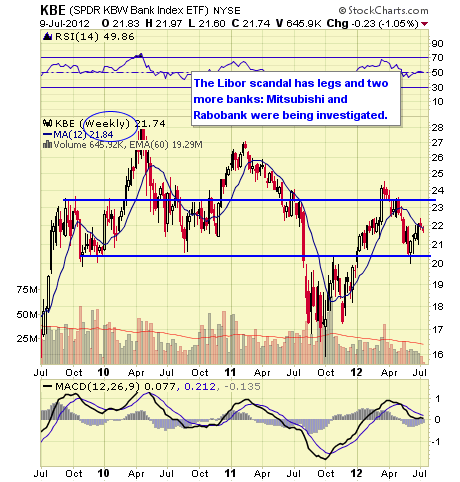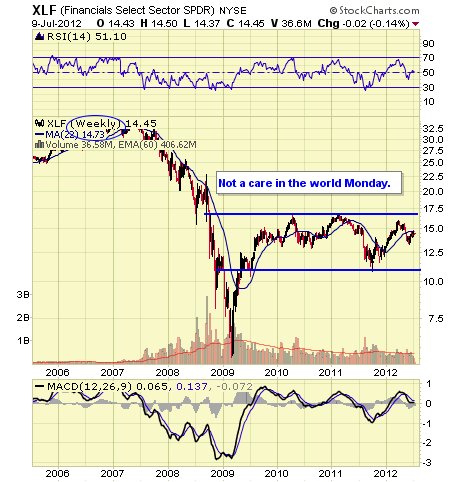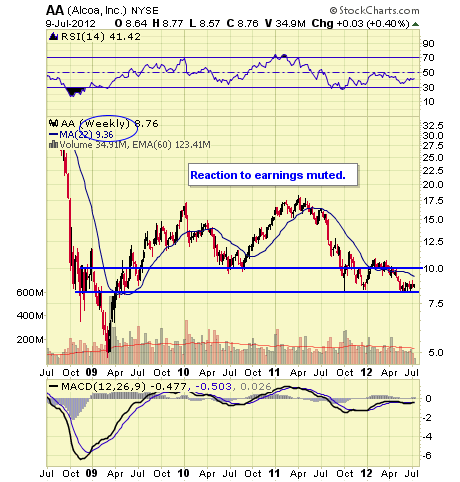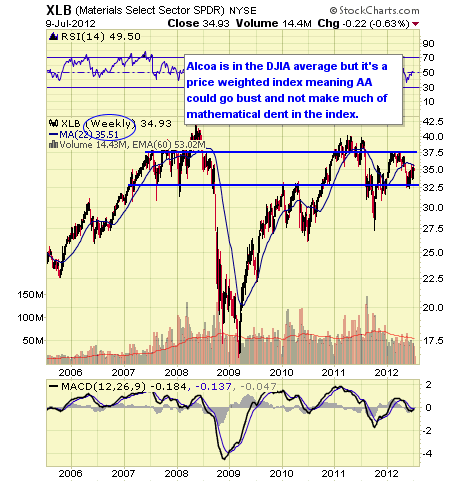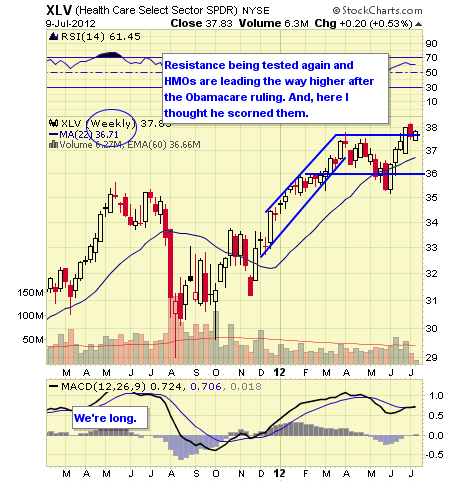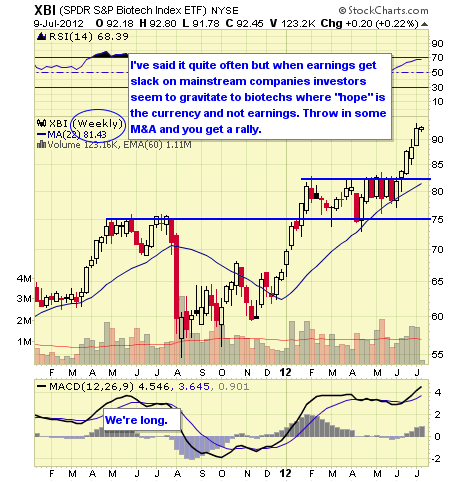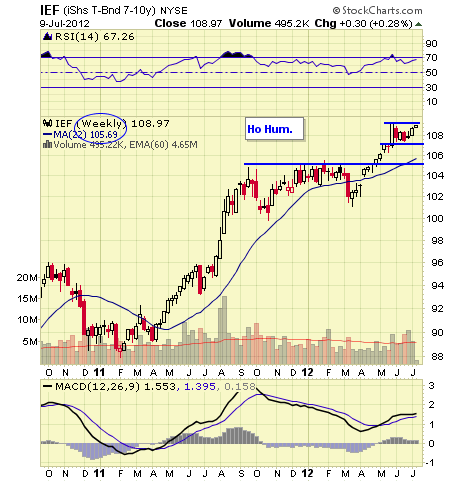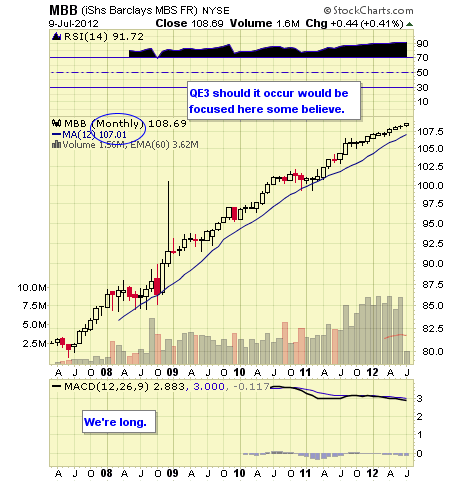 Continue to Currency & Commodity Market ETFs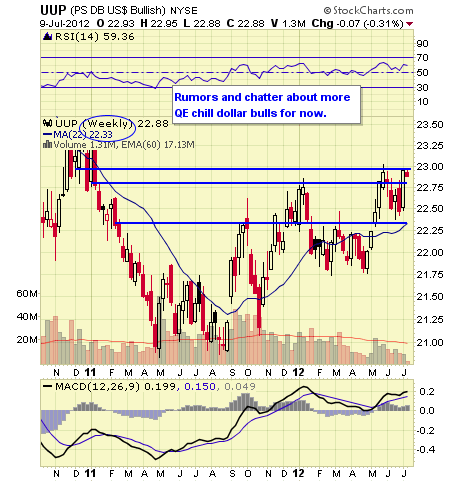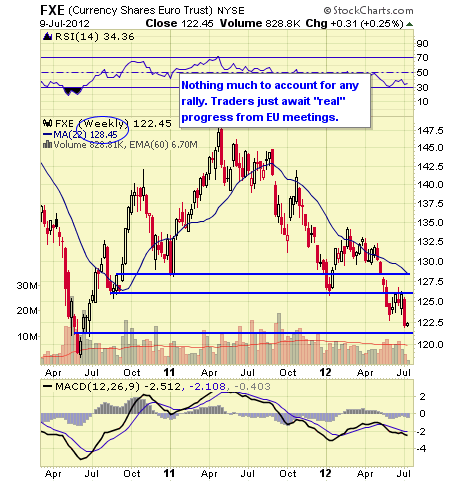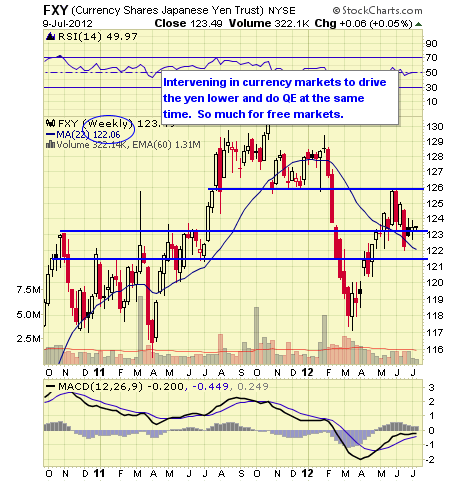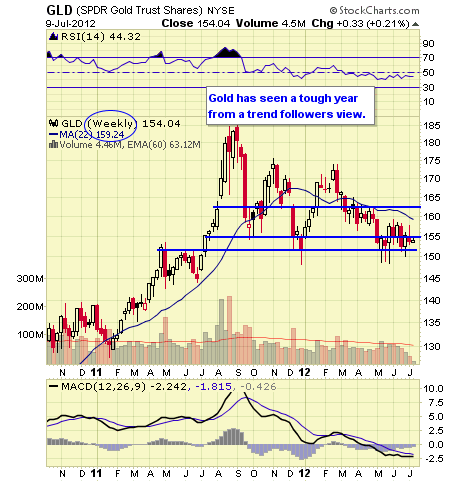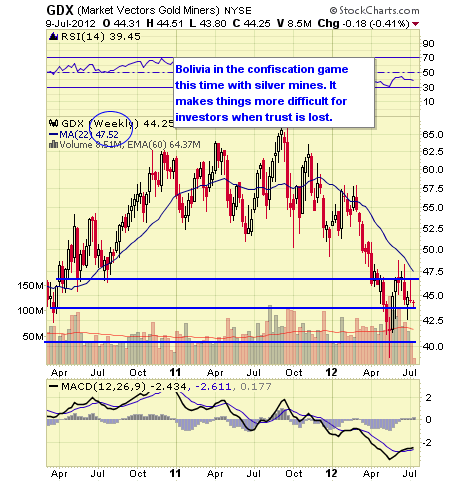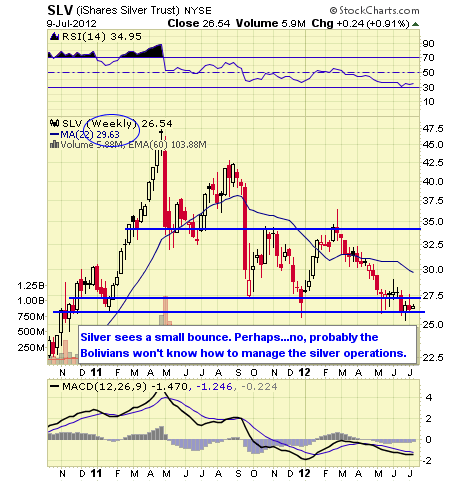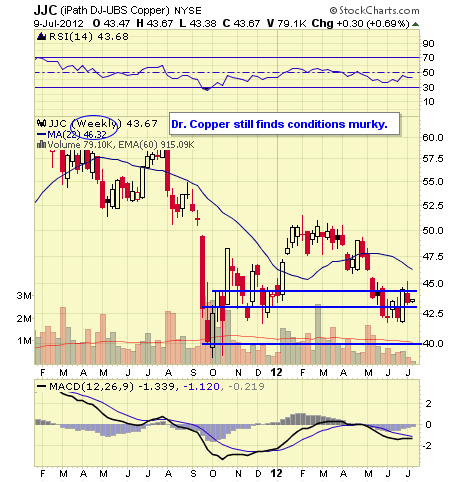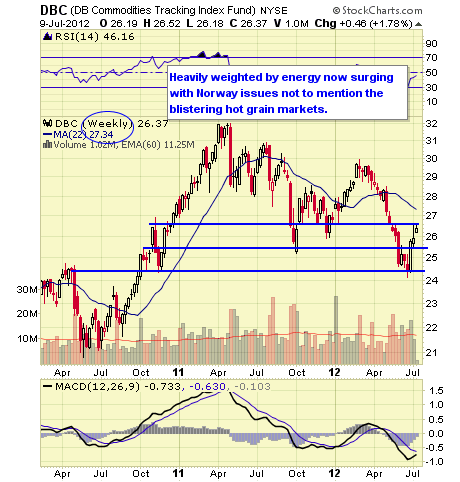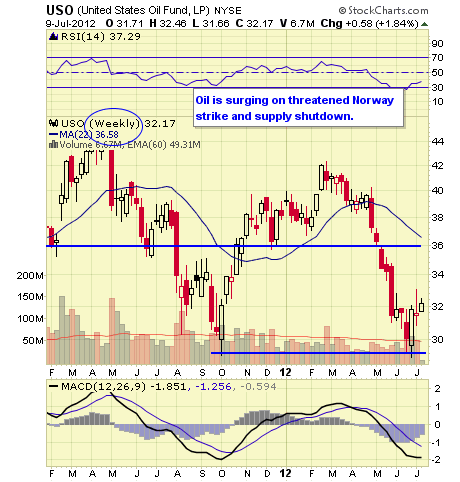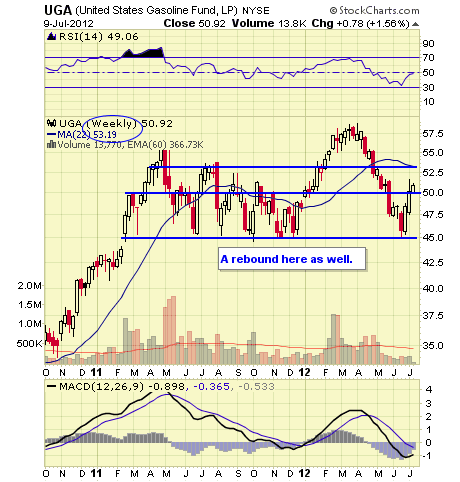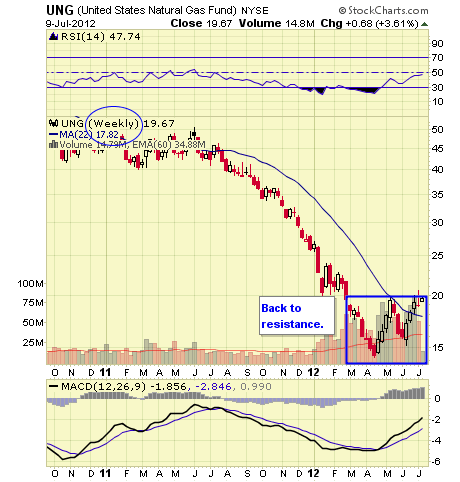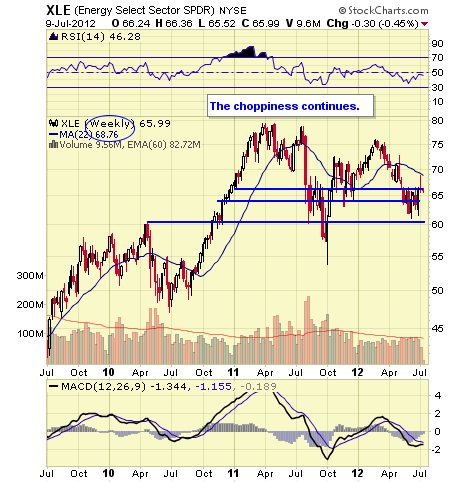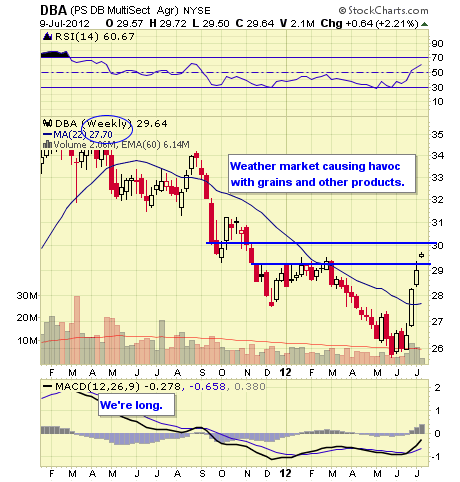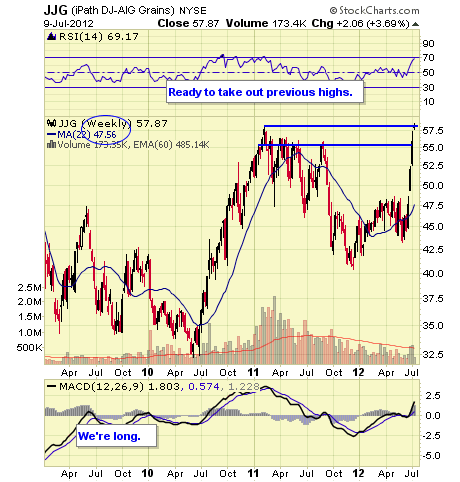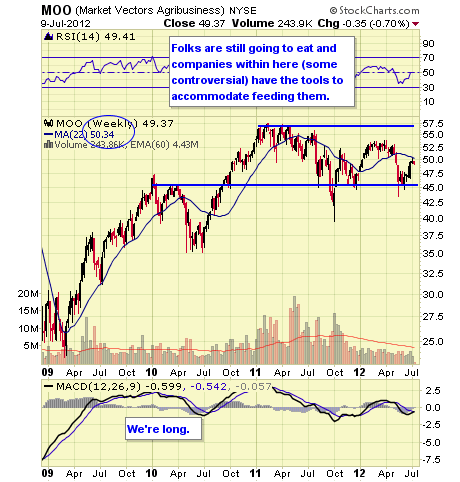 Continue to Overseas Sectors & ETFs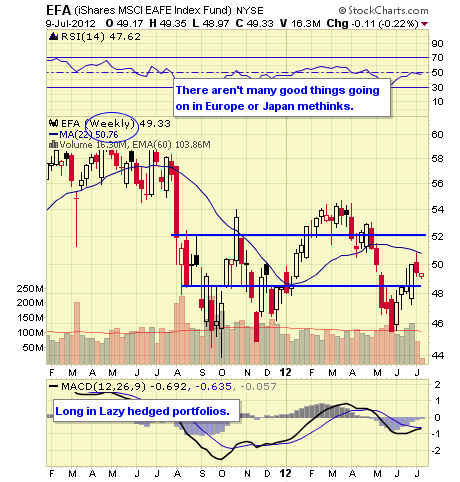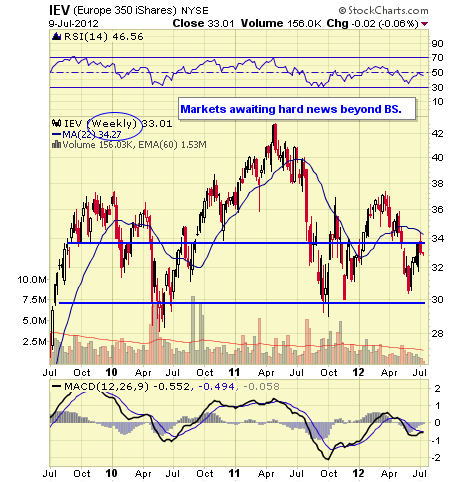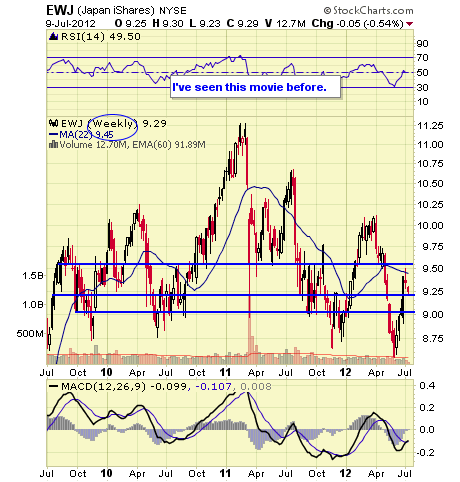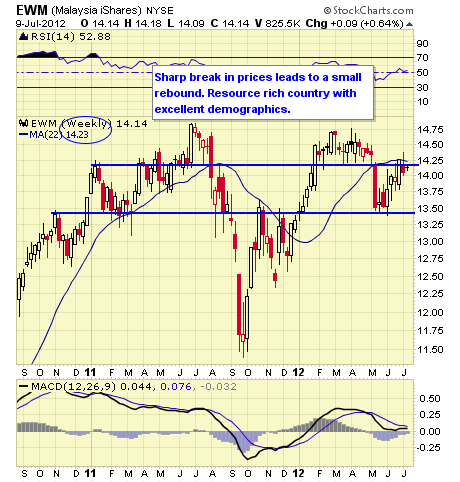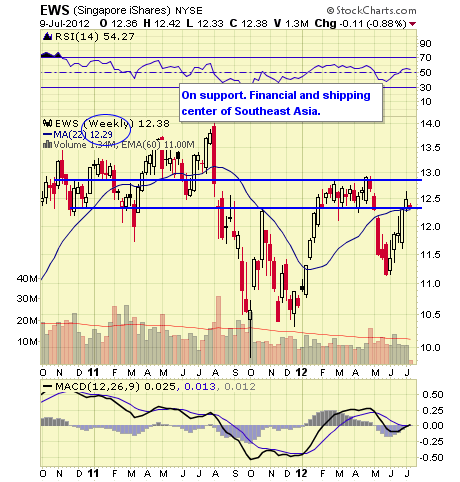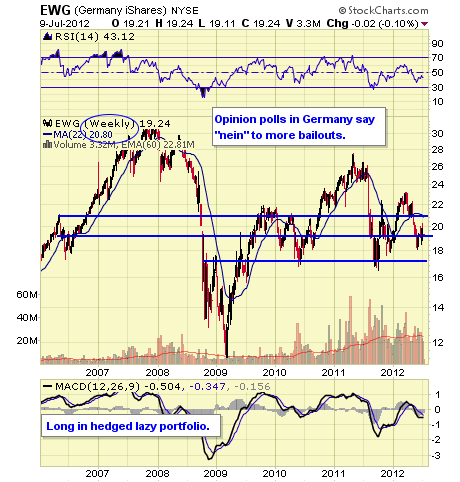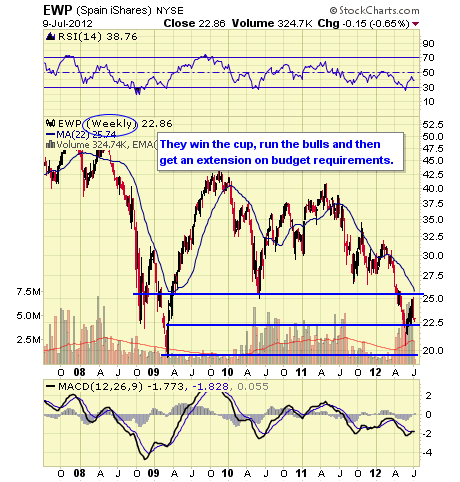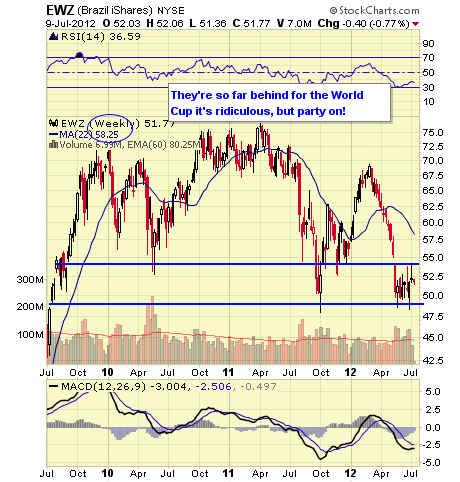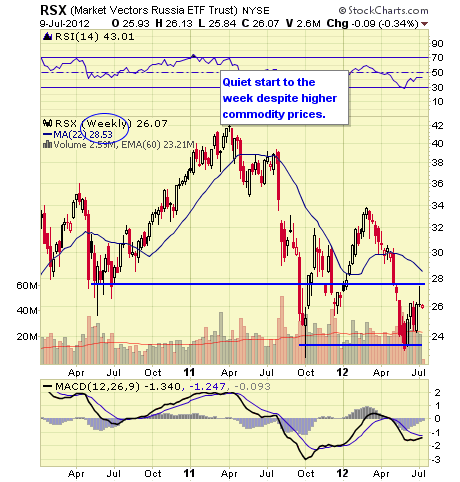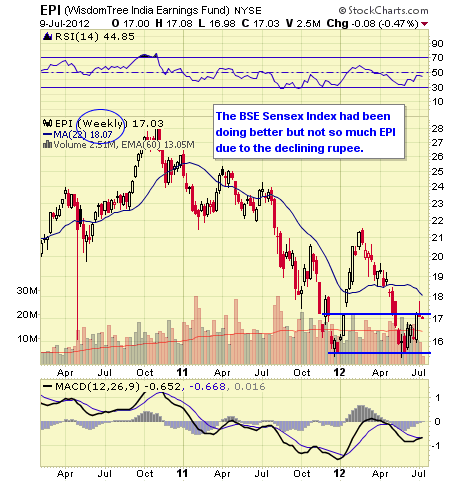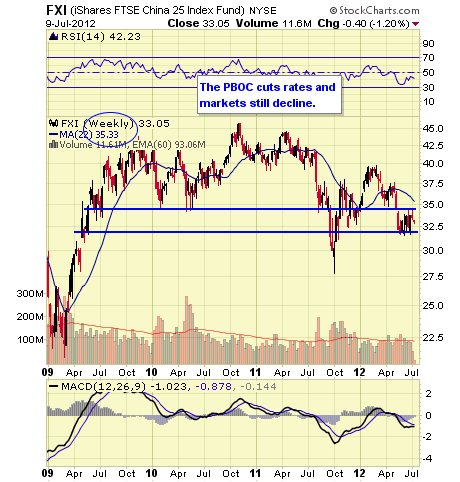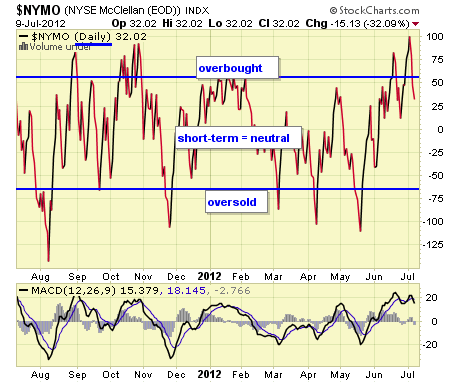 The NYMO is a market breadth indicator that is based on the difference between the number of advancing and declining issues on the NYSE. When readings are +60/-60 markets are extended short-term.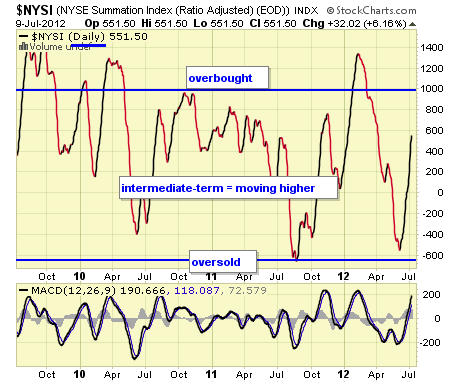 The McClellan Summation Index is a long-term version of the McClellan Oscillator. It is a market breadth indicator, and interpretation is similar to that of the McClellan Oscillator, except that it is more suited to major trends. I believe readings of +1000/-1000 reveal markets as much extended.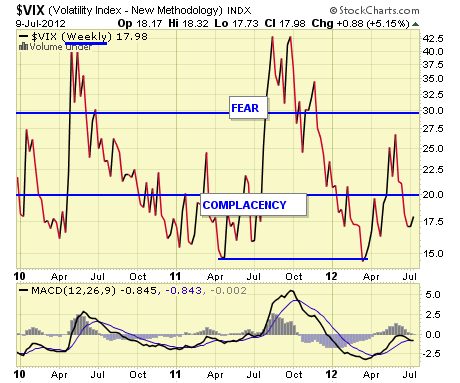 The VIX is a widely used measure of market risk and is often referred to as the "investor fear gauge". Our own interpretation is highlighted in the chart above. The VIX measures the level of put option activity over a 30-day period. Greater buying of put options (protection) causes the index to rise.
Alcoa didn't really beat estimates by any significant measure. In fact, Alcoa's adjusted EBITDA margin plunges to 8.7%, from 10.4% in Q1, and 15.8% versus a year ago-so nothing to brag about. We'll have to see what earnings will bring. Clearly analysts have been furiously reducing estimates which may allow for headline beats which would hardly be uncommon.
The eurozone is in full scale conferences about funding and fixing their ongoing problems. I wonder what the odds are on having a full-fledged and funded deal done this week is? I'll take the under.
Disclaimer: The ETF Digest maintains active ETF trading portfolio and a wide selection of ETFs away from portfolios in an independent listing. Current "trading" positions in active portfolios if any are embedded within charts: Lazy & Hedged Lazy Portfolios maintain the follow positions: VT, MGV, BND, BSV, VGT, VWO, VNO, IAU, DJCI, DJP, VMBS, VIG, ILF, EWA, IEV, EWC, EWJ, EWG, & EWU.
The charts and comments are only the author's view of market activity and aren't recommendations to buy or sell any security. Market sectors and related ETFs are selected based on his opinion as to their importance in providing the viewer a comprehensive summary of market conditions for the featured period. Chart annotations aren't predictive of any future market action rather they only demonstrate the author's opinion as to a range of possibilities going forward. More detailed information, including actionable alerts, are available to subscribers at www.etfdigest.com.
Disclosure: I have no positions in any stocks mentioned, and no plans to initiate any positions within the next 72 hours.