Intel Corporation (NASDAQ:INTC) is a dominant semiconductor manufacturer, with a growing internet security presence thanks to its recent purchase of McAfee. With the upcoming launch of Windows 8, I anticipate there will be a PC upgrade cycle that would certainly boost demand for Intel's products.
The thesis of this article will examine Intel's unique strengths and its ability to capitalize on the upcoming PC upgrade cycle. I will cite three main reasons, in addition to the upgrade cycle, that served as the basis for my investment in the company.
Chart courtesy of bigcharts.marketwatch.com/quickchart/quickchart.asp
I have dubbed Intel a wide moat company due to the virtual impossibility of replicating its existing network of wafer fabrication plants. Intel currently has nine of these unique plants worldwide, with another two slated to open in 2013.
The sheer cost (usually in excess of $5 billion dollars) and lengthy period to construct form in my opinion a significant barrier to entry for competitors. When coupled with the need to constantly retool the plants to produce smaller wafers, it makes it in my view extremely unlikely for a competitor to replicate Intel's network of plants.
Click to enlarge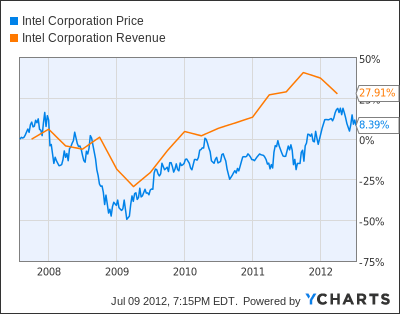 Intel's wide and defensible moat offers it significant advantageous over less well funded rivals, such as Advance Micro Devices (NYSE:AMD). The most significant advantage, in my opinion, is Intel's ability to consistently grow revenues and earnings along with its significant cash hoard.
As we can see from the chart above, outside of the global recession of 2009, Intel has consistently grown revenue over a 5-year period. The consistently rising revenue has allowed Intel to pay a significant dividend. The dividend which totaled 45 cents a share in 2007 has been virtually been raised over 85% to its current level of 21 cents a share. I am hopeful that before the year is out, management will raise the dividend again.
The third reason that I am bullish on INTC future prospects has to do with security. The McAfee acquisition, which was seen at the time as a curious acquisition, will bear significant fruit in the future. As evidenced by the following quote: "And finally, McAfee posted its best first quarter bookings in the company's history. McAfee's Deep Defender security product, the first fruit of McAfee and Intel's collaboration, also successfully blocked the day-0 Cridex worm attack, missed by many other antivirus systems, demonstrating the value of our hardware plus software security strategy." The quote attributed to Paul Otellini CEO of INTC during his overview of the most recent earnings report. Transcript courtesy of Seeking Alpha.
The security of data and other vital information is paramount in today's connected world. A breach in data can cause irreparable harm to the reputation of the company or can cause other unforeseen calamities. In my opinion, it is reasonable to conclude that end users will pay a premium for a product that is more secure than what other competitors are offering.
Intel's hardware plus software strategy can very well become a "game changer for it" if executed properly. I believe that management is aware of this as evidenced by the following quote "Intel (INTC) has provided "a massive infusion of R&D resources" for its McAfee unit, says exec Mike DeCesare, and is directing those resources towards hardware-assisted security. Solutions that leverage the features of Intel motherboard chipsets and McAfee endpoint protection software will start rolling out at year's end. "(Courtesy of Seeking Alpha page on INTC). It is difficult for me to see a company such as Taiwan Semiconductor (NYSE:TSM) being able to offer such solutions.
In summary, I believe that the combination of INTC foundries, financial strength and new security features make it a formidable competitor and will allow it to remain that way for the foreseeable future. With its significant dividend (over 3%) and enviable track record of raising its payout, Intel is in my view a compelling company to own. I am comfortable owning it at current levels and it will become a core holding of mine.
Disclosure: I am long INTC.
Disclaimer: The above article is for informational purposes only and is not actual investment advise.