I would advise American Capital Agency (AGNC) shareholders to avoid purchasing any additional shares. The word is out. Gary Kain and American Capital Agency sit at the top of the mortgage real estate investment trust (mREITs) world. American Capital Agency's Mr. Kain, for middle age investors with dated comic book memories, has made his mREIT competition look like the 98 pound weakling on the beach! In this article, I will highlight the rationale for keeping one's American Capital Agency shares and avoid buying any additional shares.
Per the below chart, the investor can take note of a 5 year American Capital Agency 303% total return: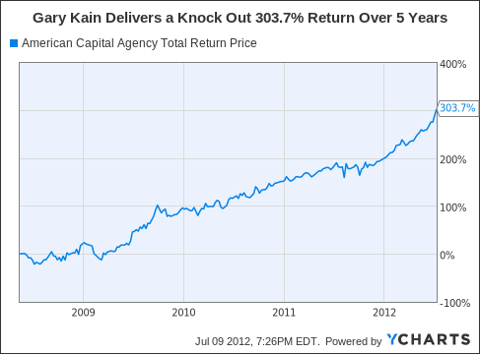 AGNC Total Return Price data by YCharts
Book Value Per Share
A key metric to assess mREIT valuations is book value per share. American Capital Agency is currently trading at an unreasonable 19.41% to last known book value per share. On March 31st, the American Capital Agency book value per share was $29.06. I anticipate American Capital Agency's book value has climbed to $31.56 for the quarter ending June 30th.
The above data shows American Capital Agency is trading at close to a 20% premium to book value. As Treasury Bond yields have decreased since March 31st, we know the book value has increased per share. The 19.41% premium is simply not worth buying at this point. I am willing to pay a 5% premium, but not 19.41% premium.
It is widely apparent many short sellers are covering their positions at balloon prices. These short sellers anticipated an American Capital Agency secondary - which did not blossom. Mr. Gary Kain has more rabbits up his sleeve than Rocky and Bullwinkle. Mr. Kain will issue a secondary on his terms.
Current mREIT Dividend Yields
The current yields all range between 12% and 15% per year. American Capital Mortgage (MTGE) is managed by Gary Kain. The agency mREIT portion is managed by Mr. Kain. They are both tied to the success of Mr. Kain's involvement. The 13.87% premium is not inviting to the seasoned mREIT investor.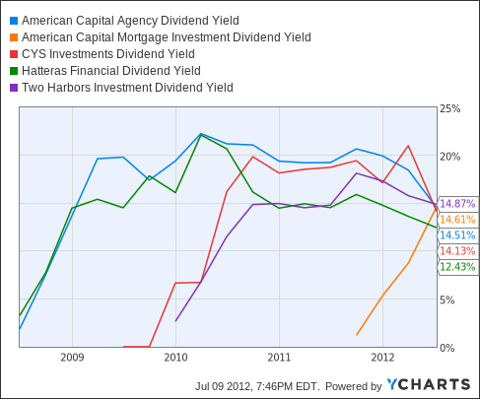 AGNC Dividend Yield data by YCharts
CYS Investments (CYS) and Hatteras (HTS) remain two of my favorite agency mREITs. They are below 10% premiums to book values per shares.
Two Harbors Investment (TWO) offers a solid yield while trading at a 14% premium to 1st quarter book values. As many know, Two Harbors has an excellent management team. The mREIT is a non agency mREIT. This implies the mREIT can invest in non U.S. Federal Government guaranteed U.S. mortgages.
I advise shareholder to hold a basket of these names. The yields and returns offer great value. Be cognizant of the management team's track record and ability to control risk management. If risk management control, on a levered and hedged bond fund, is not priority number 1, then negative consequences can occur.
U.S. Dollar Versus Euro
The Euro appears to dealing with its own challenges. The U.S. dollar is very strong and trading at 83.188. Very few believe Germany can rescue the entire Euro situation.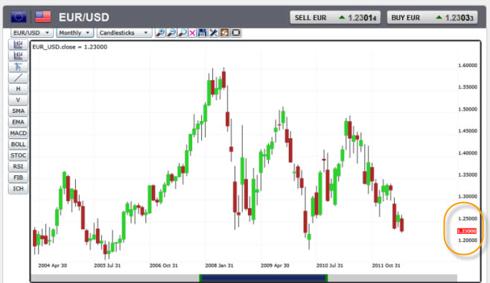 Action
The strong U.S. dollar has depressed the U.S. Treasury Bond yields along with Government Sponsored Entity (NYSE:GSE) Mortgage Bond Security (MBS) yields. The 10 Year Treasury Bond closed at a 1.53% yield today. The yields need to expand. Currently the book value per shares are increasing as we enter quarter three. In any event, Mr. Bernanke has to implement a Quantitative Easing 3 (QE3) in order to stimulate the economy.
I recommend investors continue to focus upon management teams and success records. The key is book value per share. The upcoming weeks will present book value per share, per mREIT, to substantiate the valuation of each respective mREIT. A mREIT is, by definition, a leveraged and hedged bond fund.