Perrigo (NASDAQ:PRGO) makes generic over-the-counter [OTC] and prescription drugs. Many of its products are sold under store brands including Wal-Mart (NYSE:WMT), CVS (NYSE:CVS), Walgreens (WAG), Kroger (NYSE:KR), Safeway (NYSE:SWY), Dollar General, Sam's Club, and Costco (NASDAQ:COST). Geographic markets include the U.S., Canada, Germany, Israel, Mexico, and the U.K.
The Consumer Healthcare segment generated 72% of net sales during the first half of fiscal 2008. This segment makes OTC pharmaceuticals used for treating coughs, colds, and allergies. It also makes analgesics and dietary supplements, as well as gastrointestinal products and smoking cessation products. Products typically have the same active ingredients found in national brand drugs.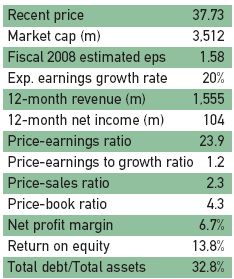 However, store brand drugs are generally cheaper for consumers and more profitable for retailers. The Pharmaceuticals segment, which produced 9% of sales, offers approximately 230 generic prescription drugs. These consist primarily of topical creams, ointments, shampoos, and suppositories. PRGO also makes nasal sprays, ear drops, foams, and transdermal patches. To a lesser extent, it also produces tablets and capsules. The Active Pharmaceutical Ingredients segment accounted for 9% of sales. It manufactures many of the ingredients found in generic and branded prescription drugs, including those offered by the company's Pharmaceuticals segment. This segment focuses on less common molecules that are difficult to develop such as pentoxiifylline, tramadol, midazolam, fenofibrate, fluticasone and cetirizine.
The remaining 10% of sales come from Israel and fall in the Other segment. PRGO sells personal care items, prescription pharmaceuticals, and diagnostic products in Israel.
In recent periods, PRGO's existing products gained market share and new products had successful launches. Two acquisitions last year added about $30 million in annual sales. PRGO expects to realize an additional $90-100 million in sales in fiscal 2008 due to quality control issues at competitor Leiner Health Products. Fiscal Q2 net sales jumped 17.5% year-over-year to $435.5 million. Higher volumes in the Consumer Healthcare and Pharmaceuticals segments helped boost the gross profit margin by 392 basis points to 29.95%. The pro forma operating profit margin increased 393 basis points to 11.22%. Pro forma net income jumped 59.4% to $34.29 million or 36 cents per share. Because other generic OTC drug makers tend not to compete in the same geographic regions as PRGO, the company's primary competition comes from national brand companies that have greater financial resources and larger marketing budgets. As a result, sales could dip if generics are perceived less favorably or if branded drug makers reduce prices.
However, softening economic conditions should work in PRGO's favor. In fact, management recently raised fiscal 2008 earnings guidance. Some of the increased optimism is a result of an improved product portfolio and the Jan. acquisition of U.K.-based Galpharm Healthcare. In addition, PRGO recently began shipping Omeprazole (a generic version of Prilosec OTC), which is expected to add $150-200 million in annual sales. Over the next five years, PRGO hopes to exploit an estimated $10 billion worth of prescription pharmaceuticals that are expected to become available for OTC sale.