Alcoa's (NYSE:AA) earnings release after the close on Monday marked the beginning of Q2 2012 earnings season. We plan to profile several key companies during earnings season to better understand how their management teams view demand in their specific markets as well as growth across the globe. Many companies and sell-side equity analysts have already reduced their earnings projections for Q2 and the rest of 2012, so we are not expecting to hear a lot of exciting stories over the next few weeks.
Instead, we want to find out if expectations are now low enough that companies can beat these numbers and if investors will react positively to the Q2 numbers. If expectations are low enough, then the market may be at a turning point and could rally. Alcoa's Q2 earnings are a good way to start to gauge market expectations and company performance as we enter the second half of the year. We are going to analyze Alcoa's earnings using a 5 question earnings checklist, which we will also use for other companies in the future.
How Did The Company's Stock Perform Going Into Earnings?
Alcoa's stock price declined from the $18 per share level after announcing Q1 2011 earnings in April 2011 to $8.76 per share at the close on Monday (before the earnings release). Much of that decline occurred from April to October 2011. Since then, the stock has traded in a range from $8-11 per share.
(click to enlarge all images)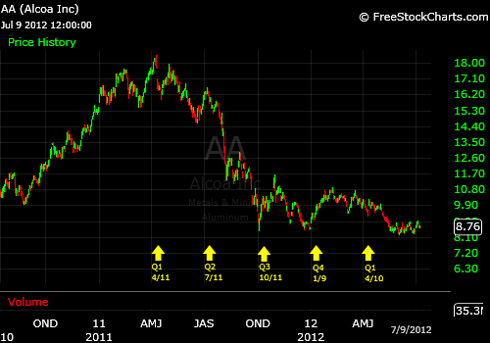 (Source: FreeStockCharts.com)
Clearly, expectations going into Q2 earnings season were very low.
Did The Company Beat Expectations And Have Expectations Been Rising/Declining?
Alcoa's Q2 earnings release can be found here. In summary, Alcoa generated $5.963 billion of revenue in Q2 2012 and earnings per share of $0.00. However, excluding special items Alcoa generated EPS of $0.06, which was higher than analyst expectations of $0.05 per share.
Although it seems that Alcoa beat expectations, it is important to note that expectations were significantly reduced as earnings season approached. According to Reuters (via Capital IQ), analysts were projecting EPS of $0.09 one month ago. Three months ago the EPS estimate was $0.12 per share and twelve months ago it was $0.38 per share.
Considering the reduced expectations, Alcoa's earnings "beat" is not very impressive.
What Drove The Results?
Alcoa's earnings release explains the results as follows:
"Alcoa maintained revenue strength and solid liquidity by driving high profitability in our mid and downstream businesses and by reducing costs and improving performance in our upstream businesses," said Klaus Kleinfeld, Chairman and CEO.

Although aluminum prices are down, the fundamentals of the aluminum market remain sound with strong demand and tight supply, and Alcoa is successfully capitalizing on accelerating demand in high-growth end markets such as aerospace and automotive.
On the positive side, Alcoa's midstream and downstream businesses generated good results, driven by the aerospace and automobile markets.
However, the main negative driver for the company was the decline in the price of aluminum, which is produced by the upstream business. The following chart shows the decline in LME aluminum prices (3 months buyer):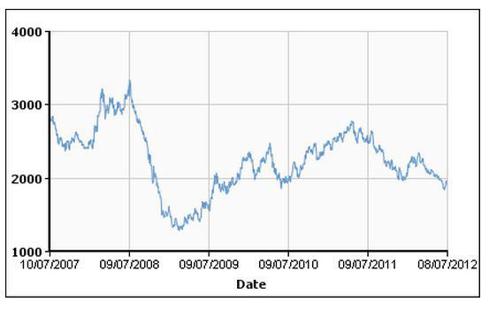 (Source: LME.com; note that the dates are written as DD/MM/YYYY)
Alcoa's management had interesting comments about the decline in aluminum prices on the earnings call, which were backed up by slides in the earnings presentation.
Management argued that "LME prices [are] decoupled from fundamentals." Starting in Q2 2011, the aluminum market has been in a state of supply/demand balance, or even a slight supply/demand deficit. During this period, inventories have been declining. Considering these factors, it would be expected that the price of aluminum should rise. However, the price of aluminum has been falling, which is out of step with fundamentals. Management argued that over the last year there has been an increase in the correlation between the price of aluminum and other commodities as well as the S&P 500. Therefore, as macro concerns drove down commodities and the equity markets, the price of aluminum has been falling as well.
The following slides from the presentation lay out this argument: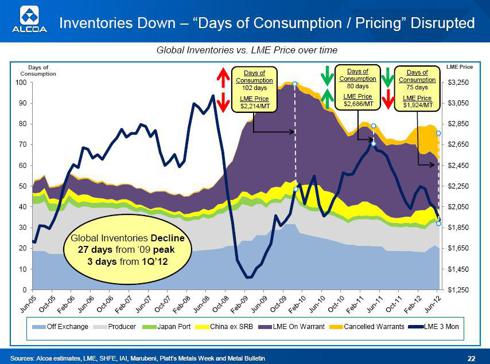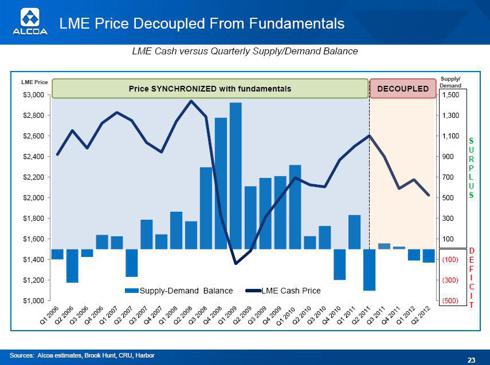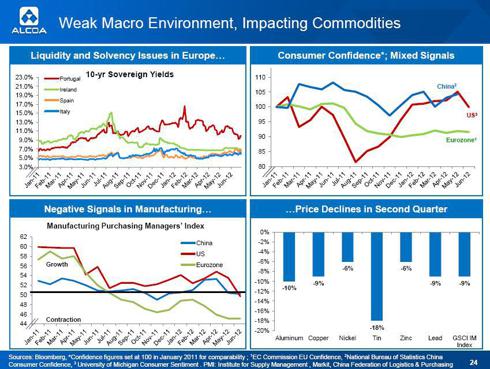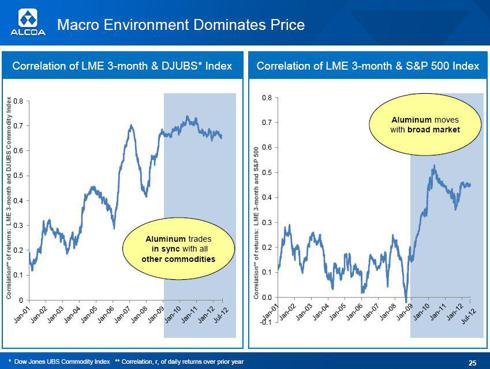 Alcoa's management believes that market fundamentals, which are "sound", will prevail and push up the price of aluminum and benefit the company's upstream business.
Although it may make sense that fundamentals should drive the price of aluminum, and not correlations to other markets, it could take time for this to play out. If the price of aluminum does not rebound, as Alcoa's management expects, then its upstream business will likely continue to suffer and the stock may remain at the current lows, or decline further. The price of aluminum, driven by correlations or fundamentals, will likely continue to be a key driver for Alcoa going forward.
What Are The Implications For The General Economy?
Global aluminum demand remains strong and is projected to increase 7% in 2012, according to management. Management presented the following overview of market conditions in its earnings presentation: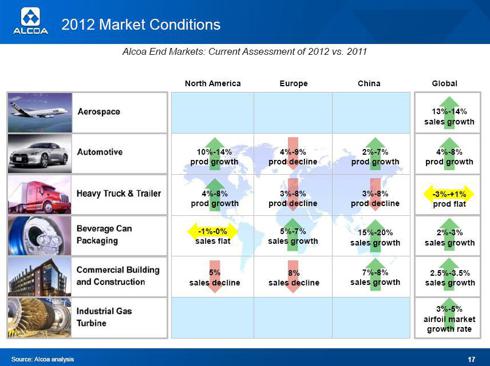 On the earnings call, management sounded positive about the aerospace and automotive markets, confirming some of the positive sentiment about these markets lately. Boeing's (NYSE:BA) orderbook continues to grow with the recently announced $7.2 billion order from U.S. Air Lease Corp. and automakers announced impressive June sales.
Management noted that there was weakness in the Heavy Truck market, including in China. However, the weakness in Heavy Trucks in China is expected to reverse in H2 as some government stimulus kicks in.
Interestingly, management said that commercial building and construction was still strong in China. However, it was weak in the US.
The China story seemed mixed. Chinese demand seemed to be strong, despite the comments on the Heavy Truck market. However, on the supply side, Chinese producers are expects to curtail production. This would help support aluminum prices, but may indicate a weaker demand environment.
Europe was weak, as can be expected.
We do not want to extrapolate too much from one company, but we were encouraged by Alcoa's overview of its market segments and geographies. The company did not seem too concerned about growth in China, despite lots of talk recently about slower Chinese growth. Although there was weakness in Europe, this was not surprising. Importantly, management seemed positive about the overall demand outlook.
Another interesting point had to do with the company's pension obligations. The recently passed Highway Bill contained legislation that changes the accounting for funding pension obligations. Under the new legislation, companies will be able to use a higher discount rate when calculating their funding obligations and reduce the amounts that they need to contribute.
Alcoa's management said that it expects to be able to increased its discount rate from 5.4% to 6.7-7.0%. This change could save the company $100-$130 million in 2012 and $225-$250 million next year. Many other companies face underfunded pensions and will benefit from the recently passed pension relief as well.
What Is The Market's Reaction To The Results?
Although there was some small price movements early in after hours trading, as of the time of this writing, Alcoa's stock price is flat. It will be important to see how it trades in the coming days to gauge the reaction to the reaction.
Conclusions
The real story happened before Alcoa's earnings were released. For months, analysts have been reducing estimates and the stock price has been declining. The Q2 earnings did not generate upside or downside surprises. Considering the stock price decline that already happened, the lack of downside surprises may be a positive for the stock. However, the key driver for the stock will likely continue to be the price of aluminum.
Management seemed positive about demand in its markets, which is a welcome relief from a lot of the negative sentiment that has been in the market lately. We want to see if other companies can hold the line at significantly reduced expectations. If they do, the market may be positioned for a relief rally.
Disclosure: I have no positions in any stocks mentioned, but may initiate a long position in AA, BA over the next 72 hours.
Additional disclosure: Some of the information in this article is based on the company's earnings conference call. Although we try to accurately document information in the call, we may have missed some information. We encourage readers to listen to the conference call or read the transcript available on Seeking Alpha.