On the strength of two key acquisitions, which helped boost the number of wireless products handled in 2007 by 55% to 83 million, Brightpoint (NASDAQ:CELL) has become the largest global distributor of wireless devices and related accessories. It is also the leading provider of customized logistics services to the wireless industry. Customers include service providers, mobile virtual network operators (MVNOs), resellers, retailers, and equipment manufacturers.
The company's operations fall into two categories. The larger is product distribution. CELL purchases cell phones, batteries, chargers, and memory cards, and then sells them to a global network of 25,000 customers. The objective is to acquire distribution rights to products offering the greatest potential for growth. CELL distributes products from numerous manufacturers that are designed to work on a number of different operating platforms. It sells brands made by High Tech Computer, LG Electronics, Nokia (NYSE:NOK), Kyocera (NYSE:KYO), Motorola (MOT), Samsung, Sony (NYSE:SNE), Siemens (SI), and Ericsson (NASDAQ:ERIC). This category produced 92% of total 2007 revenues, but it had a gross profit margin of just 4.24%.
The company's fee-based businesses consist primarily of logistic services such as procurement, inventory management, software loading, kitting and customized packaging, fulfillment, credit services and receivables management, call center and activation services, website hosting, and e-fulfillment solutions. In the U.S., CELL has contracts with mobile operators including ALLTEL, Cricket Communications, MetroPCS, Sprint Nextel (NYSE:S),T-Mobile, and Virgin Mobile (VM). Abroad, it has contracts with COMCEL, Debitel, P4,T-Mobile, and Vodafone (NASDAQ:VOD).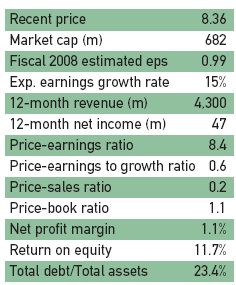 The company also provides activation services, which allow mobile operators and MVNOs to add subscribers or upgrade services. CELL also sells prepaid airtime cards. This category generated only 8% of total 2007 revenues, yet its gross profit margin was 28.94%. Market conditions have been favorable in recent years as worldwide wireless penetration grew at a brisk pace. CELL also benefited from promotional activities by service providers and the launch of new feature-rich wireless devices. This has encouraged users to switch providers and upgrade devices.
Acquisitions helped boost Q4 2007 revenues by 140.6% year-over-year to $1.63 billion. Organic revenue growth was 28%. The adjusted operating profit margin from continuing operations expanded 24 basis points to 2.39%. Adjusted net income grew 127.3% to $25.7 million or 31 cents per share.
CELL is more recession proof then most consumer products companies, yet significant deterioration in consumer spending could negatively impact sales. Industry consolidation could also hurt sales and profits. In fact,AT&T recently bought Dobson,Verizon (NYSE:VZ) Wireless acquired RCC, and T-Mobile acquired Suncom, all of which are CELL's customers. Finally, manufacturers could always decide to sell their products directly to customers.
Recent weakness in the stock suggests these fears are largely priced in. We believe favorable trends are more important. These include increased attractiveness of converged devices, growing appeal of high speed mobile networks, and continued growth of wireless phone penetration in emerging markets such as India and Latin America. This means CELL could surpass its stated goal of handling more than 100 million devices in 2008.