In our first report on the utilities sector, we compared, analyzed and evaluated Southern Company (SO) versus Wisconsin Energy (WEC) and we concluded that as good an investment as Southern Company was, Wisconsin Energy was better. In our next utility head-to-head report, we analyzed Exelon (EXC) versus Wisconsin Energy. We concluded that despite the fact that Wisconsin Energy is not as well known to investors as Exelon, the little known utility strongly outperforms the larger, more well-known utility company. Our third report saw us compare Duke Energy (DUK) another respected blue-chip utility against Wisconsin Energy and as much as we liked Duke Energy, we concluded that Wisconsin Energy was a better investment than Duke.
In this report, we will compare Consolidated Edison (ED); another blue-chip utility that we believe is one of the very best utility companies in America against Wisconsin Energy. Considering that ConEd has boosted its dividend for 38 straight years in good times and bad, we believe that it is legitimate competition to Wisconsin Energy for investors' capital. Another impressive fact about ConEd and its predecessors is that ConEd is currently the long consecutively traded stock listed on the New York Stock Exchange.
Consolidated Edison: ConEd is an industry leading multistate diversified utility holding company: Consolidated Edison Company of New York was its previous corporate parent company before its 1998 reorganization when New York State deregulated the utility industry that year and is now ED's primary operating subsidiary. ConEd's regulated utility subsidiaries serve New York City and the surrounding areas of Westchester County, Orange County, Northern New Jersey, Northeastern Pennsylvania and Rockland County. ConEd has three competitive energy subsidiaries; however 81% of its revenue and 93% of its net income came from its Consolidated Edison Company of New York regulated utility subsidiary.
An investment in ConEd on December 31st, 1997 (the day before New York utilities were deregulated) would have generated a total return of 224% as of July 5th, 2012, easily outpacing the S&P 500 during this time period, but it would have dramatically underperformed Wisconsin Energy even though WEC was under the less-than-stellar leadership of Richard Abdoo and his team from 1997-2003.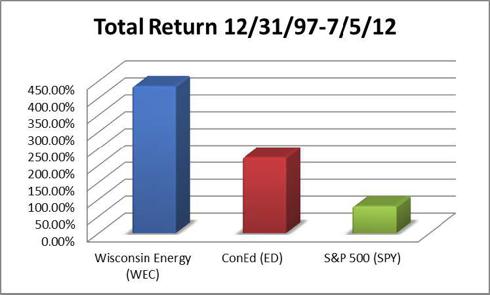 Click to enlarge
Source: Morningstar Direct
Wisconsin Energy Corporation: Wisconsin Energy Corporation is Wisconsin's largest public utility company. In 1987, Wisconsin Electric restructured by establishing Wisconsin Energy as a holding company for Wisconsin Electric, Wispark, Wisvest and Witech. In 2000, WEC acquired WICOR (Wisconsin Gas's holding company). This merger created the largest electric and natural gas utility in Wisconsin. We are impressed that WEC has higher revenue and net income than the other two Wisconsin-based utility companies Alliant and MGE Energy. Alliant and MGE Energy primarily serve the Madison, WI area while Wisconsin Energy is more diversified across the state and its biggest service area is the Milwaukee metro area.
Wisconsin Energy's utility and non-utility business segments as follows:
We Energies, which is its electricity and natural gas utility energy segment serving customers in the Milwaukee Metropolitan area and the Upper Peninsula of Michigan
We Power, which designs, builds and owns electric generating facilities
Wispark LLC and Bostco LLC, which develops and owns Wisconsin area real estate properties. Wispark and Bostco currently own $85M in real estate holdings as of FY 2011.
In 2003, Wisconsin Energy hired Gale Klappa and two other senior leaders away from Southern. During the leadership of Klappa and his Southern Company colleagues, Wisconsin Energy's stock has outperformed the S&P 500, the S&P Utilities Sector (XLU) and ConEd during this time period.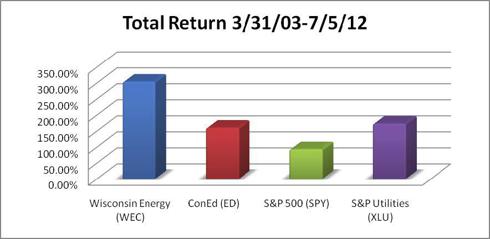 Click to enlarge
Source: Morningstar Direct
We can see that both WEC and ED are top-tier utility companies with high-dividend yields and a strong history of performance in the regulated utility sector. ConEd sold its power generation plants in 1998 to comply with the utility deregulation law in New York. Wisconsin Energy still generates 60% of its power by its own facilities, primarily through coal. We were impressed that Wisconsin Energy's EPS growth exceeded Duke's since 2002, even though Wisconsin Energy's service area is less populated than ConEd's.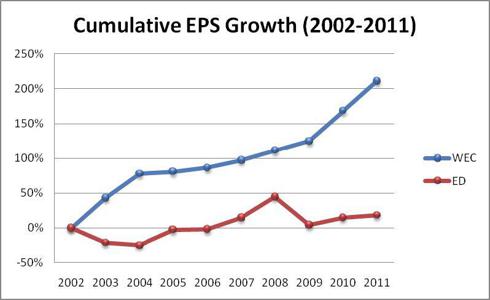 Click to enlarge
Sources: Morningstar Direct
Other reasons why we prefer Wisconsin Energy versus ConEd:
We believe that Wisconsin will improve its population growth over the next 10 years. Wisconsin generated a 6.5% total population growth from 2000-2010 and we believe it will improve from 2010-2020, as the Wisconsin Economy improves. We noticed WI's decennial growth rate exceeded the New York metro area's decennial growth from 2000-2010.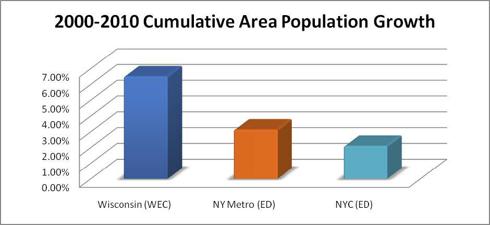 Click to enlarge
Source: U.S. Census
We believe that the budget reforms sponsored and signed into law by Scott Walker will enable Wisconsin to put a lid on its indebtedness and enable the state to begin making it more attractive to business operations. New York State responded to its fiscal troubles with a tax increase on high-income earners, which will mainly hit people in the NYC metro area. This was sold as a temporary tax increase. We in Massachusetts know that there is nothing more permanent than a temporary tax increase.
We believe that improvements to Wisconsin's economic competitiveness will increase demand for utility services from WEC Wisconsin's unemployment rate of 7% is below the 8.2% national average and Chief Executive magazine has rated Wisconsin as the second most improved state for ease of doing business.
Though Wisconsin Energy's dividend yield of 3% is lower than the 3.90% yield from ConEd, we like the fact that WEC has grown its dividend faster than ConEd since 1997, even taking into account a 50% cut by WEC in 2000 to help finance the Power the Future Program.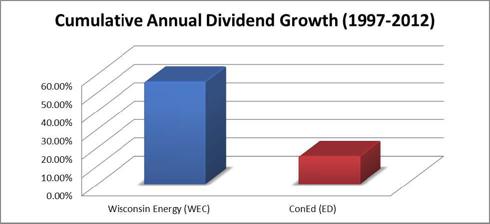 Click to enlarge
Source: Morningstar Direct
We also like the fact that Wisconsin Energy is looking to increase its dividend payout ratio to 60%, which is still less than the 70% payout ratio of ConEd.
Despite being located in a less thickly-settled, high cost of business state, WEC grew its EPS faster than ED. ConEd has the benefit of operating in the extremely thickly-settled New York City metropolitan area, which has the greatest concentration of individuals and businesses in its area versus any other North American city.
Wisconsin Energy still generates the majority of its power sold whereas ConEd relies primarily on purchased power agreements with other firms
Wisconsin has a lower maximum requirement for "renewable energies". Wisconsin requires 10% of energy to be generated from "renewable energies", whereas Pennsylvania (18%), New Jersey (22.5%) and New York (30% for ComEd) all require more.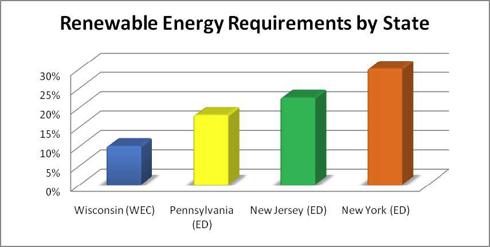 Click to enlarge
Source: DSIRE.org
In conclusion, we believe that if one is looking for a high-quality dividend paying utility to invest in, ConEd is and always has been one of the best utilities out there. Even so, it's not quite as good an investment as Wisconsin Energy. WEC was always a well-respected Midwest utility but has made a great leap forward in improving its operating and financial performance under former Southern Company Chief Financial Officer Gale Klappa and his colleagues from that company. The eight factors we identified is why we hold Wisconsin Energy and why we'd recommend it to anyone interested in the utility sector, even instead of utility industry heavyweight ConEd. We also believe that the environment for utilities that generate power with coal will improve after 2013, as we believe that the EPA's war against coal will begin to abate around that time. We can also note that Wisconsin Energy does not rely exclusively on coal and it has over 50% of its energy generation portfolio in sources other than coal.
Disclosure: I am long WEC.
Additional disclosure: Saibus Research has not received compensation directly or indirectly for expressing the recommendation in this report. Under no circumstances must this report be considered an offer to buy, sell, subscribe for or trade securities or other instruments.