When insiders buy shares on the open market, their companies are usually undervalued. Corporate insiders often have the inside track on their companies' prospects. Insiders probably wouldn't risk investing too much of their own money into their own companies unless they thought the stock might rise.
I screened for companies where at least one insider made an insider buy during the last 3 trading days. Here are four consumer goods stocks that I found:
1. Tandy Leather Factory (NASDAQ:TLF) is the premier distributor of leather and related products to customers worldwide. The company's product lines consist of leather, leatherworking tools, buckles and adornments for belts, leather dyes and finishes, saddle and tack hardware, and do-it-yourself kits. The company's North American distribution network consists of 30 Leather Factory stores, targeting the wholesale customer, and 76 Tandy Leather stores, focusing on the retail market. The company opened its first store in the UK in February 2008.
Click to enlarge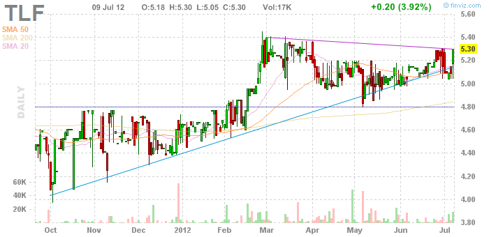 Insider buys
2. Westport Innovations (NASDAQ:WPRT) is a leading global supplier of proprietary solutions that allow engines to operate on clean-burning fuels such as compressed natural gas (CNG), liquefied natural gas (LNG), hydrogen, and renewable natural gas (NYSE:RNG) fuels such as landfill gas and help reduce greenhouse gas emissions (GHG). Westport technology offers advanced LNG fueling systems with direct injection natural gas engine technology for heavy-duty vehicles such as highway trucks and off-road applications such as mining and rail. Cummins Westport, the company's joint venture with Cummins (NYSE:CMI), designs, engineers and markets spark-ignited natural gas engines for North American transportation applications such as trucks and buses. The Westport LD division is one of the global leaders for natural gas and LPG fuel in passenger cars, light-duty trucks and industrial applications such as forklifts.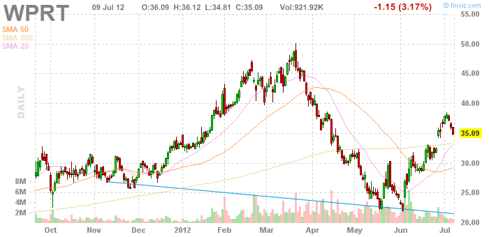 Insider buys
3. Owens-Illinois (NYSE:OI) is the world's largest glass container manufacturer and preferred partner for many of the world's leading food and beverage brands. With revenues of $7.4 billion in 2011, the company is headquartered in Perrysburg, Ohio, USA, and employs more than 24,000 people at 81 plants in 21 countries. O-I delivers safe, effective and sustainable glass packaging solutions to a growing global marketplace.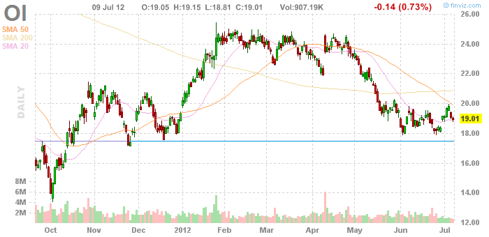 Insider buys
4. Nike (NYSE:NKE) is the world's leading designer, marketer and distributor of authentic athletic footwear, apparel, equipment and accessories for a wide variety of sports and fitness activities. Wholly-owned Nike subsidiaries include Cole Haan, which designs, markets and distributes luxury shoes, handbags, accessories and coats; Converse Inc., which designs, markets and distributes athletic footwear, apparel and accessories; Hurley International LLC, which designs, markets and distributes action sports and youth lifestyle footwear, apparel and accessories; and Umbro Ltd., a leading United Kingdom-based global football (soccer) brand.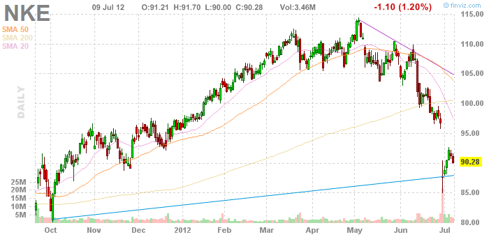 Insider buys
Conclusion
Tandy Leather Factory's stock looks ready to break-out to new 52-week highs. Westport Innovations' stock has already had a sizable bounce from its low and could present a buying opportunity at the confluence of moving averages. Owens-Illinois' stock has some support at $18 level. Nike's stock is still in a long-term bull market and the $90 level could be a good entry point for the stock.
Disclosure: I have no positions in any stocks mentioned, and no plans to initiate any positions within the next 72 hours.