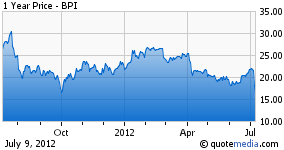 On July 9, 2012, the market learned that the Western Association of Schools and Colleges (WASC) denied accreditation to Ashford University, the largest school run by Bridgepoint Education (BPI). While this is subject to appeal, and Ashford University was given an encouraging note to re-apply early next year, the market decided that BPI's business model was irreparably damaged. For those not familiar with the situation, Ashford University is still accredited by the Higher Learning Commission (HLC) through the 2014-2015 school year. They are still eligible for all federal support they were eligible for before this decision. As it currently stands, they will either have to move some key functions of Ashford University from San Diego to a location administered by the HLC (like at their physical campus in Iowa) or win an appeal quickly with the WASC to avoid an issue with its accreditation based on the fact that they need a "substantial presence" in HLC territory to keep their accreditation. It is highly likely that the HLC will grant an extension to Ashford based on its efforts to relocate and demonstrate a substantial presence in HLC territory. It is very unlikely that Ashford ever loses accreditation, and thus there is almost no likelihood it loses access to federal support or funding.
So, what did the report on Ashford University say that had the market concerned? It noted a number of areas for improvement for Ashford University (covered later). But it also gave Ashford praise many times in the report. In the summary section of the visiting team's report, the team states first:
The visiting team found that the Clinton, IA campus is valued strategically by the leadership of the university, trustees and the parent company, Bridgepoint. The recent change of control triggered a transition in Iowa that has gone remarkably smoothly given the magnitude of change, and the team saw an improved campus in Iowa in terms of the facilities, health and vitality as a result of the Bridgepoint investment. Even with the vast differences in size and quite different cultures, there appears to be an element of mutual respect and coordination between the Clinton and San Diego campuses. As well, the team observed in Clinton a mature faculty appropriate to mission, with a remarkable degree of continuity that was highly valued by community, and that serves as an identity anchor for Ashford University overall. The institution [Ed. note - Ashford and by extension Bridgepoint] is commended for these findings particular to Clinton.


In addition, the team found a commendable, well institutionalized identity and mission that includes affordability and accessibility. The institution's values are important to its board, administration, staff and faculty, especially as Ashford strives to be innovative in its serving a large and diverse student population.

Finally, the team found and commends the institution's enthusiasm which was evident in every corner. There is a remarkable spirit and community engagement that is noteworthy throughout.
What are some other items of positive note in the report?
First, the team notes, "Ashford is committed to providing quality courses to its students.... The team commends Ashford for its commitment to ensure course quality."
Second, the team states, "The institution is committed to a future of alignment, measurement and public disclosure of specific institutional, program and course outcomes supporting the mission. The supporting systems and leverage of technology collecting data on these indicators are commendable."
Third, the team notes, "The leadership of the institution is mission-focused, energized, and passionate about the purposes of the institution. There is an emerging understanding of the challenges of managing an online, high-volume business model, and the implications of uncontrolled growth."
Fourth, regarding technology infrastructure and support, the team states, "The level of support appears to be quite robust, as the combined BTS budget for 2011 amounted to nearly $40 million."
Fifth, the team states, in discussing moving more resources to student support and faculty support, the team states, "Having discussed this issue with both the Ashford and Bridgepoint boards, the team believes both boards are aware of these concerns and may be seeking to improve and realign resources and financial transparency and control in the future."
Sixth, the team notes, the report notes that students overall seem to be happy with their education at Ashford University. "The survey [Ed. note - nearly 23,000 responses] results generally revealed little dissatisfaction with advisors and confirm that advisors respond to inquiries and complaints in a timely fashion ... Almost all respondents expect to complete their degree at Ashford - 87% definitely and 9% probably. Only 1% indicates they do not expect to do so (2% do not know). This is a very significant result in light of high first year attrition rates."
Seventh, the report shows, "In the current environment, the team sees some evidence that the institution is working to improve its capacity to use data to guide both analytics and strategic assessments. The recent outside analysis of retention patterns and analytics is well done and we believe has been well received within the institution."
This strikes me as incredibly complementary of the foundation of Ashford University and Bridgepoint Education. In essence, the report stated, these guys are taking all the right steps but have a few issues in terms of academic program structure and levels of student support. My read, though maybe biased by my long position, is that they will be accredited after they address the issues identified by the team.
Specifically, the team cited seven areas that need improvement:
1. In order to enhance its capacity to analyze and use data effectively, academic leadership capacity in San Diego at the college and program levels need to be strengthened with the goals of better monitoring and nurturing of academic quality, capturing the implications of data, and developing sound long-term academic operations.

2. The team recommends that the institution address the issues of student retention and academic success. In particular, Ashford should examine and refine the internal metrics it uses to track student retention and completion in ways that are accurate and consistent with Ashford's unique instructional model and policies and credible to independent observers.

3. The team recommends that the Ashford University community focus on the serious challenge of student retention and graduation and demonstrate progress in these key metrics.

4. The team recommends that Ashford continuously review its core instructional model and systems, making adaptations and revisions in ways that enrich student learning, provide more flexibility to students and faculty, and enhance the long-term sustainability of the institution.

5. The team recommends that Ashford strengthen the independence and performance of its Board of Trustees.

6. The team recommends that Ashford create a more robust and functional strategic planning capacity that will enable it to become more proactive in charting its path forward.

7. The team recommends that the Ashford President and the Board of Trustees review the nature and level of services provided to Ashford by Bridgepoint.
So, in essence, the team first recommended that they revamp the high level oversight and augment the leadership of Ashford University (items 5, 6, and 7). In fact, they note in the report that the current system is working, its just not formalized and structured enough: "In the main, these relationships appear to be working reasonably well in the absence of a service agreement or contract." Second, they noted that Ashford needs to put more resources into the academic area including more full-time teachers, more teacher oversight positions, more student advisory positions, and more resources to provide for creative and customized teaching. Finally, they recommend more data analytic capabilities to try and address student retention issues (which are endemic to all open-enrollment institutions).
Finally, and of significant importance to reading the tea leaves, the report notes that, "There are many changes and initiatives newly underway. While there have been issues with board independence and possibly faculty engagement in academic oversight and governance, the changes planned may help address the shortcomings."
In other words, the commission is submitting that there were some issues largely based on the rapid growth of Ashford in the past few years, but the company is actively engaged in addressing them. The commission obviously realizes this and repeatedly notes Ashford's efforts to improve its shortcomings. That is why I find it highly likely WASC will accredit Ashford University in the next year.
Will Bridgepoint need to hire a slew of new faculty members and advisors to remedy these shortcomings? Yes, absolutely. And margins will be impacted. But, management has been telegraphing these steps for quite some time!
In their March earnings call they stated:
We recognized that Bridgepoint's success depends on providing students a high quality education at our institutions. To this end, we have made and will continue to make investments designed to improve our student's learning outcomes and their educational experiences at our institutions. In 2011, we believe these investments in the student learning experience were responsible for improved student persistence rates, despite an increase in graduations of more than 50% in 2011 over 2010...

Data analytics is becoming an increasingly important tool in measuring our students' performance and in measuring how we are serving our students. We've learned a great deal from these analyses over the past year that we feel benefit student performance, persistence and graduation ...

We're making several investments in curriculum and faculty beginning at the time of enrollment that should lead to better outcomes for the student. Once the student starts, our analyses has shown that smaller initial class sizes benefit students in terms of their first class completion rates and longer-term persistence at Ashford ...

We believe that these investments, along with the increased faculty compensation and a greater mix of internally-degreed faculty will result in an improved student learning experience and lead to better persistence and graduation rates over the long-term.
The denial of accreditation was clearly not a positive news event for BPI. However, don't just pay attention to the headlines. The meat of the report has a lot of substance that offers many clues that point to a future accreditation of Ashford University. All of the changes that Ashford and Bridgepoint need to make will improve the institution and ultimately improve the service they provide to students.
If one wants to read the full report or letter, they can go here to access it.
Disclosure: I am long BPI. I have been long ... and wrong!