Constellation Brands (NYSE:STZ)--a wine and spirits maker--reported a net loss of about $832 million for the fourth quarter of 2007. This translates to a per share loss of $3.90. However, the news was better than Wall Street was expecting and the stock has risen about 4% in morning trading.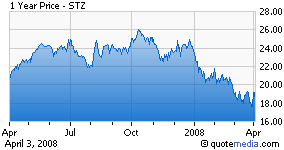 The silver lining in the report is that had it not been for items like $888 million in acquisition-related costs, restructuring charges and unusual items, the company would have earned about 34 cents per share. Analysts obviously were aware of the non-recurring costs in the quarter and had estimated earnings of 25 cents per share. The results were likely aided by an increase in exports abetted by the faltering value of the dollar, although 31% of sales came from outside the United States.
While Constellation did beat analysts' estimates for the fourth-quarter, Ockham Research has reiterated its Hold rating on STZ, which was downgraded to this rating in the report written on February 22nd of the current year. From our perspective, Constellation is fairly valued after today's rally. Price-to-sales--currently 1.115x--is appropriately in the upper quadrant of its historical normal range between .859 and 1.31. Price-to-cash flow, which is normally between 8.9 and 13.55, is currently only slightly below this range at 8x. Compared to last year's results, revenues were off by 23%, and sales growth has slowed considerably. Furthermore, last year's sales were up a paltry .16% from what they were 5 years ago. Profit margins were 6.4%, which is below STZ's historical norm.
Based on the current stock valuation, there is no need to be overly enthusiastic about today's mild beat of analyst estimates, especially in a quarter where good news did not translate into actual earnings. STZ stock, by our methodology, is fairly valued at $18.90- $23.84, so there is no real catalyst for a rating change. STZ has been acquiring wine and spirit makers fairly aggressively for many years, as was recently highlighted by the March 2007 purchase of Sweden's Svedka Vodka. Management did offer guidance for net sales growth in the mid single digits and organic sales to grow in high single digits, and that would be a welcome improvement. However, we would like to see earnings continue to improve before upgrading Constellation Brands to a Buy.
Disclosure: none