Ben Bernanke has been saving his ammo in the past months. Each time when the fed meeting was held, markets were hoping for QE3, but they didn't receive any. This is evidenced by the U.S. federal reserve balance sheet on Chart 1.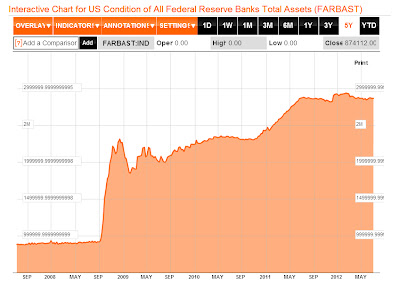 Click to enlarge
Today, we have passed several months and we already see that the economy is starting to deteriorate. Not only in Europe and the emerging markets, but especially in the United States. In this article I will focus on the key macroeconomic data in the U.S.
First, let's look at the most recent PMI numbers of the U.S. The PMI is a very clear indicator of the future prospects of GDP growth/contraction. If the PMI is above 50, it means that GDP growth will go up. If the PMI is below 50, it means that GDP growth will decline. We already knew that Europe was in contraction and economists were very positive about the economic outlook of the U.S. They mentioned that Europe was in contraction (PMI below 50), while the U.S. was still growing (PMI above 50). But the most recent PMI numbers for the U.S. are showing a massive decline (Chart 2). Manufacturing activity contracted for the first time since July 2009. The June 2012 PMI fell to 49.7 from 53.5 a month ago. As the PMI goes below 50, GDP growth will slow down. This is something the federal reserve wants to avoid at all costs because a contraction in GDP means a contraction in tax revenue.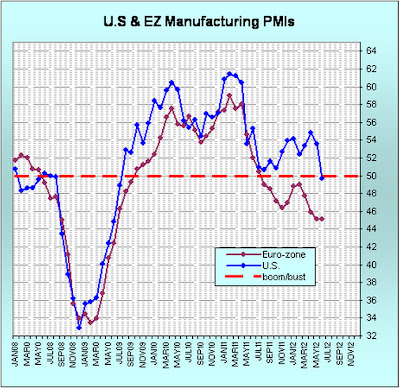 Click to enlarge
Second, the unemployment rate has started to increase again. The June payrolls data missed expectations and the unemployment rate stalled at 8.2% (Chart 3). This Sunday 08 July 2012, the Republicans attacked president Obama on his handling of the U.S. economy, citing that there are almost half a million more people unemployed today than four years ago. The job market is the key element in sustaining a healthy economy, so additional stimulus will be a necessity. As the elections are approaching, it would be rather risky not to act upon these negative signs.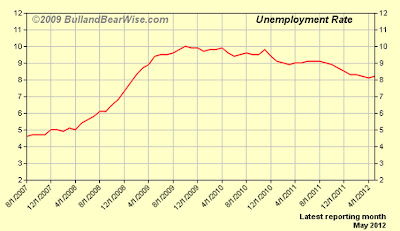 Click to enlarge
Third, central banks around the world have been decreasing their benchmark lending rates and deposit rates. On 5 July 2012, China decreased its main interest rate to 6%. That same day, the European Central Bank (ECB) decreased its key interest rate to 0.75% and decreased its deposit rates to 0%. Following this interest rate decision, Denmark decreased its deposit rate to -0.2%. When everyone else in the world is stimulating their economies, their currency will automatically weaken against other currencies (for example the U.S. dollar). This will add pressure on Ben Bernanke to counteract this strengthening of the U.S. dollar (Chart 4) by implementing QE3.
Finally, while GDP growth is contracting in the U.S., total public debt has been increasing at a fast pace. It is estimated that the debt ceiling of $16.7 trillion will be reached before the end of 2012 (Chart 5). I do not see any improvements in this trend. On the contrary, I believe it will worsen. One example is the recent ruling on Obamacare, which will increase budget deficits with at least $US 100 billion per annum. Another example is the worsening current account deficit, which widened to $US 137.3 billion for the first three months of 2012. I believe the only way to cope with this increase in public debt is to inflate it away with QE3.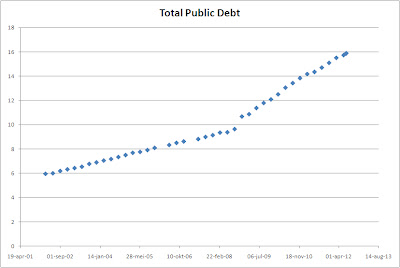 Click to enlarge
Chart 5: U.S. Total Public Debt
Conclusion:
I believe QE3 is just around the corner. The next fed meeting will be on 31 July and it is predicted by 16 primary dealers (who work closely with the fed) that there is a 70% chance that QE3 will be enacted by the federal reserve. QE3 will be used to expand the federal reserve balance sheet to make large bond purchases. The best way for investors to anticipate QE3 is of course to buy gold (GLD, PHYS) and silver (SLV, PSLV).