In an article I wrote on the performance of inverse ETFs, MDWinMD wrote this comment:
All of these instruments are fatally flawed for holding more than a few days. The only sane approach I've found for shorting the market over long periods is the HDGE Active Bear ETF. No daily rebalancing, just 30 stocks held short, and they are ones the manager has determined is playing fast and loose with accounting, giving it some extra oomph.
That was intriguing, so I investigated. Does the Active Bear ETF (HDGE) have that extra "oomph"? Let's take a look.
Actively managed short positions
This is an actively managed ETF that has as its mission to maintain short positions in a variety of stocks the managers feel have "deteriorating fundamentals."
From the prospectus, factors that the managers consider when selecting companies for potential shorts include:
Low earnings quality or aggressive accounting
Quality and sustainability of revenue
Deterioration of cash flows or declining quality of earnings
Poor corporate governance
Heavy insider selling
Once a stock is identified as a short sale candidate, it's assessed based on valuation and technical factors.
Per the prospectus:
Technical analysis is important to a short portfolio, as the Sub-Advisor generally avoids initiating short positions in stocks making all-time price highs, 52-week highs in price, or in strong upward trends which may capture the attention of short-term and momentum traders. In general, the Sub-Advisor seeks to identify stocks with prices beginning to under-perform the market, show distribution or stall its price ascent prior to inclusion into the Fund's portfolio.

The Fund generally targets composition of 20 to 50 equity short positions; with an average individual position size which generally ranges between two percent (2%) and seven percent (7%) of the aggregate portfolio exposure.

Typically, short positions will be initiated at the lower end of the position size range in order to gain exposure to a particular stock. As the concerns for a given company are deemed especially timely or the conviction level increases, the position size may be increased to capitalize on an expected earnings shortfall or change in investor expectations.
The downside: A 3.29% expense ratio
One downside to short selling is that you have to pay to borrow stocks you want to short. That contributes to higher than normal expenses, which is why HDGE has a higher than normal expense ratio of 3.29%.
Remember, however, that what you're paying for a share of actual short positions in a variety of stocks - not just the daily index inverse change an ETF like the inverse Short S&P 500 ETF (SH) provides, which is essentially rebalanced every day.
The HDGE ETF has only been trading since late January 2011, but here's a look at quarterly performance for the five full quarters that can be evaluated - comparing HDGE, SH, and the S&P 500 ETF (SPY)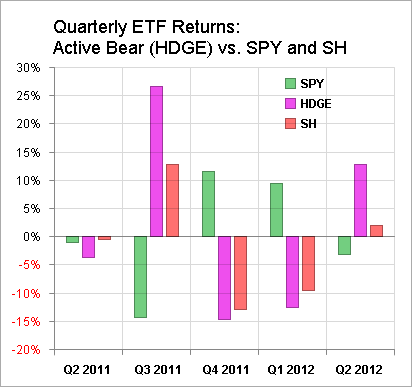 Notice that HDGE tends to reward you a lot more than an inverse ETF like SH during downturns. There's no index to track, thus no rebalancing and tracking errors to worry about (though there are other risks you should review in the prospectus).
Potential short sale candidates
So what stocks is this Active Bear fund setting its sights on right now?
Here's a chart showing the top 20 short holdings that encompass about 55% of the fund.
Also on the list are a few more widely known stocks, including Netflix (NFLX), Riverbed (RVBD), Tiffany (TIF), and Salesforce (CRM).
You could pay homage to its stock symbol by using HDGE as part of a hedged strategy, pairing it with the stocks or other long ETFs you own. Or you might simply use it to review its holdings to uncover your own candidates for stocks to short or for buying put options.
Disclosure: I have no positions in any stocks mentioned, and no plans to initiate any positions within the next 72 hours.