Cimarex Energy Co. (NYSE:XEC) is a mid-cap name in the oil/gas E&P industry we have been trading lately. Our primary interest, of course, is based on a view that natural gas prices may have bottomed.

Cimarex Energy is a company we have followed for many years. We were previously long the stock until November 2010, subsequently missing another 20 point move higher into spring of 2011. However, shares were too richly valued going into the February 2012 highs of $87.85. Yet, at its current price in the mid-fifties, XEC looks quite tempting.
Our dual cash flow and accrual analysis of the past five quarters indicates that XEC may be significantly undervalued at these levels. Bear in mind, that balance-sheets of oil and gas E&P companies have taken it on the chin these past few years as natural gas prices collapsed following the "shale boom" production frenzy.
Thus, we are not surprised to see "Recent" and "Confirmed" bearish indicators being displayed in our dual cash ratio analysis. Similarly, capital productivity and revenue metrics were pressured also.
Click to enlarge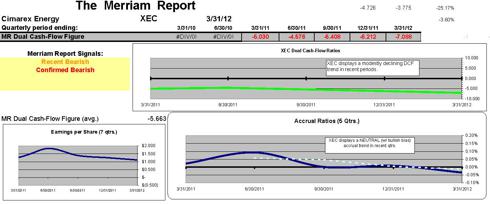 Yet, amidst the rough sledding, we see a company that is well managed with an excellent portfolio of proven natural gas and oil reserves.
Small and mid-cap oil & gas companies also tend to take liberties with their balance sheets. For a driller, leverage is to risk as a productive well is to cash-flows. Drilling costs, extraction and other expenses make wildcatting a capital intensive business to be in.
What we like about Cimarex Energy is that asset reserves are (in our view) valued conservatively and the mix of reserves (59% gas; 20% oil and 21% NGL) is very appealing. The company has 82% proved developed reserves, with a 9.5-year reserve life (and growing). Links to company presentations are here.
More importantly, Cimarex Energy has a good track record of profitable growth and conservative use of leverage.
Cash-flow: Spreads between balance sheet cash-flow and operating cash-flow are significant, which at first glance are a concern. However, this concern is mitigated somewhat by management's conservative use of accrual accounting as seen in the chart below.

While our five-period study indicates a bearish "trend" in recent earnings quality, it is offset by minimal use of balance sheet manipulation to build the earnings report. Cimarex Energy displays a "NEUTRAL" accrual trend.
We also like the declining trend of goodwill as a percentage of both assets and equity in recent quarters, which reduces the likelihood of any significant asset impairment or non-cash hits to equity in the near future.
Fair Value: Our model assigns an estimated fair value of $77.62 (+/-) suggesting that shares are presently undervalued by almost -39%.
E&P stocks such as Chesapeake Energy (NYSE:CHK) have been dominating the headlines in recent months, but Cimarex is a name you might want to get familiar with. It operates primarily in the mid-continent, gulf coast and Permian basin regions of the US.
Not a flashy outfit, Cimarex Energy is a well-run company that sticks to its knitting. We also believe Cimarex Energy would make an excellent takeover candidate for a competitor looking to acquire quality assets. Unlike the notoriety surrounding the aforementioned Chesapeake Energy, it's not likely you will find folks like Carl Icahn sniffing around Cimarex Energy anytime soon; thankfully. Activist investors such as Mr. Icahn serve a valuable purpose in the food chain of distressed companies and Chesapeake should keep him busy for a while.
But, if you believe natural gas prices are set to rebound, Cimarex ($4.5 B market cap) could add a "gusher" of profit to your portfolio. To be sure, risks of further economic contraction may be a headwind to natural gas stocks, but at some point supply issues will tip in favor of demand (keep an eye on current heat index and air conditioner sales for clues).
Traders may find opportunities in the $50-$55 area. Investors with a longer horizon might consider small positions near $50; larger positions up to $47.
Information and data included in this article were obtained from merriamreport.com, cnbc.com, SEC Edgar and Cimarex Energy (website).
Disclosure: I have no positions in any stocks mentioned, but may initiate a long position in XEC over the next 72 hours.