When insiders buy shares on the open market, their companies are usually undervalued. Corporate insiders often have the inside track on their companies' prospects. Insiders probably wouldn't risk investing too much of their own money into their own companies unless they thought the stock might rise.
I screened for companies where at least one insider made an insider buy on July 5th - July 9th. Here are four stocks that I found:
1. Nuveen Equity Premium Opportunity Fund (JSN) invests its managed assets in a diversified equity portfolio that seeks to substantially replicate price movements of a 75% / 25% combination of the S&P 500 Stock Index and the NASDAQ-100 Stock Index, respectively. The fund also uses an index option strategy of selling S&P 500 and NASDAQ index call options in seeking to moderate the volatility of returns relative to an all equity portfolio.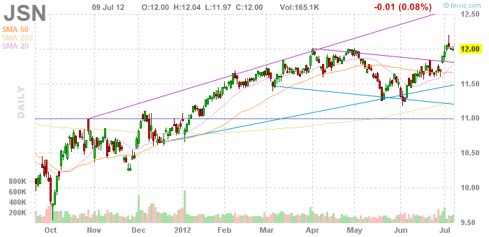 Insider buys
2. General American Investors Company (NYSE:GAM) is one of the nation's oldest closed-end funds. For over 85 years, the company has internally managed a global portfolio of investments, consisting principally of common stocks of U. S. companies but also including international and private securities. Over the 50 years ended December 31, 2011, the return to the company's common stockholders (assuming reinvestment of all dividends and distributions) was 11.2% per year and the net asset value return (assuming reinvestment of all dividends and distributions) was 11.5% while the return on the Standard & Poor's 500 Stock Index (including income) was 9.2% per year.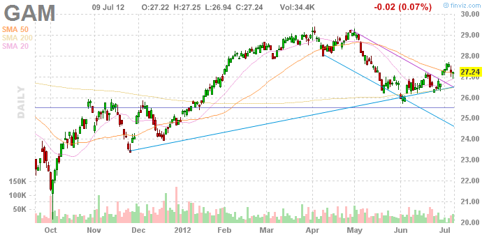 Insider buys
3. Hallador Energy Company (NASDAQ:HNRG) was founded as a Colorado corporation in July 1951 under the name of Kimbark Oil and Gas Company. In December 1989, Kimbark merged with Hallador Exploration Company, a California company founded in 1985, to become Hallador Energy Company. Hallador entered into a joint venture with Sunrise Coal, LLC in April 2006. With this venture, Hallador's primary focus changed from oil and gas production to coal production. Today, Sunrise Coal is a wholly owned subsidiary of Hallador. Additionally, Hallador has a 45 percent equity interest in Savoy Energy, an oil and gas company with operations in Michigan.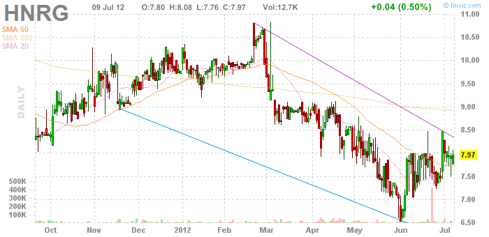 Insider buys
4. Oiltanking Partners (NYSE:OILT) is a publicly traded master limited partnership engaged in independent storage and transportation of crude oil, refined petroleum products and liquefied petroleum gas. The company provides its services to a variety of customers, including major integrated oil companies, distributors, marketers and chemical and petrochemical companies. The company's assets are strategically located along the Gulf Coast of the United States.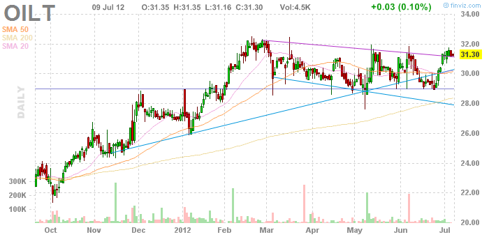 Insider buys
Conclusion
Shares of Nuveen Equity Premium Opportunity Fund just made a new 52-week high last week. Shares of General American Investors Company have found support at the 200-day moving average currently at $26.50. Hallador Energy Company made a new 52-week low on June. Shares of Oiltanking Partners are just $1 shy of new 52-week highs.
Disclosure: I have no positions in any stocks mentioned, and no plans to initiate any positions within the next 72 hours.