The recent correction has caused many outstanding technology companies to trade at compelling valuations - two that we believe are ripe for opportunistic investors are Facebook (NASDAQ:FB) and Netflix (NASDAQ:NFLX). However, finding low priced dividend stocks in the tech sector that are not value traps - and by value traps, we mean stocks like Nokia (NYSE:NOK) and Research in Motion (RIMM) - can be a challenging prospect. In Hewlett-Packard, we think there is value with real growth potential, as well as a sizable dividend.
Hewlett-Packard (HPQ)
Price: $19.57
52-Wk Range: $19.12-37.70
Click to enlarge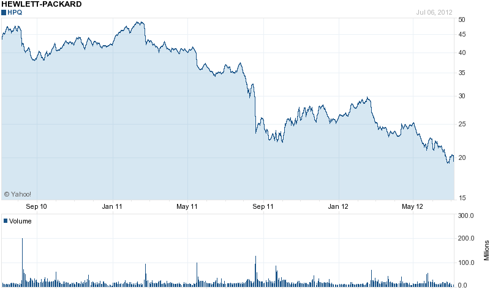 Source: Yahoo Finance.
The Story
In May, Hewlett-Packard announced it planned to lay off 8% of its workforce, or 27,000 jobs, by the end of fiscal year 2014. The lay offs are part of a grander restructuring plan at HP expected to generate annual savings of $3 billion-$3.5 billion.
After very public struggles typified by turnover at the CEO position amidst earnings deterioration wrought by a seismic shift in personal computing culture, Hewlett-Packard has been busy reinventing itself. Understanding that conventional personal PC and printing manufacturers are entrenched in a win-less battle for declining market share and margins, Hewlett-Packard has been entering and competing in new, innovative spaces that offer higher margins and true growth opportunities, the like that IBM (NYSE:IBM) shifted to so successfully.
In Hewlett-Packard's restructuring plan, it outlined the three main segments it is focusing on: cloud, big data and security, and other opportunistic growth segments. We recently reported on Hewlett-Packard's progress in some of its more innovative areas, and it is evident that the company has been making gains, particularly in relation to Cisco (NASDAQ:CSCO).
In the interest of full disclosure, we began writing favorably of Hewlett-Packard last year when it was priced in the mid-twenties, and the share price has only continued to sputter. Still, we believe the market underestimates what this company can accomplish. We believe HP is a survivor, and with over 70 years of history, its track record indicates as much.
The Numbers
With a trailing P/E below 8 and a forward P/E below 5, Hewlett-Packard is trading a shade below book and offers a compelling value play from a fundamental perspective. With a projected dividend yield around 2.6%, the yield is sizable.
Notable Alternatives
Yield can be hard to come by in the tech space, but there are several compelling opportunities right now. Both Intel (NASDAQ:INTC) and Microsoft (NASDAQ:MSFT) are dynamite in our book. Like Hewlett-Packard, these stocks have a tendency to suffer from a perception in the market that they are wedded to the PC and therefore on the decline. In all their cases, however, new pathways of innovation are being constructed at a rapid pace, and the stocks' depressed multiples afford investors attractive yields in the meantime. In fact, while things are changing in personal computing, for select businesses the PC industry serves as a continuous cash cow.
Qualcomm (NASDAQ:QCOM), Marvell (NASDAQ:MRVL), and Broadcom (BRCM) also offer compelling investments and meaningful yields. Marvell may be the most compelling of the three, with the highest yield and a forward P/E of 7.3. Broadcom comes in close second, however, with a forward P/E of 10.3.
If one is looking for significant yield in tech, the international telecoms are a risky play but offer outsized dividends. Notable choices include Spanish Telefonica (NYSE:TEF) and France Telecom (FTE), which both boast double-digit yields, and worldwide telcommunications giant Vodafone (NASDAQ:VOD). The yields may be high, but investors have been paying the price lately as the European debt contagion spreads.
Disclosure: I am long MSFT.